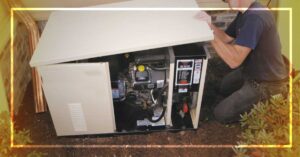 Today, generators are used everywhere starting from businesses to households. Once upon a time power outage was not a frequent story. But these days it's rare to experience a single day without power breakdown.
This new norm thing might take in place because of a sudden climate change or fault in the electricity line. No matter what the reason, dealing with power breakdowns will someday bring us to today's topic. It's about home generator installation.
Everything About Generator Installation
Instead of relying only on a single source of energy, you should think about installing a whole house generator. This is going to keep your home functions going smooth and provide uninterrupted power.
Careful planning, wisely choosing a generator, following state rule regarding the installation and some major parts of the whole process is bought to limelight below.
Picking Up the Right Generator!
I'm sure most of us will want to cut down the money hassle by buying a cheap portable gasoline generator. Yes, other generators are quite expensive and it's okay to save some money thinking that way.
But do so only if you are capable to manage the loud noise it's going to make. Not to mention they need a very huge amount of fuel. You can expect around fifty gallons of fuel to keep it going for seven days.
The most important part, it won't be able to handle all your electrical appliances. Especially if you use a central air conditioner.
So, if you are okay with such annoyance then go ahead. Otherwise, think wisely and save some money. You can always give yourself some time to increase the budget and get a good quality whole house generator. It would actually pay back with useful features. I hope it makes sense!
Points to Consider (Must)
There are some important factors that make room for optimal decision making. I'll talk about these serially.
If you live somewhere like Florida, it's always smart to consider an insurance policy with mold deductibility. Mold damage is a common thing in such places. It might happen because of air conditioning too.
The power supply is also an important consideration. You need to consider what amount your house needs. Suppose there is a recent probability of hurricane near your area. So, you decided to get a generator. Now consider the time for which power supply will be turned off. It might be a few days or even weeks.
Consider if you need roof repair emergency power tools. That's going to need you a standby generator. Also, think about the power a well-pump needs if you own one.
Lastly, comfort is also a factor to consider. If you have enough money to buy a huge generator that's going to run smoothly without any frequent maintenance or hassle. Also, buying a high-quality version will satisfy your comfort and convenience.
What Does the Installation Include?
The installation process will probably take you a couple of days, sometimes 24 hours. There should be a dealer who's going to do the installation for you. Make sure they have taken care of all legal procedures related to it. It's not wrong to have a look at their license as well.
The installation includes:
Fitting in a transfer switch carefully.
Moving the generator to a place you want it to settle down.
Line connection is made between the transfer switch and generator.
Fuel connection is provided to the generator with proper pipe fitting.
Your generator should be ready to start and provide power smoothly.
Is It Okay to Do It Yourself?
In most of the states, it's not allowed to do it yourself without a proper license. I know, some of you might want to try it as a home improvement project. If you are a qualified electrician, go ahead, no problem.
This is because the installation will require some more-than-average system knowledge about home electricals. An average handyman might not be able to tackle it. Plumping skills are also important to get a smooth gas or propane connection.
Sometimes, building permits and inspections also come into the way. If you fail to miss such requirements this may totally null your home insurance. You can surely try steps that are general and within capability. Such as overseeing and scheduling each step.
If the building inspector allows you to work with limited capabilities, it's okay to continue. There should be subcontractors who help in work that could not be finished by homeowners.
Disclaimer
Installing generator needs permission and approval according to your state's law related to electrical manipulation. If you offend any rules then the entire responsibility is yours. We only provide information for knowing purpose and do not encourage any law-breaking procedure.
Verdict
You see, there are quite a few factors related to generator installation. So, take your time to go over everything that is important for the process. Don't try anything illegal, it's not going to end up in a good way.
I hope you are in a better place with proper knowledge regarding the issue. See you soon with another legit topic. Bye!
I'm James. The author of Electricalaffairs.com. It's been my passion to deal with power tools and gears. This website is mainly to talk about electrical wirings, lighting, various power source tools and accessories. I want to explore tackles and help people to grow their basic knowledge about electrical things. I would also like to help people to pick the right power tool for their daily needs.