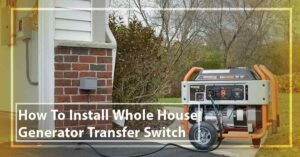 The whole house generator is one of the best things you can get for your lovely home. Installing process is easy that you can try it yourself or get someone to help you out.
Choosing a transfer switch installment means you can safely and simply switch incoming power from your major panel to any compact generator in the event of a power cut down.
However, if you have completely no knowledge about electricity and how to handle electronics, things become tricky.
But don't worry! I am going to break down one of the easiest processes on how to install the whole house generator transfer switch. Stay tuned till the end and I'm sure you will learn something valuable. Let's start!
The Parts You Need! (Important)
You need to have some of the essentials parts to get your transfer switch correctly installed. This is not a very long list of breaking your bank. In fact, it's quite reasonable.
You can simply get a complete set or kit from online shops or your nearest home improvement store. I will suggest you get a complete kit from online merchants. Some of the good quality kits are not available in local stores.
Most of the kits already count every little thing you will need for a proper transfer switch installment. However, if you still choose to get everything separately then here are some of the most important ones.
A Capable Generator!
This is very obvious but I still want to tell you something about the point. Some generators will not support transfer switches which is a big issue. The number is rare but it's existing. So you need to be cautious.
Then there are some generators that will only support certain models of switches. You need to be aware of these little things.
There are quite a few models available in the market these days that can give you excellent power supply servicing. Take your time and refer to some good buyer's guide to make sure you own a quality generator that can give proper handling.
Separate Transfer Switch
There are two types of configuration for transfer services available. One includes manual configuration and the other will support automatic system setup.
If you already own a generator make sure the transfer switch you are going to buy supports its version. You can check the manufacturer's guideline beforehand so that there is no confusion later.
Power Inlet Box​​​​​
This is simply a box-shaped tool that is used to mount on the outside of your home. Your interior transfer switch should be on the other side of the wall you choose.
These tools are used to simply have a plugin with generators power cord. There are quite a few options you can get for these inlet boxes that are great picks.
Power Cord
To connect the transfer switch into generator you're going to need a certain type of cord. This is known to be a power cord and most of the time its standard length is 20 foot. This length is pretty much ideal to get a decent connection.
Installation Process
If you have a certain amount of electrical knowledge it's going to be easy. Otherwise, promise me to give attention to every detail in this process. Then, I am pretty much sure you can deal wiring a transfer switch to your home within a few hours.
Of course, it's a daunting process. But, it's not impossible. Here are some of the simplified steps that you can use for wiring a transfer switch to your home.
Let's see these steps
You should check the area near your panel box. Try to locate an easy installation spot where you can mount the switch into wall. Make show the spot you choose is far away from any kind of obstacle. The area should be safe and unreachable for kids.
Now you need to switch off the electricity from main electrical panel. Make sure to double check all your appliances that the power supply is actually off.
Now you have to discover the wires that are coming from transfer switch. Decide which panel box you want to control and then connect these wires to the circuit.
You need to go to the other side of your transfer switch wall. Use a drill to make a hole of one and a half inches. This hole is going to help you route the wires from switch to electrical receptacle.
You should mount outdoor electrical box on top of the hole on outside wall.
Use the drilled hole to snake down electrical cables from the switch to box and connect them.
You should connect receptacle to the cables in exterior box. Make sure to properly screw or mount the box.
Once you are done, check if the generator is in good order and can work properly.
It's time to check the whole work. I prefer you to keep the main power off. You need to connect the outdoor electrical receptacle with a generator by using any power cord.
Simply turn on the generator and flip transfer switch. The line should be from generator. Any electronics that you have connected should receive power.
Once you are sure that everything is working as it should, flip back the transfer switch. Turn on the main power supply again.
To avoid any kind of bugs, moisture and dirt problems you should always make sure to seal the drills.
Warning
This is a matter where you are going to be dealing with your homes main electrical supply. So I highly recommend that you review the laws and code requirements in your locality and state. You should not be doing code violations for taking this installation process.
Conclusion
See? It's actually not that much tiring! The most important part here is to have a generator that can handle appliances you are using.
Be sure to have correct parts with you, review the right code requirements, install segments properly, and everything will work as it should. Best of luck!
I'm James. The author of Electricalaffairs.com. It's been my passion to deal with power tools and gears. This website is mainly to talk about electrical wirings, lighting, various power source tools and accessories. I want to explore tackles and help people to grow their basic knowledge about electrical things. I would also like to help people to pick the right power tool for their daily needs.