We don't care about power outrage if we have a generator in our house! It automatically shifts the power and provides electricity! Fun, right? And if you don't have any, you can plan to get one!
Generac, being one of the top-notch brands for generators affords you whole house generators at an affordable price. Stay tuned to learn how much a Generac whole-house generator and what's the total cost!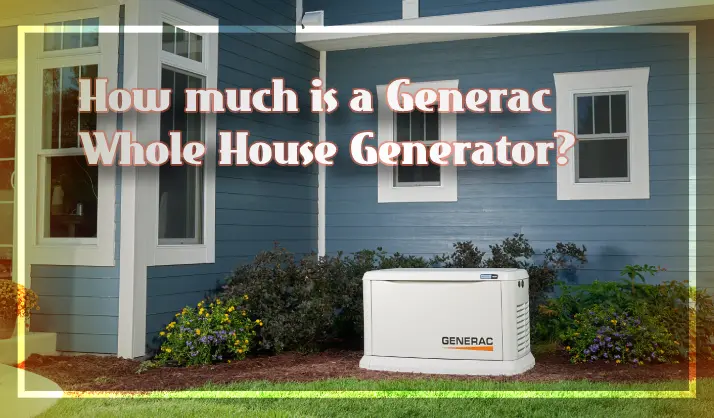 Cost of Generac Whole House Generation: Price, Installation, and Run
To learn about the total cost, you have to add the price of the Generac whole-house generator with the installation cost and the cost of running it! We have made it easy for you!
Cost of Generac Home Generators
The backup home generators by Generac are very famous for the power and quality the brand affords. The price of the whole house generators by Generac starts from $1949.
And yes, according to the market, this is very cost-effective. Providing full house power when there is a power failure, the brand is leading now! No other top-notch brands will afford you the same at such an affordable price.
With the Generac whole house generators, you can get the Mobile Link app from the company. This will help in monitoring the connection. By affording $1949, you will be able to connect the home's natural gas or LP gas directly to the generator.
Also, you do not require any refills. As there are several types of Generac generators, let's give you an average idea of the price. If you want to go for a 7 to 24 kW whole-house generator by Generac, it will cost you $1949 to $5000 or close.
For the 7 kW one, you have to pay $1949 or more.
For the 10 kW Generac generators for the whole house, you need to invest $3000.
If you want to go for the 16 kW, the price will be $3800 and with $200 extra, you can buy the 17 kW one.
For the 20 kW Generac home generators, the cost will be $4500.
The price will start increasing from 22 kW to 30 kW.
For $5000, you can purchase the 22 kW one.
If you need more power capacity, you have to pay more! For the 30+ kW, you have to pay $12000 or more.
This is the average cost of whole-house generators by Generator. The price may vary according to the market situation. Once you buy the Generac home or backup generators for your house, they will last for a long period.
You can add it once and enjoy the service for about 15 years to 30 years or more! In other terms, they will serve you for 10,000 hours to 30,000 hours once you get one of them! So, investing in a Generac backup generator is a good idea if you want long-term service.
Installation Cost of Generac Whole House Generator
We have talked about the price of the Generac whole house generators. But after buying, you have to install it in your house. That will cost you extra. The installation cost depends on the local building codes. Along with this, the size of the generator matters a lot while discussing the installation payment.
You have to include the automatic or manual transfer switch installation cost along with the labor payment while installing. The cost of home energy assessment will be free with the installation.
But you have to go through the other additional costs so that you can decide the total investment in installation.
Electrical wiring will require $6 to $8 for every foot.
The cost to install a generator transfer switch will be $400-$2000 or more.
For the labor, every hour you have to pay $40 to $100.
The concrete pad will be $150 to $400.
The gas line installation cost for every foot will be $12 to $25.
Along with this, for Propane tank installation, you have to pay $400 to $1800.
Check the gas meter and the electric meter of your house. If both of these are on the same side of the house, this will cost you a little less. Otherwise, you have to pay some extra for making it work! In this case, keep in mind that the whole-house generators are permanently wired to the electrical panel of your house.
As a result, you have to settle for generator extension cords if you need them. This will turn on automatically when there is a power outage. And this is the reason you have to pay some extra for installing these Generac generators. The installation cost might float from $3000 to $5000 or close.
Sometimes, the price can go high up above $6000 to $11000. This varies from one house to another, one generator size to another. The national average cost to install a generator like this is $8500. The minimum cost will more close to $3000. In some cases, the price can go higher than this. The maximum cost will be close to $22000.
Cost to Run Generac Whole House Generator
As we have discussed the purchase cost of the Generac generator and the installation cost, now, we will talk about the cost of running it. The Generac whole house generators only run with natural gas and liquid propane.
If you have a 7 kW generator, it will use more or less 118 cu. ft. in every house. Eventually, the cost will be $0.82. If you are settling for generators of 15 kW, the operating cost will increase. It will be $1.71 for every hour. Eventually, it will consume about 245 cu. ft. natural gas.
So, if you run the generator 10-minutes weekly, it will cost you about $4 to $5 or close. When the power outage occurs, it will cost you $20-$40 for natural gas. It completely depends on the energy load.
On the other hand, if you plan to run the Generac generator with liquid propane, for a 20 kW generator, 3.45 gallons of propane will burn every hour. For the 22 kW generators, you have to settle for 2.6 gallons of propane every hour.
Wrap Up
So, you have checked out how much a Generac Whole House Generator costs in total. We have described the purchase cost along with the installation cost. Also, we have discussed the running cost for the Generac whole house generator. It depends on you which one you will go for.
We always recommend this brand because you won't get such leading facilities at such an affordable price anywhere else!
I'm James. The author of Electricalaffairs.com. It's been my passion to deal with power tools and gears. This website is mainly to talk about electrical wirings, lighting, various power source tools and accessories. I want to explore tackles and help people to grow their basic knowledge about electrical things. I would also like to help people to pick the right power tool for their daily needs.