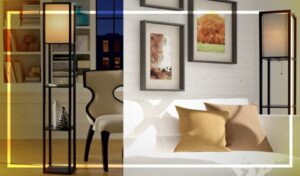 Few objects are more commonly seen in a household than floor lamps and shelves. A floor lamp allows for even light distribution, while shelves allow you to store and/or organize any manner or number of objects.
Now imagine combining the functionality of both of those things into one product. A convenient stack of shelves where you can store books, photo frames, potted plants, mugs … topped by a bright, light-giving lamp!
Not only is a floor lamp with shelves a versatile storage-and-illumination solution in one, but it's also a great option for those who are into space-saving interior design. And not to mention, they're aesthetically pleasing, as well!
Below, we've reviewed our top picks, and put together a buying guide.
Top 8 Best Floor Lamps with Shelves Reviews
We only want the best for you and your household. So after hours of extensive research, analysis, and discussion, we present the 8 following floor lamps with shelves for your consideration.
1. Brightech Maxwell Charger – Shelf Floor Lamp USB Charging Ports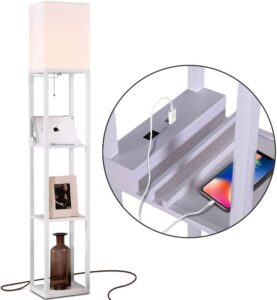 Our first pick is from Brightech, a company that, although young, has been making waves since they first came on the scene. And it's pretty easy to see why when you consider all that this lamp has to offer.
Standing at the height of 63 inches, the structure of this shelved lamp is made from high quality, durable wood. It comes with three shelves, each measuring 10.25 inches wide.
Your purchase will include an LED light bulb capable of producing 800 lumens of light in a warm white color.
Although the included LED bulb cannot be adjusted for color or brightness, the lamp is compatible with smart home systems such as Alexa and Google Home. So if you're up for installing your own smart bulb, you'll easily be able to manipulate the light quality!
But our favorite part? The USB charging ports! Yep, that's right. On the topmost shelf are included two separate USB ports, which will allow you to recharge your devices with ease, be it your phone, iPad, laptop or Kindle.
And without a doubt, this thing looks great too. With a Japanese-inspired design and stately, slim carriage, this lamp is bound to add a touch of modernity to any room you put it in.
Overall, this shelf floor lamp with USB charging is an ideal choice if you want a convenient and beautiful space-saving storage system and light source all in one!
2. Light Accents Wood Floor Standing Lamp with Shelves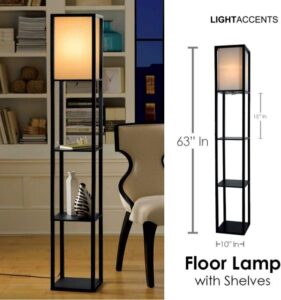 This next floor lamp from Light Accents is available in a modern and minimalist black wooden construction, and it comes with a soft white linen shade. It's the perfect option, mainly for those who are looking for a storage solution over a light source.
We say that because of the lighting features available on this thing. It has been designed to be used with a 60-watt bulb, so it won't be able to produce a lot of brightness. Accordingly, this is a good choice if you're only after accent lighting.
That being said, the ambient lighting produced by this floor lamp is undoubtedly very pleasing to the eye; and, thanks to its minimalist painted-black wooden frame, it will definitely appeal to those with an eye for modern interior design.
The best part is that, on top of being lightweight and easily portable, this floor lamp is also very easy to put together. Not to mention, it's affordable, as well. All in all, this is definitely a floor lamp worth considering if you want ambient accent lighting and convenient storage.
3. Simple Designs Home LF1014-BLK Etagere Storage Shelf Floor Lamp

The beauty of this floor lamp is pretty much in the name of its manufacturing brand: Simple Designs Home. With a clean, straightforward, and minimalistic design, this floor lamp will cast a beautiful warm glow through its soft white linen shade.
You'll be able to store any number of things on the three convenient open-frame shelves; each one measures 10.2″x10.2″, so it's ideal for storing your books, photographs, showpieces or even just everyday knick-knacks.
You will have to assemble this lamp yourself, but we dare say that it will be an extremely easy feat, thanks to the effortless set-up system. However, since this lamp is designed for use with type A medium-base bulbs, you won't be able to adjust the light quality.
Given the low price, however, and the overall convenience of the shelves, we think this is a pretty decent option. Oh, and did we mention that it comes in 6 different color options? Yep. Go knock yourself out!
4. CO-Z Etagere Modern Floor Lamp with Display Shelves for Bedroom
Highlighted Features
Constructed from premium quality wood with a natural finish
Comes with an E26 socket compatible with all types of light bulbs
Equipped with a handy pull chain to effortlessly turn the lamp on and off
Can be assembled very easily within 10 minutes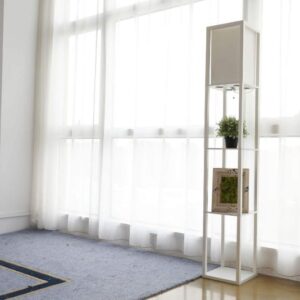 We like this next shelf floor lamp for its straightforward and practical design. Together with its simple and soft fabric shade, this is the perfect shelf lamp to place in a room with understated furniture.
The sleek and simple design of this shelf lamp, although similar to the others we have reviewed thus far, stands out for its natural wood finish. The light has a soft and ambient glow, which makes it the perfect addition to your living room or bedroom corner.
What we really appreciate about this floor lamp in comparison to others, however, is that it comes outfitted with an E26 socket. That means it's compatible with all types of light bulbs: incandescent, CFL and LED.
And of course, the shelf spaces are super convenient, as well. With three separate shelves, you'll have ample space to store some of your essentials or simply some decorative pieces. The open-frame design also ensures a non-cluttered look.
5. Kira Home Toro 63″ Modern Wood Floor Lamp with Shelves
Highlighted Features
Conveniently compatible with smart plugs and timer
Incorporates a pull switch to allow you to easily turn the lamp on and off
Comes with 3 shelves to allow you to store essentials or showpieces
Credited with a UL listing to assure your safety

This gorgeous floor lamp from Kira Home stands at 63 inches of height, which makes it the perfect addition to any living room or bedroom corner. Constructed from wood, this floor lamp is painted black and can be ordered with either a honey-beige shade or off-white shade.
We like this lamp for its minimal, yet versatile design: its simple open-frame box design shelving is ideal for storing your photo frames, potted plants, books, showpieces, or anything else you want.
The linen shade allows for a soft suffusion of light that will work as a highly aesthetically pleasing accent lighting solution. You will be able to use both CFL and LED bulbs with this lamp, which is highly convenient.
What's even better is that this floor lamp is compatible with smart plugs and timers. So if you've set up Alexa, Google, or Apple HomeKit in your home, you can easily adjust and manipulate the light quality from this floor lamp.
6. SH Lighting 6958BR-A 63″ H Wooden Shelf Floor Lamp

Our next pick is from SH Lighting, and it's nothing if not an honest-to-God column floor lamp with shelves! With the reliable étagère design, this floor lamp stands 63 inches tall and is equipped with 3 shelves.
The reason this floor lamp stands out to us is thanks to the design of its shade, which comes with 4 different floral patterns. Whether you want elegant curlicues or funky zig-zagging patterns, you'll be able to pick and choose.
The construction quality of this floor lamp also stands out to us; made from high-quality wood, it has also been painted a medium to a dark shade of brown, which only adds to its aesthetic appeal. Furthermore, it also comes with a pull switch, so turning the lamp on or off is going to be a breeze!
And because the lightbulb socket of the lamp is compatible with all standard Type A light bulbs, you'll be able to choose the light color and quality. As always, we recommend going with an LED bulb, as it will save you far more energy than the other types.
7. YOURLITEAMZ Wooden Frame LED Shelf Floor Lamp with Soft Diffused Uplight
Highlighted Features
Available in two different shades: milk-white and black
The simple and minimalistic design fits well into room corners
Comes with a soft fabric off-white shade for warm ambient lighting
Has a height of 63 inches with each shelf measuring 10.25″x10.25″ inches
Can be assembled easily within half an hour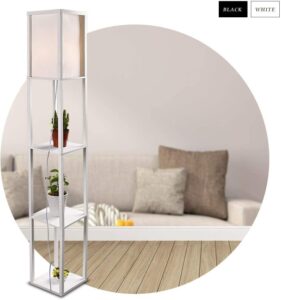 This wooden floor lamp with shelves from Yourliteamz is an optimal selection thanks to its sturdy and straightforward wooden construction. Its modern, Asian-inspired design also makes it perfect for placement in any of the rooms of your house.
With a height of 63 inches, an open top and off-white fabric shade, this floor lamp can be depended upon to produce gorgeous ambient lighting. You'll be able to use 60-watt bulbs (LED or CFL) with this lamp for a convenient accent lighting solution.
The solid real wood construction of this shelved floor lamp is also to be applauded. Despite having such a sturdy build, however, it's also quite lightweight, so if you choose to move it to a different room, that can be done with ease, as well!
Not to mention the three shelves, which measure 10.25 inches each, and are made from sturdy MDF to allow you to store your stuff hassle-free. So whether you're going to put this guy in your bedroom, living room, foyer, recreation room, or even a massage therapy room, it promises to serve you well.
8. Adesso Parker Floor Lamp with Drawer & Storage Shelves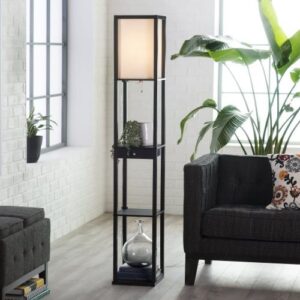 Our final pick is from Adesso, and despite its simplistic design, this one definitely stands out. Standing at 62.5 inches of height and equipped with 3 separate shelves (each measuring 10.25″), this MDF shelved floor lamp comes with an attractive black finish that will liven up any room.
We like this lamp for several reasons. First of all, its bulb socket is compatible with 150W CFL and incandescent bulbs, which means higher brightness intensity. The linen shade will diffuse the light beautifully, making this an ideal choice for accent lighting.
The shelves, of course, will allow you to store your belongings with ease, be they functional objects or decorative pieces. What we love best, though, is the small drawer on the top shelf: you can easily store small items such as your keys or earphones.
The quality of this floor lamp definitely gives other higher-priced options of its kind a run for their money. Made with high-quality MDF, the shelf is also equipped with a protective finish that makes it resistant to scratching, corrosion, and fungus. Overall, we see no reason to skip this lamp!
Buying Guide For Floor Lamp With Shelves
When deciding what kind of shelved floor lamp is best for you, we would recommend keeping the following factors in mind.
Construction Material
You best believe that if you're going to be buying a floor lamp with shelves on it, it should be of good quality. And for that to happen, your shelved floor lamp must be made from high-quality materials! Don't worry; this doesn't mean that you have to spend an exorbitant amount. There are a number of options available to you, namely wood, glass, and metal.
Wood can always be relied upon to be adequately durable and robust. Not to mention, it always has a classic and elegant aesthetic appeal.
On the other hand, shelved floor lamps made of metal are much sturdier, and for many, statelier, as well. In fact, those made from metal tend to be available in designs not achievable with wood. They will be a little bit more expensive, though.
Finally, you have a glass. A glass shelf is undoubtedly going to add a modernist vibe to any room. Depending on the quality, it will also be durable. However, glass is, of course, relatively more fragile, so advance cautiously.
Shelves
If you're going to be purchasing a floor lamp outfitted with shelves, then you obviously need to keep in mind the number of shelves it will have. Just how many you need, of course, depends entirely upon you.
What are you planning on storing on these shelves? If it's something like books or trophies, then you might understandably need a larger amount of shelves.
On the other hand, many shelf sets are used simply to display decorative showpieces, photo frames, and the like. In that case, a more delicately shelved structure would suit you just fine.
Design
By design, we don't just mean the superficial aspect of your shelved floor lamp, although that is obviously an important concern (you don't want it to be ugly!).
What's more important is the rigidity of the structure. Especially if you're going to be storing essentials on the shelves, they should be able to handle the adequate weight. Furthermore, your floor lamp with shelves should have a wide base to stand on; it's no good if it topples over once you've put your stuff on it!
Lamp Lightbulb
In our books, a floor lamp needs to be bright, durable, and easy on the eyes to be considered a worthy floor lamp. And so it is with a shelved floor lamp, as well.
When looking into shelved floor lamps, consider first what bulbs they come with. While some will have a fixture for a bulb—meaning you can replace them according to your will—many come with permanent bulb fixtures.
In the case of the latter, you will usually find that they are fitted with LED bulbs; they should have a lifespan of at least 20,000 hours. Furthermore, check that your lamp is able to produce at least 800 lumens of illumination; it's pretty useless as a lamp otherwise.
Light Temperature
If you don't already know, the "temperature" of a light source is basically an indication of its color. Do you want your lamp to produce cool light or warm light?
Well, why not both? Thankfully, since the majority of floor lamps with shelves are fitted with adjustable LED bulbs, you will be able to manipulate the temperature and set a color you like.
Ultimately, we would recommend not going for a lamp that does not allow for light temperature manipulation, as lights that are too warm will also give off some heat.
Additional Features
There are floor lamps with shelves, and then there are those shelved floor lamps that really go the extra mile. We love those that are compatible with a smart home system such as Alexa, Google Home, or Apple HomeKit, which will allow you to easily manipulate light quality and color. You can also look into shelved floor lamps equipped with USB charging ports for a convenient device charging solution.
Read Next: Best Ceiling Fans With Bright Lights
Frequently Asked Questions
1. What is the color temperature of a light bulb?
The temperature of a light source indicates its color; the lower it is, the cooler the light will be. The higher it is, the warmer.
2. What kind of bulb should I use with my floor lamp?
The best choice is undoubtedly always going to be LED bulbs, as they save a lot of energy. However, not all floor lamps are compatible with LED bulbs.
3. What is the lumen rating of a light bulb, and why is it important?
It is a measurement of the brightness of the light that is produced by the bulb. The majority of floor lamps will produce no more than 1500 lumens, which is good enough for accent/ambient lighting.
4. Should I use a floor lamp with shelves as my only light source?
You can, but it's not recommended. The majority of shelved floor lamps are only designed to produce soft, ambient lighting, so they are best used as accent lighting sources.
5. Will I be able to use a smart bulb with a shelved floor lamp?
This depends on the specific floor lamp. While some are compatible with smart home systems (like Alexa), not all of them are, so do your research carefully.
Conclusion
A floor lamp with shelves has the power to greatly enhance space usage while offering a convenient solution for ambient lighting. And thanks to their compact design, they make a great addition to small apartments.
Remember to be cautious about build quality, durability, light quality, and above all, functionality features when making your choice.
Home is where the heart is, so remember to keep it neat, clean, and beautiful!
I'm James. The author of Electricalaffairs.com. It's been my passion to deal with power tools and gears. This website is mainly to talk about electrical wirings, lighting, various power source tools and accessories. I want to explore tackles and help people to grow their basic knowledge about electrical things. I would also like to help people to pick the right power tool for their daily needs.