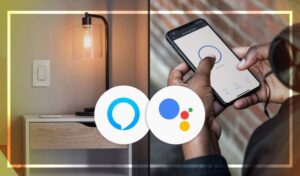 Modern living requires us to make modern choices. The quickest way to incorporate modernity in the house is to get some of those fancy automated lighting systems that you see in the movies.
Google Home makes this technology incredibly affordable for domestic spaces.
They make all sorts of smart appliances to make your home more lively and save electricity. Now, doesn't that sound like a major win-win?
Well, then get on board, and install the best smart light switch for google home.
Do it for the pleasures of vanity and also for the noble purpose of saving electricity.
Now let's look at some of these interesting light switches that are available for us in the market.
Best Smart Light Switch For Google Home Reviews
Technology and conservation can now go hand-in-hand with devices that are so highly interactive with our lifestyles. Take a look at this list we have prepared for you. It is most likely to contain the item of your next purchase.
1. Lutron Caseta Smart Start Switch Kit
Highlighted Features
Has a neat and clean appearance
Pairs up with most smart home applications
Works with Alexa, Google Assistant and Apple HomeKit
Allows you to schedule the lights to turn on/off automatically
You can command the lights even when you're far away from home
Can be controlled the switch board, a Pico remote and smartphones
Uses Smart Bridge to connect across devices and doesn't rely on WiFi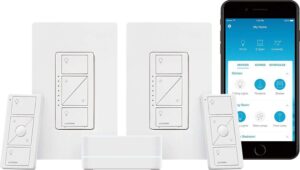 This one is so amazingly responsive to the commands that you'll feel like you're talking to the lights themselves. It is super fast at following your voice, and it never makes a mistake. Once you install it, you can forget all about it and command your lights around just as you please.
You can connect it to several popular smart home devices. It pairs up with Apple Home Kit, Alexa, Sonos, Serena Shades, and of course, Google Assistant. So, control is always going to be in your hands.
To access them with devices, you have to download the Lutron app, and then you're all set!
Also, there is no Wi-Fi hassle with this lighting system. It uses Smart Bridge and forms a smart hub of its own. So it doesn't matter whether you use the app, the switch board, or Pico remote – all these options will carry on your commands at super speed. 
Lutron Caseta will work with various kinds of lighting systems. It works with LEDs, CFLs, and also with halogen bulbs and incandescent lights alike. Because of such a wide range of compatibility, you won't have to buy specific light bulbs for this light switch. It will work with most bulbs you have at home!
One cool feature of this system is that it allows you to make commands while you are far away from home. So you can turn the lights off and on to match your schedule even before you're at home yourself.
And you can also use it to put off burglars by randomly commanding the lights and making it seem like you're at home even when you aren't. This will give you a good sense of security when you're away.
2. Single Pole Treatlife Smart Light Switch
Highlighted Features
Requires a 2.5G WiFi connection
Can be controlled using Alexa and Google Assistant
Doesn't require a central hub or a powerful WiFi frequency
Simple and plain white design that looks elegant in every house
Set a schedule for your lights simply by using the Smart Life app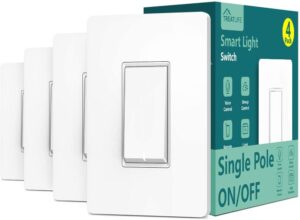 This is an FCC-certified light switch that doesn't require a separate central hub to work – you only need to have a 2.5G internet connection in the house. And it won't work with a 5G WiFi.
The switchboard size is standard, and it is a simple step up that requires a snap-on plate. Installation is very easy, and you won't need to call an electrician for it. Follow the instructions; they are simple enough, and you'll be able to do it all by yourself.
Two very powerful and common virtual assistants Amazon Alexa and Google Assistant, can control this light switch. With these at your disposal, you won't have to walk up to the switchboard to get the lights on. Just send a simple voice command to light up your rooms.
You can also control this switch by installing the Smart Light app on your smartphone. No need to look for an external remote, as your mobile phone will serve that purpose perfectly.
You can do a lot more with the app on your phone. Schedule your lights to turn on or off at a certain time, even when you aren't at home. In this way, you can monitor some level of safety in the house when you're out on vacations by randomly turning on the lights and putting off any intruders lurking around the house.
3. WeMo Dimmer Wifi Smart Light Switch
Highlighted Features
Requires a neutral wire for set up
1-way system and not compatible with 3-way connection systems
Works with Alexa, Google Assistant as well as the Apple HomeKit
Allows you to control the lights from everywhere – near or far
Doesn't require a central hub – works fine with the home WiFi
Calibrates with the light bulbs to maximize their dimming capacity
Sports a clean white appearance and a tiny blue LED light indicator at the bottom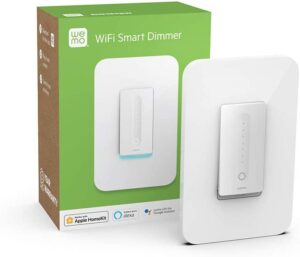 It doesn't matter whether you have Google Assistant, Alexa, or Apple HomeKit – this switch system connects with all such programs to give you excellent control over your lights without the need to walk up to the switch board.
You don't need to get a central hub for it. As long as you have a WiFi connection in the house, you're good to go.
To control the lights with this, you have three options. Use any virtual assistant program, a smartphone app, or just use the remote control that comes in the package.
With such a wide range of device compatibility, you will get to schedule the lights or set a timer to them from wherever you are. Yes, you can control the lights even when you aren't at home. Fool burglars and intruders by randomly turning on the lights when you are away.
This WeMo dimmer is extremely adaptive – it will calibrate the settings to your light bulbs so that there is no flickering or unexpected dimming. There is also a night mode that you can utilize for a restful sleep at night.
You can also tweak the settings to keep the intensity of the light within a certain level – that way, the auto-adjusting dimmer will not interfere with your individual comfort preferences.
You need to keep in mind that a neutral wire is required for the initial set up.
4. GE Enbrighten Z-Wave Plus Smart Light & Dimmer Switch
Highlighted Features
Extends bulb life and saves electricity
Doesn't work with non-dimmable lights
Compatible with all dimmable lights like LEDs, CFLs, halogen and incandescent lights
Handle full adjustability – control the light intensity levels from 0 to 100%
Can be operated using Z-wave enabled remotes, any smart device or the switchboard itself
Requires neutral wire for installation and the process of installation is very straight-forward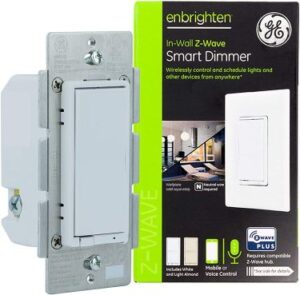 Now this one requires you to have a central hub, and you can get any of the certified hubs like SmartThings, ADT Pulse, Trane, Vivint, and so on. As long as the hub is certified with Z-wave, you are good to go.
One of the best connection systems for these lights is Z-wave because such installation pathways never bog down other devices in the house, and your lights always respond instantly to commands.
The two virtual assistants that the system is compatible with are Alexa and Google Assistant. You can schedule the lights and keep a timer on them to control the lights remotely.
Replace the regular in-wall switch boards with this elegant system, and you will have far better control over your lights. You can adjust their brightness to suit your comfort level and the ambiance of the room as you please.
More importantly, you can save a ton of electricity by using your phone to switch off the lights in unoccupied rooms.
This switch works with CFLs, LEDs, halogen and also incandescent light bulbs, so you are not going to run into compatibility issues at all.
The switch is generally a 3-way system, but some versions of this light switch, particularly model number 12723 and 46199, can handle a fourth switch as well. The switch requires 600 watts and 120 volts to operate.
5. iDevices IDEV0008HW Wi-Fi Smart Wall Switch
Highlighted Features
Increases bulb life and helps to save electricity as well
Allows you to set up a schedule for the lights to turn on even when you aren't at home
Compatible with all virtual assistant like Google Assistant, Apple HomeKit and Alexa
Does not require a separate hub – operates via WiFi and BlueTooth
You can use the lightswitch with a remote and with your smart devices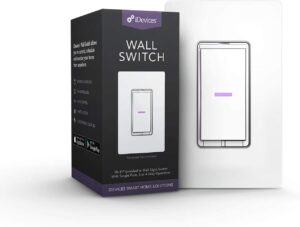 This device will work with voice control systems like Siri, Google Assistant, and Alexa. You obviously need to get the voice control systems separately, but pairing them up is very simple. With these systems set up, you will be able to send a voice command for the lights to be turned on/off.
One of the best advantages of this device is that it doesn't fight for in-house compatibility. Any system you have – whether it be a single-pole setup, a 3-way port, or a 4-way port; it will all work with this wall switch.
But keep in mind that if you want a seamless connection, you will need to make sure that all secondary switches are also Bluetooth-enabled. In that way, all the devices can work together.
You don't need a separate hub for this switch to be functional. Instead, you can connect it via WiFi or Bluetooth.
6. Treatlife Wi-Fi Smart Light Switch
Highlighted Features
Only works with dimmable lights
Can be operated with Alexa and Google Assistant
Full dimming options from 0 to 100% light intensity
Very simple installation process but requires a neutral wire
You can schedule your lights to turn on and off even when you aren't home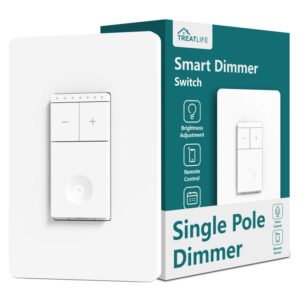 This switch is compatible with Google Assistant and Alexa, but not with Apple HomeKit. With these voice command programs, you can simply tell your lights to turn on/off from afar.
The switch only needs 2.5G connection to work; not a 5G and definitely not a hub set up will do it for this switch.
The switch supports dimmable LED and CFL bulbs that are powered to 150 watts, and it also supports incandescent bulbs that use about 400 watts of electricity.
You will have full control over the dimming features, as it will let you take the intensity of the light from 0% to 100%.
There is a brightness memory function installed, and it will turn on the light from the exact intensity that it was on when it was turned off.
Installing this switch is very easy, but you need to have a neutral wire to get it up. Just follow the manual guide; this is a hands-free set up, and it's as straightforward as it can get!
Next Read: Best Smart Plugs For Alexa and Google Home
Things To Consider Before Buying Smart Light Switch 
They save electricity, as well as enhance the experience of being indoors. But you have to know how to pick out the best choice from all the options in the market.
Command Systems 
These light switches follow commands made by some sort of application. You don't have to walk up to the switchboard to operate the lights. It comes with a remote and smartphone compatibility with which you can give voice commands to the lights.
Before buying the light switch, check what command systems it is compatible with.
Network Signals 
Almost all devices use wireless modulations like radio signals to connect with each other. Your light switch also needs to be part of such a network in order to interact with other devices and stay smart.
Once it is incorporated into a reliable network, you can use any synced gadget to send a connection command to the light switch.
There are three options for you. Check the features of the switch to see which one would be most desirable.
Mesh Network: This works primarily via radio signals
In a mesh network, the devices receive the same signals from the central hub, and then they reflect it back to each other. In this way, your device doesn't need to stay close to the central hub in order to get a strong connection.
Some examples of technology that works through mesh network systems are ZigBee and Z-wave. The benefit of these over other wireless connections is that these networks are designed to operate on very low power.
Therefore, most people prefer to use these to sync up smart devices at home.
WiFi: A WiFi connection also works in the same way – it pairs up the light switch with other wireless devices and makes everything work together.
However, WiFi connections use up a lot of power. And if too many devices pull power from the router at once, then the signals become too weak to work at a satisfactory pace.
Bluetooth: Bluetooth is another wireless option for such smart devices. They consume less power than the WiFi, but they have very short ranges, and they can't connect to multiple devices at once.
Also Read: Best LED Recessed Lights Review
Frequently Asked Questions
1. Do globe lights work with Google Home?
Ans: Yes, but you need to use the Google Home app to add it as a function in the control setup.
2. My lights don't seem to work after I installed another switch app on my device. What do I do?
Ans: If Google Home isn't working with the new app, try going to the "Add" panel on Google Home App, and add the new app so that it has internal sync with the main system.
3. Is Z-wave a better connection system than WiFi/BlueTooth?
Ans: Yes, it's faster and more responsive.
4. Can I still use the switchboard directly with a smart switch?
Ans: Yes, that's one of the control options.
5. Is it better to get smart lights or a smart switch? 
Ans: It depends on your preference, but smart light switches are the more cost-effective choice, and it can also connect multiple dimmable bulbs at once.
Conclusion
We hope to have intrigued you enough with the details we have entailed in this article. It is our great pleasure to help you find the best smart light switch for google home.
Also, we must mention that we greatly appreciate the smart conservational approach you're taking here.
Light switches are a smart and cost-effective solution to connect several light bulbs at once.
Thanks for staying with us. Wish you luck with all future endeavors!
I'm James. The author of Electricalaffairs.com. It's been my passion to deal with power tools and gears. This website is mainly to talk about electrical wirings, lighting, various power source tools and accessories. I want to explore tackles and help people to grow their basic knowledge about electrical things. I would also like to help people to pick the right power tool for their daily needs.