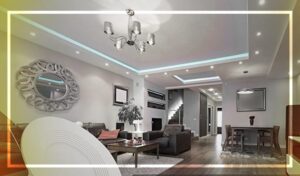 Houses are not just a place where we come to sleep; they are a place where we come to unwind and relax after a long day.
Recessed lighting will help you relax much faster than regular lighting. However, these fancy fixtures can sometimes make the electrical bills get heavy.
That's why we suggest you get LED lights. They require less wattage and last longer than the regular incandescent or fluorescent light bulbs. To find the best LED recessed light, please keep on reading.
We have made a list of the top LED lights you can find in the market today. Lighting is very crucial in setting the mood of a room. So, choose carefully.
6 Best Led Recessed Light Reviews
We have the top smart led recessed lights in this article. They are chosen based on their efficiency, longevity, and cost-effectiveness. These LED bulbs will serve you a long time without weighing down your bills. We hope you find what you are looking for here!
Comparison Chart of LED Recessed Lighting
| Preview | Product | Details | Price |
| --- | --- | --- | --- |
| | 1. Hykolity 12 Pack 6 Inch | | Check Price |
| | 2. Globe Electric 90540 4″ Swivel Round Lighting | Adjustable Swivel Spotlight | Check Price |
| | 3. Energetic LED Slim Recessed Downlight | | Check Price  |
| | 4. PARMIDA 6-inch Dimmable Lighting | Easy Downlight Installation | Check Price |
| | 5. TORCHSTAR 6-Inch Slim Recessed Lighting | | Check Price  |
1. Hykolity 12 Pack 6 Inch LED Recessed Lighting
Highlighted Features
IC rated meaning they are as safe as any LED recessed lights can get
Installation is very easy and won't take up much time
No extra housing is required
Ultra-thin lights that turn on immediately
Compact system designed for installation in small spaces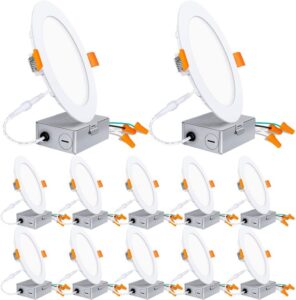 If you have a small room, then these lights will be perfect for it. They can be installed without pot housing. You will need only about 2 inches of space in the ceiling in order to put the fixture in. The depth of the hole needs to be about 6 inches, which is the minimum requirement for any recessed lighting system. 
The quick connector will make installation an easier process. Another thing you will like is the quality of the junction box – the box has blunt edges, which makes it safer to work with.  Also, the cables have a special locking mechanism that tightly secures them in place once the set up is completed.
There go the installation facilities; the guide will give you clear instructions on every step of the process.
Now, in terms of usability, we'll start by mentioning that these lights come with Triac dimmers that have a very smooth dimming system. These dimmers will dim out the lights in soft transitions without any flicker, or buzzing noises.
The lights will glow brightly as soon as you press the switch on. They won't keep you waiting by taking the time to warm up. These lights are also IC rated, which means that they can be safely installed with insulating systems in the electric lines – thus, they are completely hazard-free fixtures.
2. Globe Electric 90540 4″ Swivel Round Trim Recessed Lighting Kit
Highlighted Features
Strong body with a highly accessible junction box
Installation is made easy by the patented clipping mechanism
Bulb requires a hole of 3.88 inches, while the trim size is 4.5 inches
The direction of the light can be changed due to the swivel on the gimble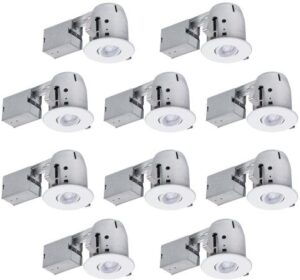 If you are looking for lights that are a bit on the fancier side, pay closer attention to these ones right here. These fixtures come with an adaptable trim, which means that their gimbal housing can be moved to change the direction of the light.
So, if you want to direct attention towards a specific part of the room, then these are the lights for you. Turn the swivel and shift the light towards a painting on the wall, a colored wall, or perhaps a piece of furniture as you desire.
The build of the fixture is very robust – galvanized steel has been used to make the housing, and the junction box has detachable panels on the side that hold the special clips in position.
This brings us to the installation process, which is so simple that you won't even require tools for it. The special clips mentioned above are attached to the housing, and with these clips, you can set the fixtures in place with a push and click mechanism. This is a patented mechanism, and no other fixture comes with this advantage.
To set up the lights, you will only need a hole of 3.88 inches on the ceiling, while the full trim size should be about 4.5 inches. 
There is an automated cut-off switch incorporated in the system, and this switch will ensure that the electrical supply to the light gets cut before any overheating happens. So, these are completely safe to be used inside the house.
3. Energetic 6 Inch LED Slim Recessed Panel Ceiling Downlight
Highlighted Features
Can-free lights, meaning they will be great for aesthetics
Turns on immediately and won't keep you waiting long
Directs light downwards only, which is a great feature
Simple setup and won't require professional help and also easy to control
Requires a low power of only 14 watts
Get three levels of brightness with one fixture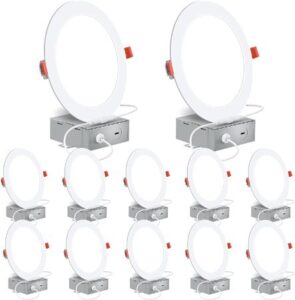 In these modern days, you don't want the can around your lights anymore. These lights are free, they don't need to sit within a housing of their own, and therefore setting them up requires less space.
A junction will go inside the ceiling, and for this, you will need to make a hole about 6 inches. The whole fixture is IC rated, which means that the junction box can sit close to the insulation of the building without causing any problems.
Quick connect is supported by these fixtures, and they will make it easier for you to control the lights remotely. The installation is super easy – you just need to connect the fixture with the driver, and use the special springy clips to secure the fixture into place.
These lights are ultra-thin, but they are very powerful. There is a dimmer inside the junction box which is directly connected to the remote set up. With the dimmer, you can change the brightness of the lights in degrees of 3000k, 4000k, and 5000k.
You will be able to further customize these lights by adding colorful light rings around the system.
4. PARMIDA 6-inch Dimmable LED Square Recessed Retrofit Lighting
Highlighted Features
Can be dimmed to any capacity proving it to be a versatile choice
Comes with adapters and connectors to make things easier for you
Does not come with built-in dimmers
White frames give them a very clean look, which will help your home decor
Very lightweight and resistance to discoloration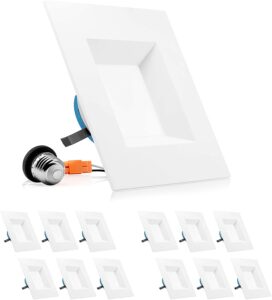 With white squared frames, these lights look very elegant and give the room a clean look. And if you want to reinstall fixtures into your existing recessed housing, then you're in luck here because these lights support retrofitting.
These lights will fit any type of cans, regardless of whether they have built-in C-clips or not. In the box, you will find an E26 adapter and a T24 connector, which will make them compatible with the existing cables in the house.
The frames of this fixture are made with aluminum and polycarbonate, which makes them lightweight and very resistant to discoloration.
One thing you will enjoy while using these lights is their dimming capacity – the lights can be dimmed to as low as 10% and can be maxed out to 100%. You can easily change up the mood of a room without any difficulty.
However, please note that dimmers are not built into the system. You can make use of this feature only after installing dimmers in the fixture separately.
The lights glow up the instant that they are switched on. They will give you more than 50,000 hours of light without any flickering or buzzing inconveniences.
5. TORCHSTAR Basic Series 6-Inch Slim Recessed Lighting
Highlighted Features
Only requires about 12 watts of power, so power won't be a concern
Made of aluminum which makes it durable and resistant to corrosion
Dims from 5% to 100% without disturbances
Requires about 2 inches of space for installation
Has IC rating which allows it to be safely mounted onto ceilings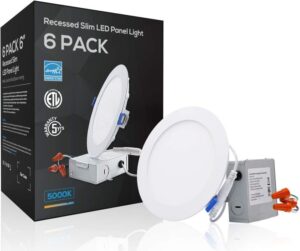 You won't need housing to install these lights. There is a small junction box that comes with the fixtures, and it is very convenient for installation. It does not require much space either. Only about 2 inches of clear space on the ceiling will be enough to hold up this fixture.
These lights will give you a good amount of convenience of use as well. You will be able to dim the lights from only 5% to about 100%. This dimming system makes these lights suitable for use in any kind of space, starting from hallways, closets, basements to regular rooms in the house.
The frames are built with aluminum, and that makes these completely free from the dangers of corrosion and rust. Also, there is a sponge gasket around its perimeter, which makes seal extra-strong on these lights.
Electrical requirements are very low for these fixtures – the fixture is compatible with voltages in the range of 100 to 130 V, which gives out as much light as regular incandescent bulbs, but only takes about 12 watts of power to do so.
Thus, by using these lights, you will save a lot of energy and a lot of money as well.
6. Sunco Remodel Air Tight IC Housing for LED Recessed Lighting
Highlighted Features
Does not overheat or cause thermal issues
6 lights in one pack, which is a great plus
Require 120 – 227 volts, which are available at every household
Safe to be installed in the joist, and can be done easily
Have standard TP24 connectors
Comes with its own junction box, which is amazing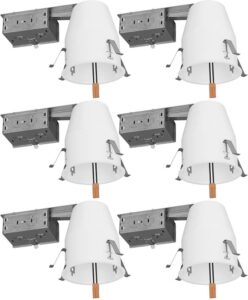 These lights are bright, neat, and they don't overheat. Most importantly, they are energy-efficient and completely safe! If you are looking for lights that won't give you any trouble in the house, then these LED lights are exactly what you are looking for.
You will be satisfied with these lights because they pose no danger of starting a fire due to electrical mishaps. The airtight build of the bulbs keeps the air inside the bulbs circulating without causing any overheating problems.
Installation of the bulb is super easy – you will need holes of 3/8 inches in the ceiling. The light comes with its own junction box, and this will prove to be very convenient for you as you won't need to install a junction separately.
Everything about the installation process will be described in easy-to-follow detailed steps, so just follow them carefully, and you will be able to get the lights up all by yourself.
These bulbs are all very energy saving. They will require about 120 to 227 volts in order to get to their brightest. Also, they come with TP24 connectors, which is the standard connector for most recessed bulbs because they are incredibly reliable.
The IC rating on the bulb means that these bulbs are marked safe for going inside the joist spaces in the ceiling, and they will not cause any damage to the electrical cables around them.  
Also Read: Best Ceiling Lights for Bedroom | Top 6 Picks
Buying Guide For Led Recessed Light
If you are looking for the best recessed light, then having a list of items is not enough. You must learn the criteria based on which you can judge the quality of these fixtures yourself. So, that is what we are going to help you with down here.
Housing Styles: 
This is the part that will sit atop the ceiling. The housing will keep the trim and the bulb together, so it's important for it to be reliable and strong enough.
Get the remodel housing if you want the fixture in a solid ceiling. And if the ceiling has not been installed yet, then you need to get something called a new construction housing.
IC Rating:
This rating is required to ensure a safe placement with the insulation of the house. If the housing is IC-rated, then installation will require less space. However, if the housing does not have IC approval, then you have to make sure that the fixture sits 3 inches away from the insulation vents.  
Trim Styles: 
This is the part that you can see from the outside. It is what holds the light into the fixture. There is a special shower trim for fixtures that are being installed in the washroom – it is designed to keep water away from the bulb.
If you want fancy lighting, you can go with the gimbal trim. This trim will allow you to change the direction of the light and focus it on special areas of the room.
Then there are open trims – these are ideal if you want the light from the bulb to pour out into the room directly. These have a flush attachment to the ceiling and are used in areas that require maximum illumination.
Frame Finish/Color: 
The frame finish is the color of the frame. Look at this to make sure that the frames match the color of the room. You will get choices between white, nickel, chrome, black, silver, and bronze. Pick out a finish to match the door handles and the furniture of your room.
Frequently Asked Questions
Please look below for any questions you may have about the best LED recessed lighting. And if you have any further questions, let us know.
 1. Why does my light bulb keep burning the fixture panel?
You might be using a bigger bulb than you should. Check the fixture specifications to know the right size of bulbs for it.
2. Can I install recessed lighting in solid ceiling? 
You can. Remodel LED lights will be the right fit for it.
3. What is the advantage of using LED lights?
They don't heat up the room, and they last longer than other light bulbs.
4. What to do if I don't like how my recessed light looks on the ceiling?
You can change the trim of the fixture for a different look.
5. What is the advantage of having an IC-rated fixture?
They will prevent accidental electrical fires in the house.
Conclusion:
That marks the end of this article. We hope you were able to find the best recessed light. And if not, we know that you will find it soon enough. All you have to do is keep the criteria for selection in mind, and you'll be good. Best of luck!
I'm James. The author of Electricalaffairs.com. It's been my passion to deal with power tools and gears. This website is mainly to talk about electrical wirings, lighting, various power source tools and accessories. I want to explore tackles and help people to grow their basic knowledge about electrical things. I would also like to help people to pick the right power tool for their daily needs.