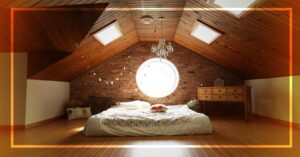 Whether it is reading, writing, typing, watching TV, enjoying some food, or just plain quality time with a loved one, you want your bedroom to have the best possible ambiance. Lighting is a huge part of that.
You do not want your lights to be glaring and hurting your eyes, nor should they be so low in luminosity that you struggle to see fine details. What are then the best ceiling lights for bedroom?
From flush mount and semi flush mount fixtures to pendant lights to chandeliers, you will have a lot of options to choose from. Here we review the six best among these and help you make that decision.
Best Bedroom Ceiling Lights Reviews
We have narrowed down the following six products as the best available on the market today. Multiple criteria were used to rank the products, including the kind of bulbs and LEDs, visual appeal, quality of materials, and others. The following is our list;
1. Flush Mount LED Ceiling Light Fixture for Bedroom
Highlighted Features
Made of top-grade crystal and stainless steel
Visually appealing, elaborate design
Requires self-assembly
Uses 9 E12 LED bulbs as lights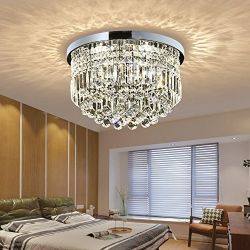 To start us off, we have the K9 Crystal Raindrop Chandelier from Saint Mossi. This gorgeous collection of crystals and lights comprises of 9 E12 LED bulbs. It is made using top-grade crystal class raindrop and bright stainless steel and produces soft yet strong lighting for your room.
You will have to install and assemble the thing by yourself, and the LED bulbs do not come with the chandelier, you will have to purchase them separately. In addition, the sockets should be paid special attention to before installing, and the anchor is heavy and will need to be driven deep into your ceiling for safety.
The main selling point for this product is aesthetics. It offers a brilliant addition to the outlook of your bedroom and enhances its beauty several fold. Another reason customers flock to it is the price, which is comparatively lower than many of its closest competitors.
Also, the customer service from Saint Mossi is, in general, exemplary and will be at your beck and call should any need and complain arise.
2. Ridgeyard Modern Luxurious Ceiling Lighting for Bedroom
Highlighted Features
Can function with many kinds of bulbs
K9 crystal body
Lighting consists of 12 E12 bulbs
Compatible with LEDs, halogen bulbs, energy saving bulbs and others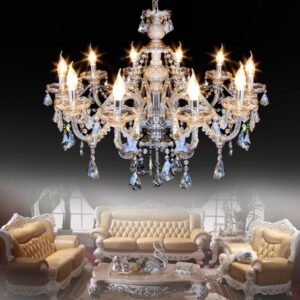 At number two, we have another breathtaking crystal chandelier, this one from Ridgeyard. Made in a rustic/lodge style, this is a very versatile product that can function with many kinds of bulbs.
It is compatible with LED bulbs, halogen bulbs, energy-saving bulbs, dimmable bulbs, and others. This chandelier consists of cognac crystals and silver metal bulbs, giving it a more enhanced look compared to just plain clear chandeliers.
This thing has a k9 crystal body, and the lighting effects and color will vary according to what you are using. Moreover, this one comprises of 12 E12 bulbs. The installation is relatively simple with a lot of customer support available, including tutorial videos to guide you through every step.
Moreover, there is an option for having someone assemble it for you, with a bit of extra payment required. You should note that there is no grounding wire that comes with purchasing the product. The lighting it provides is suitable for places other than bedrooms, too, such as halls, living rooms, etc.
3. Saint Mossi Chandelier Modern LED Ceiling Light Fixture
Highlighted Features
Requires 6 GU10 LED bulbs as a source of lighting
Multiple colors possible with the lights
User has to assemble by themselves or pay for a specialist
Made of high-quality K9 crystals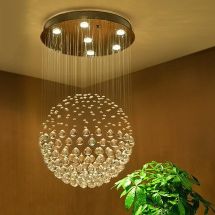 Up next, we have another chandelier from Saint Mossi. As the name suggests, it shares a lot of similarities with the number one pick, with a few key differences, of course. It is a flush mount lighting system and runs with 6 GU10 LED bulbs, which have to be purchased separately.
The wrapping is very secure, and the lighting provided is sufficient to provide decent luminosity while remaining visually appealing.
And the complete installation is required on the part of the user, requiring to be built up piece by piece. Although it is not all that complicated, requiring mostly regular tools such as drills, screws, etc.
The aesthetics it brings to your rooms have a contemporary feel. A range of colors is possible with regards to the lights, further personalizing the look to your bedroom.
In fact, the shape and crystals alone can serve as an excellent source of décor, without being actually lit up. The wires are all made of metal, and the crystals are all high-quality K9.
4. Kira Home Sienna 15″ 3-Light Semi Flush Mount Ceiling Light
Highlighted Features
Consists of a drum shade, glass diffuser and has a chrome finish
Semi flush mounted light, suitable for many rooms
Works with 60W traditional lights
Open top so as to let you change lights complete disassembly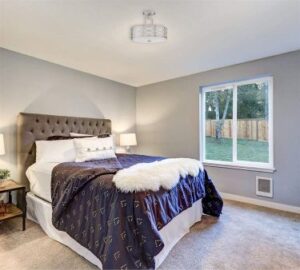 This is a semi flush mount ceiling light from Kira Home. In terms of structure and makeup, it consists of a drum shade, glass diffuser, and a chrome finish. The fabric shade is surrounded by a lattice designed, giving it a truly unique look and your room a very distinguishing lighting décor.
It is also relatively versatile. The fixture can be mounted in places other than your bedroom, too, such as hallways and especially over dining tables and lobbies.
As for the actual lights, it requires 60W traditional ones. The top is open, which lets you change the lights without having to take the entire fixture apart. And the customer service has generally been rated very highly by buyers.
There is a warning attached to anchoring this chandelier in damp ceilings, something you should keep in mind before deciding on a spot for this. The price is also relatively reasonable for a high-quality chandelier.
5. AUDIAN Dimmable LED Flush Mount Ceiling Light Fixture
Highlighted Features
Dimmable lights for control of room ambiance and brightness
hree color temperature settings, 2000k, 4000k, 6000k
Aluminum lamp holder made of high-grade metal
Security back led cover design for better energy use
Lighting provided by 2835 LED chips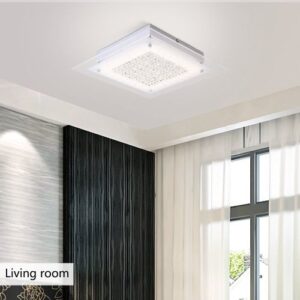 For our next pick, we have this dimmable LED flush mount ceiling light from AUDIAN. As given away by the name, one of its major features is the dimmable LED lighting system that can be controlled via a remote.
There are three different color temperature settings on offer to choose from according to your own preference and mood. These being 2000K cool white, 4000K neutral white, and 6000K cold white. Wi-Fi or Bluetooth connectivity is not required for this to function.
The overall aesthetic follows a simple style and design. It comes with a high-quality aluminum lamp holder and transparent acrylic cover. The body is given baking paint and is resistant to corrosion and fading. In addition, it is also not prone to cracking and is relatively easy to clean.
There are energy-saving mechanisms put in place, including a security back led cover design that ensures the right distance between the led beads and the light cover. The high power of 2835 LED chips save up to 80% more electricity compared to alternatives such as halogen lamps.
6. Modern Ceiling Light Flush Mount Fixture-Possini Euro Design
Highlighted Features
A flush-mounted fixture designed like a white flower
Chrome finish circular ceiling canopy
Easy to clean, crystals resistant to dust
No self-assembly needed, easy to mount in ceiling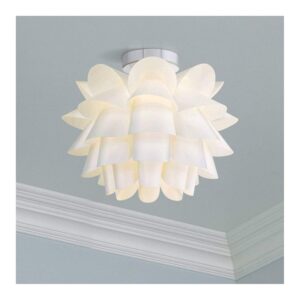 Capping off our list is this, not-so-little beauty from Possini Euro Design. This is a truly unique flush mount fixture that is designed entirely like a white flower.
The lighting is provided by a single 60W standard medium base bulb. Recommended bulb types are incandescent, CFL, halogen, and LED. It is made with a cast resin white finish construction.
The canopy and accents are given a chrome finish, the base A15 shaped, and the light diffuses through the specially positioned curved plastic panels.
This entire thing is mounted with a chrome finish circular ceiling canopy, making for an organic look to your bedroom or indeed anywhere else you may want to put up this fixture.
Cleaning is also relatively easy; in particular, these crystals hold up very good against dust build-up. The price is another plus point of this product, being rather low when compared to other similar options.
And finally, you do not have to assemble the entire thing yourself like many of the other fixtures we reviewed. All you have to do is secure it in your ceiling, and you will have added an amazing piece of lighting décor to your bedroom.
Also Read: Best LED Recessed Lights Review | Top 6 Picks
Things To Consider Before You Buy Ceiling Lights
We talked about many aspects of ceiling lights; now we go into a bit more detail so as to help you decide which of these are the best bedroom lights. The following are the key criteria that should help guide your purchase;
Flush Vs. Semi Flush Mounted Lights
Flush-mounted ceiling lights, as the name already tells you, are pressed flush against the ceiling. There is very little space between the two and establishes a more direct connection with the electrical input. The fashion statement of these lights is more blending in right in rather than bringing their own flair.
In contrast, semi flush mounted lights are anchored in the ceiling by a short stem-like structure. Compared to their flush counterparts, these tend to be more decorative and drown out all other décors with their literally dazzling looks.
Material Quality
The crystals, chains, canopy and other parts making up a chandelier or other lighting décor must be of high quality in order to serve you well. K9 crystals, stainless steel bodies, and other such markers are important so that you know what you are buying is indeed worth it.
The Need for Self-Assembly
Right this one will divide the casuals and dedicated enthusiasts. A lot of chandeliers will require extensive assembly on the part of the user, others come fully assembled, and you just have to attach it to your ceiling.
Which one you prefer depends entirely on how much effort you are willing and capable of investing.
The Lights
It goes without saying, before buying ceiling lights, you should look into their actual lights.
You may have a preference for energy saving bulbs over others, or you enjoy the glow from halogen lamps, in particular, if you know nothing about bulbs, then this is your chance to learn right before making a most likely expensive purchase!
 Also Read: Best Bathroom Exhaust Fans with Light
Frequently Asked Questions
Below, we go over some of the most commonly asked questions when it comes to bedroom ceiling lights and try to answer them;
1. How bright does my bedroom ceiling light need to be?
It sort of depends both on your aesthetic preference and the health of your eyes. In general, you should have lights whose brightness can be adjusted. As for bulbs, 60W bulbs are a good general standard to follow.
2. Do I have to assemble the structure by myself?
It depends on the product. For a lot of ceiling lights, you do have to carry out self-assembly; others come pre-assembled.
3. Will energy-saving lamps make a big difference?
Normally speaking, yes, these lamps should bring down energy usage and consequently your lighting bill. Perhaps not by a big margin, though.
4. Will these damages my ceiling?
If your ceiling was made with good raw materials and is decently looked after, then no. It should be able to support a chandelier or other kinds of ceiling lights just fine.
5. How are LED ceiling lights better than regular in wall lights?
They do not just give you lighting; they provide a new decorative centerpiece to your room. If you get led ceiling light with remote control, then you can also control the brightness to suit your needs.
Conclusion
The bedroom is one place where you simply have to feel comfortable. The lighting plays a key role in that. Ceiling lights come to your aid in that regard, in multiple ways, whether through the basic lighting, or the controlled ambiance or just their breathtaking visuals.
We hope our reviews help you decide the best ceiling lights for bedroom for you.
I'm James. The author of Electricalaffairs.com. It's been my passion to deal with power tools and gears. This website is mainly to talk about electrical wirings, lighting, various power source tools and accessories. I want to explore tackles and help people to grow their basic knowledge about electrical things. I would also like to help people to pick the right power tool for their daily needs.