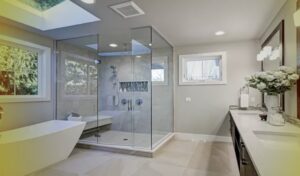 So you're inside your bathroom and enjoying a 'me-time'. The quiet soothing feel doesn't fail to impress you.
But wait, what's that noise? You hear a disturbing buzz. Your eyes catch the exhaust fan of your bathroom. It's making all those weird noises.
Suddenly, you start to feel your bathroom is full of humidity. Damn, what to do now? You try to go outside and the lights are out suddenly. You trip over.
Only if you had the best bathroom exhaust fans with light and heater, things would've been much easier, right?
Well, you can just get your hands on the one you need. Just go through our reviews and pick the one that suits your taste.
7 Best Bathroom Exhaust Fans with Light and Heater
Below are the reviews of the top 8 exhaust fans available in the marketplace. Go through the reviews and pick the one you need.
1. Panasonic FV-11VHL2 WhisperWarm
Highlighted Features
It is super quiet in regular usage at .7 sones at 0.1″ static pressure.
It guarantees higher longevity with its fully enclosed condenser motor that uses less energy to move larger volumes of air leading to less overheating and motor failure.
Get heated clean odorless air with all in one combination of light, heater and exhaust fan.
This 4" ducts ventilation fan is easy to install as it comes with the entire mounting hardware.
It is also Energy Star Rated and has a high CFM to Watt ratio.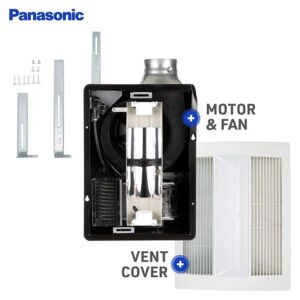 Tired of your stuffy, humid bathroom? Want to protect your walls and ceilings from damp problems while driving the humid air and odor away? An extremely quiet wall mounted bathroom exhaust fan with light and heater is the ultimate solution to your problem. 
Panasonic has been a mainstay in the household appliance industry for many decades. It is unfathomable that any homeowner in this day and age has not come across or used at least one of their products during their lifetime. 
With the FV-11VHL2 WhisperWarm, Panasonic now seeks to provide its customers with the perfect ventilation solution. Being a combination of an industrial-grade fan, a light, and a heater, the WhisperWarm is currently one of the top-rated bathroom exhaust fans in the market. 
At 0.7 sones, it is also one of the quietest fans available, ensuring no consumer is ever bothered by the large hum generated by traditional ventilators ever again.
Panasonic also provides the entire mounting hardware, enabling even the least tech-capable consumer to install the device with minimum hassle. 
A bathroom exhaust fan combo, that not only lights up, and heats your home, but also provides clean odorless air; the Panasonic WhisperWarm should be the only ventilation choice for any home, especially with the guarantee of longevity provided by one of the biggest brands on the planet.
2. Broan-NuTone 655 Bath Fan and Light with Heater
Highlighted Features
A perfect three in one light, heater and fan combo that functions together or independently.
Its design feature complements any bathroom décor with its white polymeric grilles.
The discreet Type IC unit ensures only the white grille and illuminating light is visible.
Easy to use with separate wall controllers with two or three functions.
It comes with a 100-watt bulb snap-in light diffusing lens.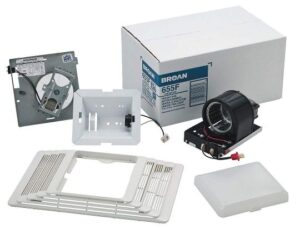 You no longer have to wait for the entire house to heat up to get a comfortable warm bathroom first thing in the morning. The wall mounted bathroom exhaust fan, Broan-NuTone 655, can do it instantly.
A brilliant bathroom exhaust fan combo, The Broan-NuTone 655 with a 1300 watt heater built-in, is the ultimate thing to heat your bathroom immediately. It ensures an efficient and even distribution of heat around your bathroom while safely removing humidity and odors. The three in one combo of the heater, fan, and light functions can be operated together or independently.
Featuring a classy white polymeric grille design to complement any decor, the unit fits snugly into a 2″x 6″ space in the ceiling. A 70 CFM with 4.0 sones noise rating makes it ideal for small to medium rooms.
An insulating contact is provided unit which is installed around the unit blocking any gaps between the unit and the ceiling to ensure nothing but the light and white polymeric grille is visible. This will contribute to your bathroom's clean and cohesive appearance making it as aesthetically pleasing as possible.
The Broan-NuTone 655 also comes with a snap-in light-diffusing lens for the 100-watt bulb which illuminates the bathroom. This eliminates the need for installing a separate lighting system in your bathroom.
The unit can further be controlled via a separately sold wall controller with two or three functions, which requires a 20 amp circuit to work as intended.Overall, this three in one combo that provides powerful heating, light, and ventilation at the touch of a switch is definitely worth your consideration.
3. Broan-Nutone 9093WH Heater, Fan, and Light Combo for Bathroom
Highlighted Features
Provides optimum performance with a 1500W heating element and 70 CFM.
A bright 100W incandescent light focusing on the details of your bathroom.
A 7W nightlight for a soft glow at night.
White enamel Grill is an appropriate match for any décor.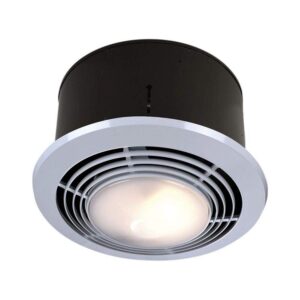 The Broan-Nutone 9093WH is a multifunctional ventilation unit with light, heater, fan, and night-light with switch. This top-rated bathroom exhaust fan is powerful enough to heat up quickly and efficiently keeping your bathroom fresh and odorless.  
NuTone 9093WH has a 1500-watt heating element and 70 CFM ventilation fan that offers optimal performance in bathrooms up to 100 square feet without any hitches. This strong performance enables you to have a touch of heat just when it's needed.
It comes with a four-function wall switch for fan-forced heating. With this function, you can enjoy your shower even on those chilly mornings, as you have the liberty to set the temperature which you want to heat your bathroom at. 
A feature that is sure to clutch your interest is its two lighting systems. A 100-watt bright incandescent light that provides a clean, even light reflecting upon each piece of material in your bathroom. And, to aid in your nighttime visits a 7-watt nightlight with a soft glow comforting your eyes. 
Not just it, NuTone 9093WH also guarantees quick installation. It is easy to install, fits a 4" duct, and includes a junction box built-in to make plug-in installation of the heater much simpler. It is also suitable to match any elegant bathroom décor with the neutral polymeric white finish with attractive, streamlines design and finely engineered grilles.
With its multifunctional features and sleek look NuTone 9093WH is one of the top-rated bathroom exhaust fans, it deserves to receive your highest priority while choosing a ventilation unit for your bathroom.
4. Broan-Nutone QTX110HL Exhaust Fan Combo, Heater and Light
Highlighted Features
It has a high output 1500-Watt heater with exclusive Power Heat design for efficient heat output.
Two bright 60W radiant light focusing on the details of your bathroom.
A 7W nightlight for a soft glow to aid in your nighttime uses.
The elegant white enamel Grill is an appropriate match for any décor.
It is super quiet in regular usage at 0.9-Sones and 110 CFM fan.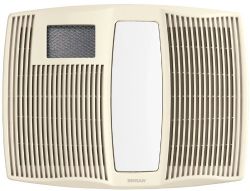 Our next pick is also a product by Broan-Nutone, by now you can tell how the brand goes all-out to provide an incredible combination of functions perfectly fitted in one unit. Broan-NuTone QTX110HL offers a rare combination of power and exceptionally quiet operation. This three in one wall mounted bathroom exhaust combo will bring convenient and comforting warmth to your bathroom with nearly silent operations.
Blending into the ceiling the white polymeric grille gives a cohesive look that complements virtually with any bathroom interior. One major aspect of a finely decorated bathroom is the lighting, and the Broan-NuTone QTX110HL holds two bright 60-watt radiant bulbs which are sure to illuminate the bathroom highlighting its sharpest design elements. It also has a 7-watt nightlight for a softer glow for the nighttime.
The ventilation unit runs with 0.9 sones and 110 CFM for near-silent operation. And, a 1500-watt Efficient PowerHeat heater confirms maximized heat output alongside years of quality use. Broan-NuTone QTX110HL fits in 2″ x 8″ ceiling construction spaces and is easy to install and/or replace. It comes with 6" round duct connector, 1.1" long tapered cover and a strong anti-vibration mounting brackets safeguarding a quick and easy installation. A Type IC installed around the unit blocking all gaps ensuring only the light and white polymeric grille is visible.
For quiet operating exhaust ventilation that allows your bathroom to exhale, eliminating humidity, odor, and airborne particles Broan-NuTone QTX110HL would be your ideal pick.
5. Delta RAD80L Exhaust Bath Fan with Light and Heater
Highlighted Features
Assures a quiet operation at 1.5 sones.
It's energy-efficient at 7.6 CFM and 1300 watt heating element.
It comes with DC brushless motor technology and galvanized steel construction ensuring reliability.
It's equipped with a thermal cutoff fuse and a built-in thermostat for consistent temperature.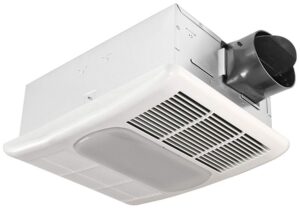 The Delta BreezRadiance is another brand whose name is well recognized among the top-rated bathroom exhaust fans. The reason is, of course, its constant need to provide innovative, clean and energy-efficient solutions for every household. Their Delta BreezRadiance RAD801 wall mounted exhaust fan with light and heater is one of the best inline.
Its built-in thermostat lets you regulate the temperature to your desired need attending to your comfort. Delta BreezRadiance RAD801 comes with energy-saving brushless DC motor technology that is engineered to deliver a minimum of 70,000 hours of continuous operation.
It is also energy efficient at 7.6 CFM with its 1300 watt heating element evaluated by UL for safety standards.
Not only will it give you comfort and warmth by removing the humid air keeping your bathroom fresh and odorless, but it also blends in with any bathroom décor with its contemporary style grille with core light output 1850 Lumens, 2700K and included as GU24 26-watt CFL light bulb.
And, it is guaranteed to have a long life with its energy-efficient property along with the galvanized steel construction that resists corrosion.
The Delta BreezRadiance RAD801 is also equipped with a thermal cutoff fuse and thermostat and comes with a 6" diameter round duct. It will also ensure quiet operation at 1.5 sones while heating, lighting and ventilating your bathroom giving its perfect three in one combo another notch.
To sum up, this fan will outlast many of your household appliances. It is an ideal choice for your bathroom that you can trust to rely on for your comfort.
6. Broan-NuTone 100HL – Adjustable Bath Fan with Heater
Highlighted Features
It provides quiet operation at 2.0 sones.
It operates at 100 CMF with 1500-watt heating technology.
This unit comes with a 4" duct and 24" adjustable hanger making it easy to install.
Its multifunctional wall switches allow you to the liberty of choice that fits your comfort.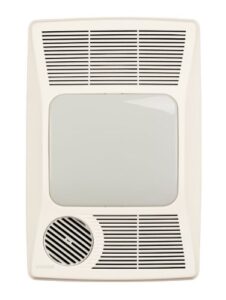 Here we are, back with a Broan-NuTone serving at your comfort with a light, heater and exhaust fan with the Broan-NuTone 100HL, a directionally-adjustable wall mounted bathroom exhaust fan.
It is an HVI-Certified fan with a 1500-watt heating technology to keep your bathroom warm during those chilly morning baths. In spite of being the perfectly combined fan, light and heater it has a quiet operation at 2.0 sones. Its fan also provides 100CFM ventilation.
You don't need high expertise to be able to install it. Aiding in its easy installation feature, it comes with a 4" duct connector and 24" adjustable hanger bar system, ensuring a fast and flexible installation procedure. It is compact and easily fits 2" x 6" ceiling construction in any bathroom up to 90 sq. ft.
Broan-NuTone 100HL's white polymeric grilles will surely blend into your bathroom ceiling. To complement the aesthetic elements in your bathroom décor it has a 100-watt incandescent light. This equipment requires a 20-amp circuit.
That's not all, this ventilation unit also offers a separately sold multi-functional wall switch that allows you to choose the operations fitting your lifestyle.
What makes the Broan-NuTone 100HL stand out from the rest? Well, of course, it's the exclusive directionally adjustable design that makes it perfect for your choice of purchase along with all the multifunctional heating, lighting and ventilating features.
7. Hauslane BF200 Electric Bathroom Fan
Highlighted Features
Ultra-quiet bathroom ventilation unit using 1007 RPM.
It operates at 120 CMF and functions to ventilate rooms up to 120 square feet emitting unwanted odors.
This unit comes with a 4" duct and double hanger making it easy to install.
Along with efficient air circulation, it also has a 6W LED light panel for illumination.
The ETL listed fan also offers a 2-year limited guarantee from the manufacturer.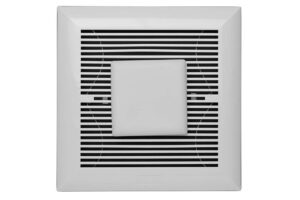 Next in line if the Hauslance BF200 is an ultra-quiet exhaust and ventilation fan to improve the airflow and air circulation of your bathroom. This is one of the top-rated bathroom exhaust fans with efficient ventilation that uses suction to remove unpleasant odors and smells leaving you with a comfortable bathroom.
The most highlighted feature of the ventilation module is ultra-quiet as it uses a 1007 RPM exhaust fan, this enables you to enjoy a near-silent experience without disturbing other people in the household. It also has an efficient 120 CFM ventilator that provides powerful ventilation for rooms up to 120 square feet.
Supplied with a 4" duct connector and a double hanger bar system it is the ideal solution to with easy installation support. The Hauslance BF200 comes in standard sizing to fit perfectly in between most ceiling joists.
Not only does it provide an efficient air circulation the Hauslance BF200 also gently illuminated your bathroom.
Constructed in it is an efficient wall mounted electric exhaust fan with a built-in 6-watt LED lighting panel to provide convenient room illumination. The gentle lighting is ideal for your night time bathroom visits.
In case you are not already convinced that the Hauslance BF200 is a prominent module to your bathroom with one of the top multifunctional fans, it has more to offer!
The ETL listed electric bathroom fan is also supplied with a 2-year limited guarantee to support their promises from the manufacturer. This guarantees you a quality material for your bathroom with durability, longevity and of course peace of mind.
Things to Consider Before Buying an Exhaust Fan
Choosing a ventilation solution for your room might not seem easy. The number of different brands on the market, along with the features available might leave anyone bewildered. Worry not, however, here's a list of things you should look for to figure out which solution is the best for you.
Size
First, the size of the exhaust fan must be the right fit for your bathroom. If you get a unit with compatible for smaller bathroom compared to yours, you are sure to be disappointed with its performance.
First off, try to measure your bathroom's size, using those measurements you should be able to assess the CFM-rating to identify the air exchange rate per minute. Typically, the CFM of a bathroom exhaust fan should be high enough, to be capable of replacing the air inside your bathroom up to eight times an hour.
Hence, if your bathroom is big enough, you should go fo higher CFM. For each foot of bathroom space, its ideal to have at least once CFM, the CFM rating generally ranges from 50 to 110.
However, some bathrooms have higher ceilings, this should also be taken under consideration while selecting the exhaust fan.
Noise Level
As you have seen all through our reviews, we assessed the noise level of almost every ventilation unit. This may not seem to be something critical initially, you will definitely not enjoy a loud noise as it will cause annoyance to you.
The sound rating is measured in sones. If the sones level is low, it means the fan is quiet. On the other hand, when the sones rating is high, that would mean the fan emits loud noise during operation.
The quietest fans usually have a noise level of 1.5 sones, or even lower than that. Naturally, the units with lower sones rating is slightly overpriced compared to the ones with higher sones. Like most purchases, the budget is most likely to play a significant part in this shopping process for your bathroom exhaust fan.
Lighting
Most desired quality exhaust fans are not expected to be multifunctional. Not only does it ventilate, but also works as a light to illuminate your bathroom. Most of the exhaust fans that we have reviewed beforehand offer this additional feature.
We can all agree we want our bathrooms to be well lit and bright, enhancing the layout of your bathroom?
However, exhaust fans also have additional features of a night light. A soft glow for the nighttime use of your bathroom, to keep your eyes at ease. Night lights are expected to have lower wattage nigh setting, as you want to keep your bathroom slightly illuminated at night.
Most notable, most of these units with night lights are energy efficient.
Heating
Heating may not be the first thing that comes to mind when choosing an exhaust fan for your bathroom. But one machine to both clean the air and keep you warm in those chilly days makes life much easier. Especially if you are a homeowner concerned about putting too many holes in your walls.
Having a dual function ventilator is also good for anyone starved of space, ensuring you get the best of both.
Frequently Asked Questions
1. Are these products environment-friendly?
Ans: All of these products are completely environment-safe and you don't have to worry about germs, molds and mildews a bit.
2. Do these products come with warranty offers?
Ans: Yes, but if you want to know the details about the duration, you'll have to contact your seller.
3. Which exhaust fan brand should I go for?
Ans: All of these brands have their own uniqueness to go for. However, if you want me to recommend something for you, you can go for Panasonic.
Final Words
Well, that was pretty much everything about the best bathroom exhaust fans with light and heater. I hope this write-up was pretty enough for you to grab all the details in brief.
I'm James. The author of Electricalaffairs.com. It's been my passion to deal with power tools and gears. This website is mainly to talk about electrical wirings, lighting, various power source tools and accessories. I want to explore tackles and help people to grow their basic knowledge about electrical things. I would also like to help people to pick the right power tool for their daily needs.