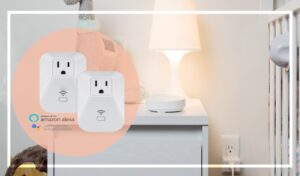 From refrigerators and thermostats to light bulbs and speakers, smart home technology is always getting better, and transforming and improving lifestyles all over the world.
But once you bring home your new Amazon Alexa, you quickly start to realize that alas, not everything can be voice- or app-controlled. So, what do you do?
Enter smart plugs. They allow you to connect electronics—such as kitchen appliances, coffee makers, and lamps, for example—to your smart home, affording you voice control and automation privileges for non-smart electronics.
But what does the best smart plug for Alexa look like? To answer that question, today, we've rounded up 10 of the best ones and included all relevant information in our buying guide.
Best Smart Plug For Alexa and Google Home
Keeping in mind important factors such as compatibility, ease of installation, responsiveness, range, and useful additional features, we have selected the 10 following smart plugs for your consideration.
1. Aoycocr WIFI Smart Socket Switch Works with Alexa Google Home
Key Features
Does not require a hub for operation, connects with any 2.4GHz Wi-Fi network
Can be used with Aoycocr's Smart Life app for greater convenience
Compatible with Google Home as well as Alexa
Offers timer option for the customized appliance on/off schedules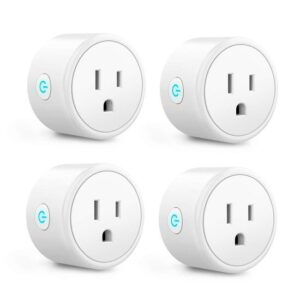 Our first pick is the Aoycocr smart plug, which has justly earned its high rating. Offering easy set-up and effortless compatibility, it's easy to see why this smart plug is so highly sought after.
This smart plug comes with a numerous variety of features and performance specifications. Undoubtedly one of the main reasons behind its popularity is the fact that using it does not require you to connect to a hub or pay for a subscription service. It connects easily to any Wi-Fi router for your convenience.
And speaking of convenience, setting this thing up is pretty much a walk in the park. All you have to do is plug it into an outlet and pair it with the Smart Life app on your remote device. That's all! Now you can enjoy the benefits of wirelessly controlling your connected electronics.
So, what can this smart plug offer you? It can be manipulated using voice commands, and it's not only compatible with Alexa, but also Google Home. You'll be able to schedule the on/off times of your connected devices as well. What more could you ask for?
Aoycocr's Smart Life app is also super easy to use, and it makes controlling your connected devices that much easier. And yes, this is also one of the more affordable options on the market. At $25, four of these things together definitely drive a great bargain!
2. Kasa In-Wall Smart Home WiFi Smart Plug
Key Features
Voice control allows for effortless remote controlling of devices
Works together with easy-to-use Kasa smart app
Away Mode enhances your home's security when you're away
Does not require a hub to work; just download the Kasa Smart app
Sleek, minimalistic and convenient wall-in design
Compatible with Alexa, Google Home, Echo, and IFTTT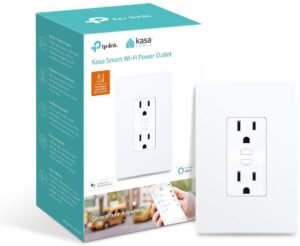 This next product from Kasa Smart is another highly rated smart plug that we've selected for your consideration. With its unique design and supreme usability, it's also very reasonably priced.
Equipped with two outlets, this smart plug is ideal if you're looking to automate appliances without taking up too much space. That's because of its wall-in design, meaning it has to be installed directly into the wall. Once that's done, all you have to do is pair it with the Kasa smart app; no hub is required to use it!
But no matter which room you put this thing in or what electronics you plug into it, its performance promises not to disappoint you. Using the Kasa Smart app, you can, with ease, schedule operating times for your connected appliances or turn them off/on whenever you wish.
Make use of the super convenient voice control option in your smart home, whether it's Alexa, Google Home, Echo, or If This Then That. Using the Kasa Smart app, you can also group your devices together for faster and easier controls. All in all, it seems this is the perfect solution if you have a couple of non-smart devices you wanna hook up to your smart home system!
3. BN-LINK WiFi Heavy Duty Smart Plug Outlet with Timer Function
Key Features
Integrates seamlessly with Alexa, Google Home, and IFTTT
Offers hands-free remote voice control using the smart home system
Companion app Smart Life can be used to set timers and on/off schedules
Comes with energy monitoring capabilities via Smart Life app
Compact size and space-saving, stackable design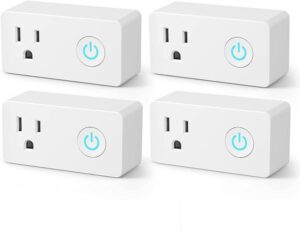 Next up, we have the BN-LINK smart plug. Packed with a number of useful features, this plug sports a unique and accessible design. Let's see what it has to offer.
This smart plug utilizes Wi-Fi in order to work, meaning you will need to have a 2.4GHz Wi-Fi connection in your home to be able to use this. Once you do, though, you'll enjoy seamless and convenient integration with your Alexa. Turn your connected devices on and off from anywhere, at any time.
The usability of this smart plug is definitely one of its best features. You can enable the scheduling feature, which allows you to set on/off times at sunrise, sunset, or other pre-set times.
But our favorite thing about this smart plug has to be its compact size. Due to its space-saving design, two separate BN-LINK smart plugs can be stacked on the same outlet, allowing you to connect your devices without taking up too much space.
Oh, and did we mention that this thing comes with energy monitoring capabilities? Yep. Using the companion app Smart Life, you can, at any time, pull up energy consumption figures for your devices you've connected to your BN-LINK smart plugs!
4. Kasa HS300 Smart Plug Power Strip Surge Protector with 6 Smart Outlets
Key Features
Equipped with 6 independently controlled smart outlets
Surge protection capabilities keep your connected electronics safe
Offers energy monitoring using the free Kasa Smart app
Allows you to schedule on/off times for 6 separate outlets
Comes with 3 separate USB charging ports
Compatible with Alexa, Echo and Google Home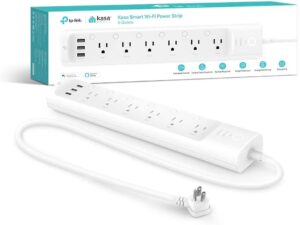 For our next pick, we're taking it to the next level with a 6-outlet Wi-Fi smart power strip from Kasa Smart. Each of the devices connected into the 6 outlets can be controlled separately from one another, so this is the ideal solution for those of you who are looking to automate a large number of electronics in one go.
Worried about the health of devices connected to the power strip? Don't be, because this thing also comes with surge protection capabilities, which promise to keep your sensitive electronics safe from harm in the event of a power surge.
You're also bound to appreciate the USB charging ports built into this smart power strip. Effortlessly charge your USB devices using this smart surge protector power strip, all in one place for easy and hassle-free access.
And since this is Kasa Smart we're talking about, you'll also be able to enjoy the benefits of monitoring the energy consumption of your connected devices, with the help of the user-friendly Kasa Smart app.
And finally, we'd be remiss not to mention the look and design of this smart power strip. With its slim white design and sleek indicator light, this power strip will fit nicely in with your home/office surroundings!
5. Wemo Mini WiFi Enabled Smart Plug for Google Assistant & Apple HomeKit
Key Features
Compact and space-saving design can be stacked
Automatic scheduling saves your time and energy
Away Mode deters potential trespassers/invaders
Compatible with Alexa, Google Assistant and Apple Home Kit
Constructed from fire-resistant materials for electrical safety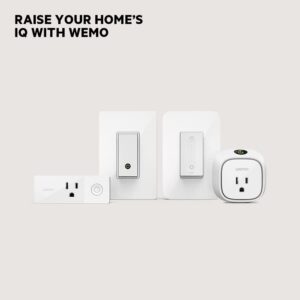 Looking for a smart plug solution that won't take up precious space in your home? Then this one-piece mini smart plug from Wemo might just be the one you need. Its sleek, compact design takes up very little space, and what's more, allows you to stack two together in the same outlet.
Like the other smart plugs we've reviewed so far, this one also works using Wi-Fi connectivity, so you won't require a subscription or a hub. Effortlessly control your devices from anywhere using Alexa.
And of course, you'll be able to enjoy scheduling benefits with this smart plug, as well. If you have your lights hooked up to it, for example, you can configure it to turn itself on at sunset.
And speaking of nifty features, we sure do love the Away Mode on this thing. It works by automatically turning on connected lights at random times when you're not at home, so as to make it seem like you actually are. What a smart way to fend off potential invaders!
Looking for a compact smart plug for Google Home instead? Don't worry, because this thing is compatible with Google Home and Apple Home Kit as well. Yep, it definitely makes sense why this is one of the highest-rated compact smart plugs out there!
6. HEYVALUE Smart Plug Wifi Wall Outlet Extender, Voice Control with Alexa & Google Home
Key Features
Equipped with 3 independently controlled AC smart plugs
Comes with 3 USB ports for effortless charging of your devices
Compact and lightweight design makes it ideal for travel
Companion app Smart Life allows you to manipulate schedule and timing
In-built leakage protection and surge protection capabilities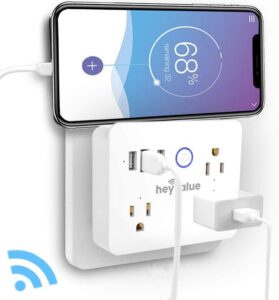 Most people, when they hear of smart home systems, instantly envision high-end, name-branded tech products. You might think that the high price of a smart plug might reflect its quality, and in most cases, you might be right. But don't hold this high-functioning smart plug from Heyvalue to the same standards.
So how did this aptly named product garner such a high rating at such an affordable price? That's easy. Let's start with its design. Equipped with not 1, or 2, but 3 separately controlled smart AC outlets, this thing allows you to connect your appliances without taking up a bunch of space on your outlets.
Moreover, this smart plug also comes with 3 USB charging ports alongside its AC plugs, so whether you need to charge your laptop, iPad, Kindle, or smartphone, you can use this plug to do so. And don't worry; your electronics will be kept safe, thanks to the plug's surge protecting abilities.
Like a couple of other smart plugs we've already reviewed today, this one also links up with the super easy-to-use free Smart Life app, using which you will be able to schedule on/off times with ease. Just make sure you have a 2.4GHz Wi-Fi network to connect to!
7. Govee Dual Smart Plug Dual WiFi Outlet Plug 2 in 1 Extenders Socket
Key Features
Schedule operating times with ease using gosund app
Easy and safe installation; just plug in and connect to Wi-Fi
Compatible with Google Home and Alexa for voice control
Compact, lightweight and space-saving design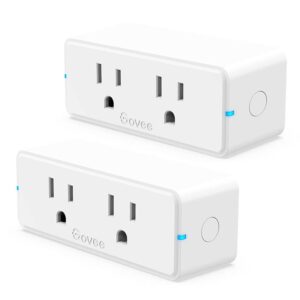 Since we're on the topic of affordable smart plugs, it would be a crime not to include this one from Govee! This pack comes with 2 separate plugs having 2 outlets each, so you're getting 4 outlets in total to automate your selected devices. Let's see what else this smart plug has to offer.
Compatible with Google Home and Alexa, this smart plug will allow you to effortlessly manipulate your electronics with remote and voice control. You won't have to connect it to a hub; as long as you have a 2.4GHz Wi-Fi connection, you'll be good to go.
Setting timers for your devices has never been easier! The Govee companion app, which must be used in conjunction with these plugs, is recognized by users for its accessible and easy-to-use interface. What's more, you can also enable a family-sharing mode if you have a large household.
We really appreciate the design of this plug, as well. Since each plug comes with 2 horizontally placed outlets, you'll be able to fit 4 separate appliances for smart automation. So this plug is the ideal solution for kitchen/bathroom automation problems!
8. Kasa Outdoor Smart Plug by TP-Link, Smart Home Wi-Fi Outlet with 2 Sockets
Key Features
Durable weather-resistant construction with IP64 rating
Long Wi-Fi range of 300 feet for seamless remote control
Kasa Smart app makes scheduling and device grouping easy
Compatible with Google Home, Amazon Alexa, and Microsoft Cortana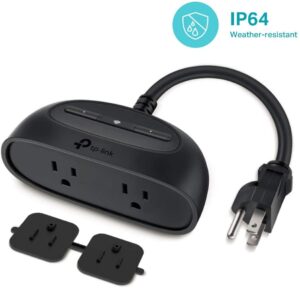 The third Kasa Smart product we've selected for your consideration today is just as lucrative as the other two. However, this one is built for outdoor use! So if you're looking to automate your Christmas/landscape lights or swimming pool pump, then this will appeal to you.
Compatible with Google Home and Alexa, this smart plug comes with two separately controlled AC outlets and is operated using Wi-Fi. You know what that means: no hub connection required. Manipulate your outdoor electronics from anywhere using your smartphone or laptop. Worry not, for the 300-feet WiFi range has you covered.
So what characterizes this as being a smart outdoor plug instead of an indoor one? Well, in order to be able to contend with the damaging influences of the outside world, this smart plug is equipped with a hardy and durable construction and is IP64 rated for water resistance.
Plus, controlling your connected devices is super easy, too, thanks to the Kasa Smart app. Not only will you be able to set timers and schedules, but you can also group your devices for smoother controls.
9. TOPGREENER Smart Mini Wi-Fi Plug with Energy Monitoring
Key Features
Available in round and square shape specifications
Comes with energy monitoring capabilities, accessible through Smart Life, Tuya and Topgreener apps
Equipped with durable and fire-resistant construction
Setting timers and making schedules is easy with the Topgreener appCan be used with other smart plugs or in a group
Monitor energy consumption of each connected appliance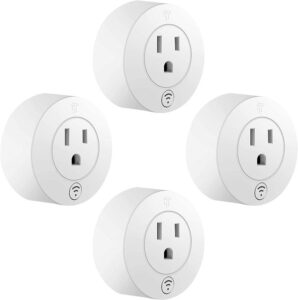 This two-pack Wi-Fi smart plug from TopGreener is next on our list, and it's one of the most highly-rated space-saving smart plugs. Compatible with Amazon Alexa and Google Assistant, this smart plug operates fully on Wi-Fi and therefore requires no hub.
Whether you use an iPhone or an Android phone, you'll be able to download the Topgreener app and enable it for remote control of your plugged-in electronics. Or, if you prefer, you can also use Tuya or Smart Life in place of the Topgreener app.
Something we really like about this smart plug is that it can be used with other smart plugs. Grouping is also allowed if you desire advanced control over your connected electronics.
Although the plug is marketed as being "mini," therefore implying that it's compact and space-saving, we do think that the design could be a bit more efficient. Many other plugs of the same size come with dual outlets. However, we believe that the range of features more than makes up for this inconsistency.
10. Currant Smart Plug WiFi Outlet with Energy Monitoring
Key Features
Detailed and advanced energy monitoring capabilities
Accessible and easy to use Currant companion app
Customized rules allow you to set timers and schedules with ease
Outlet direction can be switched according to the needs of your space
Connecting multiple Currant outlets is super easy
Accredited with highest safety ratings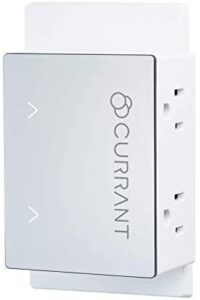 For our final pick today in smart plugs, we bring you the Currant smart plug. At $39.99, this is the most expensive smart plug on our list, and it might not be the most cost-efficient as it comes with only two outlets. A rundown of the features, however, easily proves why this thing costs a bit more than others.
Let's start with our favorite feature of this smart plug: its advanced energy monitoring system. This smart plug is equipped with Currant's energy meter, which records energy consumption in real-time, in turn providing you with exact readings. These readings can be viewed in the Currant companion app in the form of interactive charts.
And speaking of the companion app, we love how easy it is to use! With a clean and sleek UI, it's a straightforward app that lets you set up scheduling and timers in just a few taps. These "customized rules," as named by Currant, have been reported to work seamlessly by many users.
What's more, if you have more than one Currant smart outlet, you can connect them using Bluetooth for seamless and complete Currant control in your home. Whether it's the app or Alexa that you're using, you can expect a smooth relay every time.
Also Read: Best Smart Light Switch For Google Home & Alexa
Things To Consider Before Buying Google Home and Alexa Smart Plugs
Before you buy your smart plug(s), remember to keep the following factors in mind. You don't want to end up with an un-usable smart plug, do you?
Companion App
Every smart plug will come with its own branded app (for example, Teckin smart plugs have to be used in conjunction with their Smart Life app) that allows you to control it. Needless to say, this app should be well-built, easy to use, and fast.
Unfortunately, some of the cheaper plugs do come with laggy or heavy apps that actually make it harder to control your electronics from afar. So before you choose a smart plug, do some research on its companion app.
Energy Monitoring
As the name suggests, this feature allows your smart plug to keep track of how much energy connected devices are using up. These statistics are usually displayed in the smart plug's companion app. This is a particularly useful feature if you're looking to reduce your electricity bills.
Size/Design
Last but not least, should be design concerns. Think about where you'll be plugging in your smart plug. Will it be blocking other nearby outlets or appliances? Then you need to consider a plug with a compact design. Wall-in models are also a great option as they go directly into the wall without taking up any extra space.
Number of Outlets
This is a no-brainer, but your chosen smart plug must have the right number of outlets for your needs. If you're only looking to automate one or two devices—like, say, your coffee maker, for example—then you can get away with purchasing a mini smart plug with one or two outlets.
On the other hand, you might be looking for a way to automate all of the devices in a room or your entire house. In such cases, it's best to go with a smart power strip instead of a smart plug. These tend to come with multiple, independently controlled smart plugs, and they're a great option for larger automation. And anyway, it can't hurt to have a few extra smart plugs, just in case!
Hub/Wi-Fi Connectivity
As you probably already know, a smart home hub is software/hardware that groups together, and connects, all smart devices on your smart home network. Instead of Wi-Fi, a smart home hub usually connects using Bluetooth or other similar technology.
Now, before purchasing your smart plug, look into whether it requires a connection with a hub in order to work. Ideally, your smart plug will be able to connect directly to your Wi-Fi network, which makes it easier to control.
Having said that, using hubs also has benefits. The reason many people prefer smart home hubs to use Wi-Fi is simply to lower the traffic in your home network. If your household has several members using the Wi-Fi at once, it's much better to opt for a smart plug that works with a hub.
FAQs About Smart Plugs
Q: How do smart plugs work? Are they easy to use?
Ans: A smart plug can be plugged into any regular wall socket. It allows you to remotely control any electronic appliance, which is, in turn, connected to the smart plug. Ease of use typically depends on the companion app, so make sure to choose a good one!
Q: What electronics can I use my smart plug with?
Ans: Smart plugs can be used with almost any electronic device. Just make that the plug's maximum energy capacity matches that of its connected devices. You can find energy capacity information in your smart plug manual.
Q: Do smart plugs require a Wi-Fi connection in order to work?
Ans: Most smart plugs cannot be used without a 2.4GHz Wi-Fi connection. However, some can be used with Bluetooth—these require a smart home hub to work.
Q: What is a smart outdoor plug?
Ans: As the name suggests, these smart plugs are meant to be used outside the home. Accordingly, they are built with stronger, more resistant materials.
Q: What is the best smart outlet for Alexa on a budget?
Ans: If you're on a budget, we recommend this Heyvalue smart plug; it comes with 3 AC outlets and 3 USB outlets!
Conclusion
As we've seen, the best smart plug for Alexa comes in all shapes and sizes. Ultimately, the best fit for you will be determined by your needs.
That being said, the Kasa Smart Plug by TP-Link stands out to us for its performance out of all the others. If you have a lot of devices you wanna plug in; the Kasa Smart Plug Power Strip HS300 is a great choice.
Good luck!
I'm James. The author of Electricalaffairs.com. It's been my passion to deal with power tools and gears. This website is mainly to talk about electrical wirings, lighting, various power source tools and accessories. I want to explore tackles and help people to grow their basic knowledge about electrical things. I would also like to help people to pick the right power tool for their daily needs.