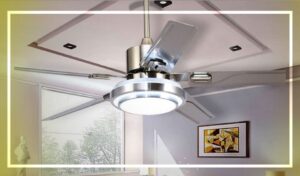 Who doesn't love the feel of a cool breeze on their face on a hot summer's day? Sometimes to get that, you need a ceiling fan to circulate the air in your room.
Now you can go with the traditional ceiling fan, but wouldn't it be a much better option to get one that comes with a bright light. A ceiling fan like that will light up your room, add style to your home and cool you off.
Choosing the perfect ceiling fan can be confusing. But don't worry, we're here to help you find the best ceiling fans with bright lights that are both aesthetically pleasing and functional.
Quick Comparison Chart: Top 5 Ceiling Fans With Lights And Remote
| Preview | Product | Details | Price |
| --- | --- | --- | --- |
| | 1. NOMA Scandinavian White Ceiling Fan | Fan with light and Remote | Check Price |
| | Fandian 42Inch Modern Ceiling Fan with Light | Fan with light and Remote | Check Price |
| | 3. Hunter Low Profile Ceiling Fan | Fan with light and Remote | Check Price |
| | 4. Westinghouse Lighting 7850500 | | Check Price |
| | 5. Harbor Breeze Ceiling Fan with Light Kit | Fan with Light Kit and Remote | Check Price |
5 Best Ceiling Fan With Bright Lights Review
Read on to know about the features of some of the best ceiling fans with lights, and you'll be able to choose wisely.
1. NOMA Scandinavian White Ceiling Fan with Light & Remote
Highlighted Features
Gives a sleek and modern look to your room at a affordable price
The dimmable light is great for saving energy, thus saving you money
The blades are able to rotate both ways making it versatile
Ideal option for medium-sized rooms
Though the motor is powerful, it doesn't make any sound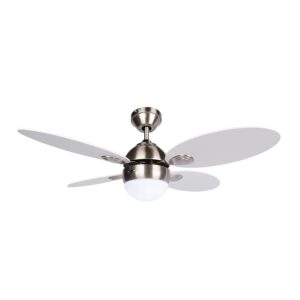 If you're looking for that sleek and modern look in your bedroom or living room, then you must check out the Noma Scandinavian ceiling fan with dimmable LED light. It has four blades that are stylishly white, a glass light shade that is frosted opal, and a brushed-nickel finish.
The diameter of the fan is 42 inches, which is perfect for any medium-sized room. This chic ceiling fan's powerful motor is super quiet with three-speed settings. You can choose the speed from low to medium to high according to your comfort.
The best thing about this model is that the blades can rotate both ways. Why do you need that, you ask? Well, in the summer, the blades will rotate counter-clockwise, which will chill the air around you in the hot weather.
And in winter, when the ceiling fan blades rotate in the opposite direction, they will push up the air and let the warm air from above come down to you. That's why reversible blades in ceiling fans are such a useful feature.
The Noma Scandinavian also comes with remote control with batteries included in the box. With this remote control, you'll be able to change the speed, turn the fan and light on and off, and dim or brighten the light from the comfort of your bed or sofa.
Its A19 11W LED dimmable light will save energy and money all year round. An LED light is something that you want as it will last longer than its counterparts, will not heat up the room, and consume less energy.
2. Fandian Modern Ceiling Fans with Light and Remote Control, Retractable Blades
Highlighted Features
Hardly makes any sound, so won't make its presence felt forcibly
Has retractable blades to keep the look of the room natural
Able to set a timer on the fan which lets you turn the fan off eve while you are in sleep
Can change the color of the light with the help of the remote control
Air circulation is great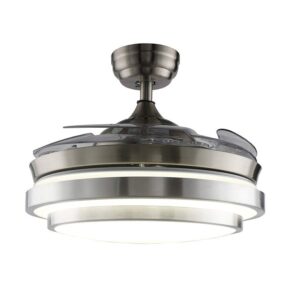 Fandian brings you a modern ceiling fan with retractable blades and silent motor. You won't have to worry about the constant white noise over your head. With this model, you won't even know it's there.
In this 45-inch ceiling fan, the blades can be hidden away when you don't want them to cramp up the style of the room. These retractable blades make your ceiling light look more natural on the ceiling. 
The silver finish of the blades gives this ceiling fan a luxurious look. So, you can install this one literally anywhere in the house from your bedroom to the living room, the dining or even your patio. It'll also add a touch of elegance in restaurants, cafes, bars, or shops.
You can use the remote control to change the colors of the LED light from white light to warm light to warm white light.
A great addition in this model is that you can set a timer on the fan, which will automatically turn on or off your light or fan according to your instructions.
It has four blades, which means you'll get nice air circulation, and with the three-speed settings, you can enjoy a noiseless comfortable time under this ceiling fan.
3. Hunter Low Profile Ceiling Fan with LED Light and Remote Control
Highlighted Features
Ideal for rooms with low ceiling as it won't have any problem to fit
Has a noiseless motor to keep the sound minimum
Can control the features of the light with the remote control
Easy to use and simple to set up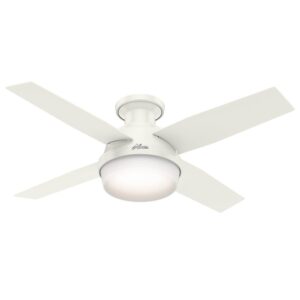 This one is among the best indoor ceiling fans out there. If you want a ceiling fan with a light, but you want it to be as incognito as possible, then this is the one for you.
The Low Profile feature is perfect for those struggling with finding a ceiling fan for rooms that have a low ceiling. This 44 inches 4 blade ceiling fan can be used for medium rooms easily.
The WhisperWind technology offers you an almost noiseless motor, and with a CFM of 2997, you can be sure of good chilly air circulation in the summer. 
Hunter's model also features a reversible motor, which means you can use this ceiling fan in the summer for cool air and in the winter to bring down the warm air from above. This fan will be able to serve you all year round.
With a universal remote control, you'll be able to dim and brighten the LED light as per your need and control the speed of the fan as well, which has three-speed settings.
It's easy to assemble and install in your home, which has won the hearts of many users around the world. If you're in the market for a decent ceiling fan with light which is user-friendly, then you can't go wrong with Hunter's.
4. Westinghouse Lighting 7850500 Elite Indoor Ceiling Fan with Light
Highlighted Features
Gives your room a contemporary look and make it attractive as well
The finishing is amazing to look at and will complement the décor
Features a reversible motor which gives the fan versatility
Will fit rooms with low ceiling without any hussle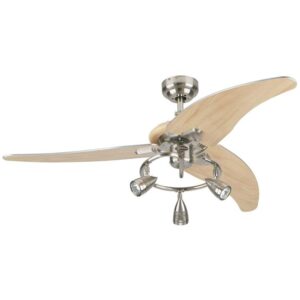 Westinghouse Lighting's Elite ceiling fan with halogen light bulbs will make everything else look too traditional and boring. If you want an innovative and contemporary look for your room, then this is the perfect ceiling fan for you.
It has a brushed nickel finish and beech accents, which will help you create a modern look. The powerful motor allows a 4682 CFM airflow with its three blades. You can easily use this fan in any room up to 114 square feet.
Its reversible motor ensures you're quite comfortable in summer and in winter. The counter-clockwise rotation in the summer will keep you cool while in the winter, you'll reverse the direction of the blades rotation and voilà, warm air.
Westinghouse Lighting's model features three distinctive circular track kits with spotlights that can be adjusted. You'll be using 50 watts halogen bulbs for the spotlights. Perfect for any kind of task or accent lighting. If you want, you can also replace the halogen with LED lights, which will last longer without getting too hot.
This sleek, stylish ceiling fan can also be installed flush on the ceiling if you've got a low ceiling. Its modern look also makes it perfect for bedrooms, living rooms, or dining. Just don't blame us if you start buying this one for all your rooms.
5. Harbor Breeze Flush Mount Ceiling Fan with Light Kit and Remote
Highlighted Features
Can fit both small and medium-sized rooms without any issues
The airflow circulation is adjustable which is a helpful feature
Has reversible blades and a powerful motor
The light can illuminate the room easily
Easy to set the entire thing up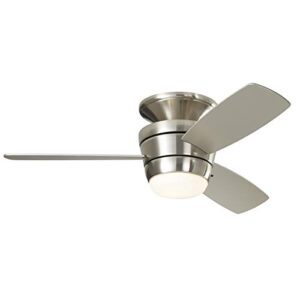 This is a 44-inch three blade ceiling fan with a touch of modernity in the traditional design. It is sleek and compact, which makes it ideal for small to medium-sized rooms.
You can be assured that the brush nickel finish will go nicely with the decor of your room. And with the flush mount feature, you can install it even in rooms with a low ceiling without any hassle.
This fan boasts a CFM of 4545 that is more than enough for a 100 square feet room. The three-speed settings are also an attractive feature as you'll be able to adjust the airflow circulation according to your comfort level. With such a high CFM, you may not even need to use the highest speed setting.
Its powerful motor gives you the freedom of reversible blades. This means that you'll be able to get cool air in the summer and warm air in the winter.
Harbor Breeze includes a matte opal glass kit for the lighting. An 18 watts LED light is all you need to illuminate your room.
With the remote control, you can switch on and off the lights and fan. The ergonomic design of the remote-control fits perfectly in your hands and easily makes this one the best ceiling fan with light and remote.
It's easy to install, and since it's pretty compact, it leaves enough space for other decorative pieces. But you might not need any other decoration because the fan itself is very modern looking with its grey/silver color and the classic brushed nickel finish.
Buying Guide for Ceiling Fans with Lights
You've looked at some of the best indoor ceiling fans with lights. All these models, with so many features, can feel overwhelming. That's why we've put together a guide to help you make the decision. These are the things you should pay attention to when buying a ceiling fan with light.
Location
Where are you planning on installing the ceiling fan? A fan you buy for your bedroom will not work on your porch because the fan is exposed to a different environment. Dry-rated fans can only be used indoors. They are designed for places where they won't be exposed to humidity, moisture, or water.
Damp-rated ceiling fans can be installed in kitchens, or bathrooms where there is a chance of moisture exposure. They can endure moisture but not direct contact with water.
Wet-rated ceiling fans are the most adaptable. They can withstand direct contact with water, and most of them are stylish and elegant enough for your bedroom or living room.
Size
Your ceiling fan's performance depends a lot on the size of the fan as well as the size of the room. If you've got a much bigger room than the average room, then you need a fan that's bigger than the average. 
The height of the ceiling is also an important factor to consider. If the ceiling is lower than 8 feet, then you need to look for a fan that has a flush mount which can be installed against the ceiling. On the other hand, if the ceiling of your room is over 10 feet, then you'll need one with an extended down rod.
Lights
Since you want a ceiling fan with lights, you have to consider the different types of bulbs that are used in ceiling fan lights. The best option is to get one with an LED light because they use less energy than halogen and fluorescent bulbs, and also, they last longer than them. An LED light will last you 50000 hours.
LED lights don't warm up like halogen bulbs, and they are also the most energy-efficient bulbs.
 Also Read: Best Ceiling Lights for Bedroom | Top Picks
Reversible Motor
If you want to utilize your ceiling fan with light to the fullest, then you need to think about getting a fan that you can use all year round.
Ceiling fans with reversible motors allow you to use the fan during summer by rotating in a counter-clockwise direction. This circulates the air in the room and gives you a cooling effect. In winter, you can change the direction of the rotation of the fan so that hot air is pushed down towards the floor and gives you a warm feeling.
Remote Control
There are different ways of controlling your ceiling fan with light. Some ceiling fans have a wallboard control system, while others are controlled with a pull chain. But we think the best option is getting the best ceiling fan with remote.
Most ceiling fans with remote control lets you turn on and off the fan and light and change the speed and brightness of the light with the remote control.
Frequently Asked Questions
1: Do more blades mean more airflow?
Ans: No, it doesn't. When a ceiling fan has more blades, it'll be quieter and make less noise because the motor will be slower. If you need more airflow, then stick to a three or four-blade ceiling fan.
2. What does CFM stand for?
Ans: CFM is an abbreviation for the term cubic feet per minute. It tells you how much air the ceiling fan will be able to move in a minute when running at the maximum speed.
3. How much CFM will I need?
Ans: It depends on the size of your room. If you've got a small room which is under 200 sq, ft, then you'll get a good airflow with a ceiling fan with 2000-3000 CFM. But if your room is 400 sq. Ft. or above, then you'll need to buy one with a CFM over 5000 or 6000.
Conclusion
A ceiling fan with light not only gives you comfort through the air but also brightens your room. They also contribute to the overall décor of your home.
By using our buying guide and our suggested best ceiling fans with bright lights, you can be the proud owner of an elegant ceiling fan that will cool and illuminate your room and be the envy of your neighbors.
I'm James. The author of Electricalaffairs.com. It's been my passion to deal with power tools and gears. This website is mainly to talk about electrical wirings, lighting, various power source tools and accessories. I want to explore tackles and help people to grow their basic knowledge about electrical things. I would also like to help people to pick the right power tool for their daily needs.