The National Electric Code, developed by NFPA, suggests that buildings should follow the rules and regulations of electrical hazards. One of such important building electric codes is the installation of GFCI outlets to protect your devices and home appliances from short circuits, ground faults, and imbalanced current flow.
However, you might find it difficult to get the GFCI outlet for outdoor use. Thus, we have prepared this review on the best outdoor GFCI outlets to maximize the safety of your devices, appliances, and even home.
These exterior GFCI outlets are weatherproof, easy to install, and work efficiently to detect the slightest imbalance in the electric supply line for maximum protection. So, if you are looking for a durable, reliable, and high-performing GFCI outlet for outdoor use, stay with us to read this review and find the right outdoor GFCI outlet in a snap.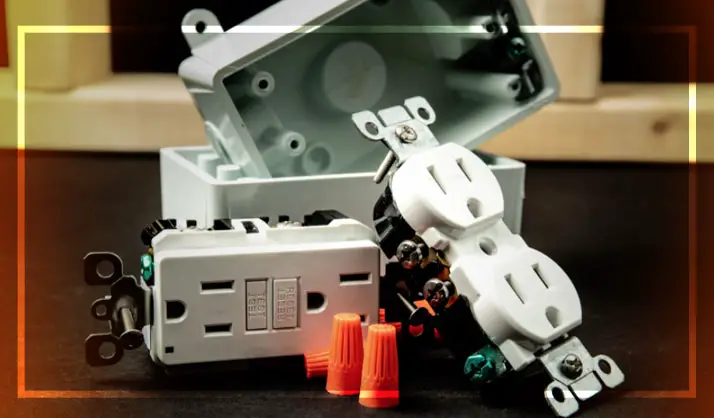 What Is Weather Resistant GFCI Outlet?
When we talk about weather-resistant GFCI, we mean the outlet should be resistant to corrosion, rain, snow, and wind for the best durability and reliability. You will additionally need to apply a quality cover with the weather-resistant GFCI outlet.
Manufacturers will use mounting straps along with contracts with nickel plating to protect the GFCI device from rust and corrosion. Also, its weather-resistant cover safeguards the device from dampness, snow, and rain.
Top 7 Best Weather Resistant GFCI Outlet for Outdoor Use
If you don't want to experience a burning smell coming from your home appliances in outdoor locations, you need to invest in the best weather-resistant GFCI outlet. It should be protected from wind, rain, snow, and corrosion.
Also, the exterior GFCI outlet should be built with premium materials to last well over its expected warranty, easy to install, quick to sense any electrical imbalance, and prompt to take actions to stop short circuit and ground faults.
We have kept these things in mind to include the following 7 ground fault outlets for this review. So, you can depend on them.
1. Leviton GFWT1-W Weather-Resistant and Tamper-Resistant Receptacle
Highlighted Features
Lockout action stops the device from resetting after damage
Noise and annoying trip protection for convenience
LED indicator for self-test monitoring
The slim design makes it easy to install

The 15AMP GFCI receptacle takes care of any ground faults so closely that it never misses the slightest fault in the supply line. As the device has a licensed lockout action mechanism, you can depend on its quality and performance during emergencies.
What's more, the receptacle has great protection from high-frequency noise interruption. Usually, it happens due to the nearby multimedia systems that reduce the performance of the GFCI outlet quite considerably. With the immunity from such interruptions, the Leviton receptacle offers the best protection to appliances from electric hazards.
Another great advantage of this best quality GFCI outlet is its stability in electric frequency in the outdoor wall outlet. So, it will stop annoying trip nuisances. We also love its slim profile that lets you install the GFCI outlet in thin walls and tight space in the outdoor location convenient and easy.
Downside:
The reset button needs muscle power to press
Verdict:
The lockout action of the Leviton GFCI exterior outlet offers the best ground fault protection. As it doesn't reset automatically, it stops further damage. Lastly, you will find its installation super easy.
2. TARMAC MKG420CS Extra Duty Complete GFCI Kit
Highlighted Features
Die-cast metal engineering ensures durability
Scratch and weather-resistant construction
Easy mounting with the quick-fit keyhole design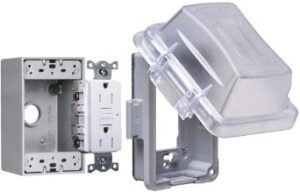 The second product in our GFCI outlet reviews is the TayMac extra-duty GFCI kit that offers complete protection from weather elements. Also, it ensures that your expensive home appliances remain safe during short circuits and imbalances in electric lines.
The kit is made with die-cast metal and has powder-coating. So, the GFCI outlet has maximum scratch and weather resistance. It, thus, lets you mount it on exterior spaces with confidence. Plus, you can install it within minutes, thanks to the patented mounting system. It features a quick-fit keyhole for easy and comfy installation.
The self-test 15AP GFCI is also reliable. It ensures your appliances are safe from any possible hazards in most conditions.
Downside:
The GFCI kit lacks any LED indicator
Verdict:
When you need a good-quality weatherproof kit for your outdoor receptacles, this GFCI kit should be your go-to option. The kit has great value for money as well. So, it won't break your bank account.
3. Leviton G5362-WTG Extra-Heavy Duty GFCI Receptacle
Highlighted Features
Heavy-duty design for weather and temper resistance
Dual-function LED indicates power and protection status
Meets NEC 406.18 section for use in a damp area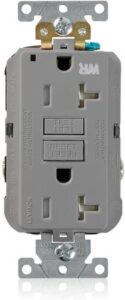 The Leviton G5362 is the best 20 amp GFCI outlet you will get out there presently. Among its many benefits, we loved the LED indicator for power supply the most. It helps you in circuit application during emergencies. What's more, the dual-LED indicator provides you with appropriate power and protection feedback. It is also handy for the 1st time wiring.
Also, it will protect your sensitive devices and appliances from ground fault and short circuits with an isolated grounding path. It is noise-free and delivers reliable performance.
Besides the electric-hazard safety, the receptacle has great weather and temper resistance. It has steel strapping that wraps the entire kit. So, it is designed for heavy-duty outdoor applications. You will further appreciate its first-time wiring convenience, thanks to the open clamps of the line terminal. So, its overall installation is easy.
Downside:
Many people reported about its poor durability
Verdict:
The Leviton GFCI is an affordable and dependable horizontal GFCI outlet to safeguard your devices. Its noise-free ground isolation makes it a great choice for most homes.
4. ANKO GFCI Outlet 20 Amp with Weather Resistance
Highlighted Features
Its shutter system has tamper resistance for safety
Duplex receptacle offers the best electrical protection
Self-test indicator gives accurate and quick feedback
Easy to press test and reset buttons after ground faults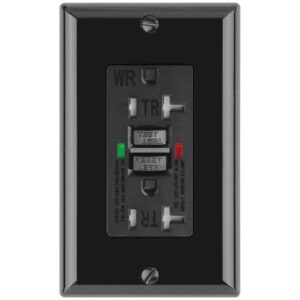 The Anko outdoor GFCI outlet has everything a weather-resistant GFCI requires for maximum reliability to protect your devices from faulty short circuits. To begin with, the GFCI outlet has 20AMP and 60HZ properties to meet the UL-Listed requirements.
Next, the receptacle has a self-test LED indicator. So, you are fully aware of its power and protection, thanks to its quick indicators. It will bring peace of mind knowing that you have installed the device correctly and functioning properly. What's more, it takes a self-test every 40 seconds. So, there's no option of ground faults to damage your appliances in the meantime.
However, when it indicates red light, you should immediately stop further damage. The kit also has weather and tamper resistance. These two features of the device improve its durability in harsh conditions.
Finally, with a quick and easy installation, we found it one of the best 20AMP GFCI outlets in the market. So, you can depend on it for device protection.
Downside:
The wring screws pop up from the holes easily
Verdict:
The Anko GFCI outlet has brilliant safety features for protection from short circuits and ground faults. It also has polycarbonate covering for weather resistance functioning.
5. Legrand Radiant Self-Test GFCI Weather Resistant Outlets
Highlighted Features
Performs a self-test every 3 seconds for 100% readiness
Protects everyone from shock with the tamper resistance
The reinforced design makes wiring and connection secure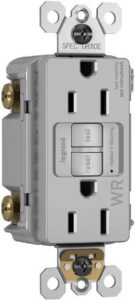 The Legrand GCI outlet offers the fastest and most frequent self-tests every 3 seconds. Thus, it offers the best protection from electric hazards with 100% readiness in all situations. It will relieve your pain of worrying about GFCI functioning anymore.
Also, it protects you, kids, and pets from shocks thanks to its tamper resistance shutter. Besides safety, the GFCI kit is made for extreme outdoor use too. It comes with excellent weather resistance for such outdoor applications, including damp weather.
Next, you will also appreciate its thinner profile and reliable connection. The slim profile allows you to install it better, leaving enough space for the wiring. Moreover, its terminal screws combine with reinforced back and pressure plates to make the GFCI hot wiring process easy and fast.
Downside:
Slightly on the pricier side
Verdict:
If you want a weather-resistant GFCI exterior outlet for small boxes, the Legrand radiant kit will be a good deal. Its slim profile also complements its nickel finish for durability.
6. KASONIC UL Listed 15Amp GFCI Outlet Indoor Outdoor Use
Highlighted Features
Automatic testing maximizes safety from hazards
Shock-resistant thermoplastic construction
Isolated and grounded duplex receptacle is noise-free
The package includes everything required for the mounting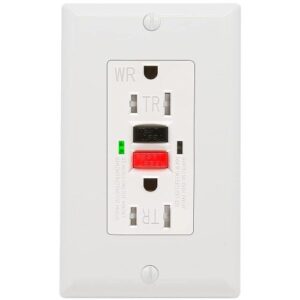 If your main concern is the durability and reliability of the GFCI receptacles, then your search ends here. Yes, the Kasonic GFCI outlet enjoys one of the best longevity out there due to its improved design and brilliant engineering.
Firstly, the device has thermoplastic construction. So, it secures you from electric shocks. Next, you will love its safety properties that take care of your devices during a short circuit, electric imbalance in the supply line, and ground faults.
It features a duplex and grounded receptacle that provides isolated grounding of the connected devices within reach of the connecting point. It also is enlisted in UL testing that speaks of its quality assurance.
Finally, it includes internal self-test for readiness during emergencies. If there's anything wrong, it will indicate the red light. Plus, its full weather resistance design with great cover plates makes it a go-to option for most homeowners.
Downside:
Its plug doesn't fit in easily
Verdict:
The Kasonic GFCI outlet is flexible, performing, and easy to install. You will also love its easy maintenance and reasonable pricing.
7. Sigma Electric 16801 Non-Metallic Kit with GFCI Receptacle
Highlighted Features
TRWR 15AMP GFCI is an incredibly high-performing
Pre-installed gaskets offer quick installation
It meets or exceeds all major electric codes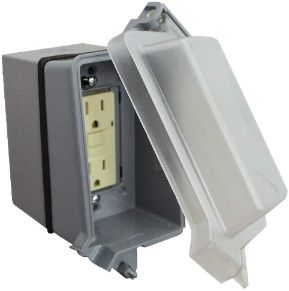 The non-metallic Sigma GFCI outlet promises superior protection from electric hazards to you, your family, and your home appliances. Once you install it in your wall, it takes over the protection with brilliant grounding and shock-resistance design.
The polycarbonate cover is made for damp conditions with 100% waterproof properties. Also, it prevents unwanted shocks with the shatter providing tamper resistance. So, you can depend on its performance to give the devices at home a prolonged lifespan.
The package is complete with everything you need for the GFCI installation. Moreover, the receptacle works fast and without any problem in extreme situations. You can depend on its UL listing and NEMA 3R rating for durability. It ensures that the GFCI kit is ready for extra-duty applications, even in commercial locations.
Downside:
The installation process is a bit complex
Verdict:
The Sigma GFCI outlet is ideal for commercial and residential uses in outdoor locations. It is one of the best outdoor GFCI outlets with superior design and weatherproofing features.
How to Choose the Right GFCI Outlet for Exterior Use
Which type of GFCI is mostly waterproof? To find its answer and the best quality GFCI outlet, you must consider the following crucial facts.
AMP Rating:
For residential use, the GFCI outlet should have the right amperage. For this, you need to opt between 15AMP and 20AMP ratings for the device. As electricity in the home doesn't run too long, these two amperage ratings will be useful.
Self-test and trip-off ability:
ASAP, the outlet should detect the imbalance between the inbound and outbound current flow. Also, you must look at its auto-test for reliability. Devices that run self-test soon will be ready for emergencies when need be. Also, it should have an LED indicator for informing you about the proper functioning of the GFCI outlet.
Outlet type:
Next, check the type of wire the GFCI devices take in properly. Most outlets will receive both copper and aluminum wires without inconvenience. However, some will receive only the copper wires. So, check the wiring in your home and get the GFCI accordingly.
Access and installation:
The access point of the device will help in its wring. Also, the outlet should be easy to install. Look for a slim profile of the GFCI outlet for mounting in tight spaces. So, be aware of these facts.
Frequently Asked Questions (FAQs)
Is tamper-resistant the same as weather-resistant?
No, tamper resistance isn't the same as weather resistance. The tamper resistance outlet prevents electric shocks with the closed shutters. On the contrary, weather-resistant GFCI outlets protect it from rain and snow.
When should you use weather-resistant outlets?
If you install a GFCI outlet outdoor where rain or snow can damage it, you should choose a weather-resistant device. Also, it is necessary for protection from rust and corrosion.
Do I need weather-resistant GFCI in the bathroom?
Yes, you must choose a weather-resistant GFCI bathroom. In the bathroom, water might contact the outlet and damage it. So, the weather resistance is a must-have feature for it.
Which brand of GFCI is best?
Ankon and Leviton are two of the best GFCI brands out there. Both brands have multiple high-end GFCI outlets for both residential and commercial uses.
What is the code for exterior outlets?
The code for the exterior outlet requires GFCI installation, weatherproofing feature, cover, and boxes for safety and protection according to rules set by National Electrical Code (NEC).
Conclusion
The best outdoor GFCI outlet listed here will protect home devices and appliances from damage due to ground fault and imbalance in the outbound and inbound current flow. Thus, it will ensure a better and longer lifespan of the devices. Also, it prevents shocks and promises better safety for everyone at home.
So, never ignore the building code and install the right weather-resistant GFCI outlet and enjoy peace of mind.
I'm James. The author of Electricalaffairs.com. It's been my passion to deal with power tools and gears. This website is mainly to talk about electrical wirings, lighting, various power source tools and accessories. I want to explore tackles and help people to grow their basic knowledge about electrical things. I would also like to help people to pick the right power tool for their daily needs.