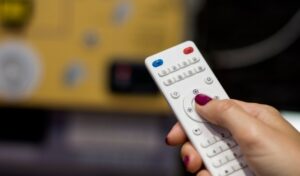 With the modernization of civilization, electric devices are also going through changes to make them convenient to everyone. The same applies to ceiling fans too.
Ceiling fans are usually designed with pull-chains that might not be everyone's cup of tea. Especially if you have someone handicapped in the house or if the pull-chain is hard to grasp. This is where ceiling fan remotes come into the picture.
Ceiling fan remotes are not just user-friendly, but they also provide you with comfortable handling of your ceiling fan operations smoothly. So, if you're looking for the best ceiling fan remote for your home, we've got you covered. Stay with us till the end to find the one that will work for you.
Best Ceiling Fan Remote Reviews
Although there are so many products to choose from, we know that you want to check out a wide range of options before deciding on one. So, we've categorized some of the ideal ceiling fan remotes for you to select from.
1. Pikeman Ceiling Fan Remote Control 
Highlighted Features
Easy and simple controls for convenient use
Strong and sturdy build for longevity
Features a wall mount for easy access
Allows the use of three-speed controls to select from
Decent voltage and frequency coverage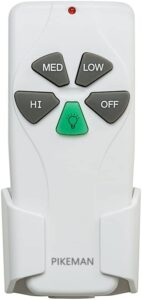 This one from Pikeman is a great option if you're looking for something simple and convenient. It comes with some pretty great features that will make your experience with your ceiling fan enjoyable and relaxed.
There are specialized controls in this remote which feature 3-speeds that you can choose according to your convenience. You can choose the speeds from the high, medium, and low depending on your preference. There is also a light dimmer included in the remote control.
The Pikeman remote control is capable of transmitting a signal frequency of 303.9, which is quite decent. Before starting to use this remote control, make sure your ceiling fan bears the coordinating switches for the remote transmitter.
It is built with ABS material that makes it durable and long-lasting. The build is quite sturdy and can withstand minimal wear and tear. This one also bears a remote wall mount that allows you to display on your wall and take it out whenever you need it at hand's reach. It also works at a distance of 50 meters which is amazing as well.
There is also the voltage of 110V-130V provided within this remote control. Although it doesn't come with a battery, you can find any standard 9V battery to go with this remote. Overall, this will be a great option if your requirements are basic or if you're looking for a simple replacement for your previous one.
2. LPHUMEX Remote Control Kit
Highlighted Features
The best option for lightweight mounting bonnets
Small, compact, and portable in appearance
Wireless and operates from 12 feet distance
Simple installation which won't take much time
Comes with advanced features like time settings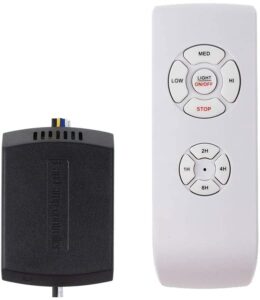 If you're looking for the best ceiling fan remote control kit, this one from LPHUMEX is going to be a great option. This wireless remote-control kit is surely going to take your ceiling fan operating experience to a whole new level.
The LPHUMEX remote control works from 12 feet distance that allows users to relax comfortably in a chair, and operate their ceiling fans easily. Besides, the wireless design makes it super convenient to use.
This kit is built to support average-sized mounting bonnets, and for this reason, the size of the remote control is smaller than traditional ones out there. Although the size is pretty good for most ceiling fans, there is always a lingering doubt when it comes to remotes. So, it is always a good idea to measure the receiver's dimensions with the transmitter.
The remote is designed to accommodate the majority of ceiling fans like Harbor Breeze, Hampton Bay, and many more. Such a quality makes it a versatile option. It is pretty easy to install and is equipped with wire nuts and an installation manual to make the process smoother.
The most amazing feature of this product is that it can easily remodel your traditional ceiling fan to a remote-controlled ceiling fan. Like the former one, this one also works with 3-speed options viz. high, medium, and low. You can even set the timing in this remote according to your preference and enjoy a different experience through your fingers!
3. YukiHalu Smart Wi-Fi Ceiling Fan Remote Control Kit
Highlighted Features
Premium build and compact appearance
Multiple speed options that you can choose according to the requirement
Can be monitored through Smart Life App
Wireless design and features Wi-Fi connectivity
Can be controlled via voice command and APP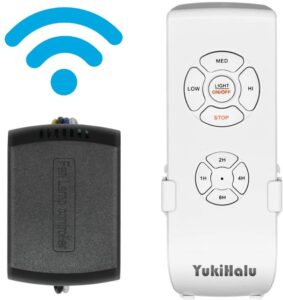 You can choose this remote-control kit if your search is for a universal fan remote. Because this one will surely check all the boxes that you want in your remote control.
This remote control is perfectly compatible with maximum ceiling fans, whether it is Hunter, Harbor Breeze, or anything else. Such versatility gives you full freedom to incorporate it into your existing fans.
Besides, wireless connectivity and smart Wi-Fi technology enable easy accessibility and widespread use. But we're not finished when we say that this kit is a smart option for your home. You can control the ceiling fan through the remote directly, using voice command, and through APP. Smart, right?
The remote-control shares coordination and appropriate compatibility with Alexa and Google Assistant, so that your operation is smooth. Besides, you can connect this remote control to the Smart Life App in your android phone and operate it from anywhere, anytime.
Unlike the former ones, this one is equipped with 4 speed options and 12-time settings, which is a huge deal to find in remote control. The overall build and functions of the remote control make it stand out among all the other ones out there.
4. CENMING Smart Universal Ceiling Fan Remote Control Kit
Highlighted Features
Has a compact design and comes with wireless technology
Bears thermostatic function that enables desired temperature setting
Well-monitoring of the speed, time, and breeze setting
Controls the fan and light settings
Can be installed and maintained easily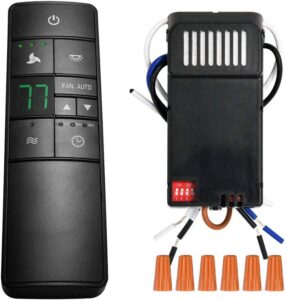 Another kit to add to your collection, this one falls in all the categories that you'd want in your remote control for your ceiling fan. The easy operability, smooth functioning, and well-built body make this an amazing ceiling fan remote control for your home.
This remote control bears the ability to take charge of the fan speed and the lights that come with the existing fan. You can choose from high, medium, and low speeds based on your necessity and regulate the fan according to your wish. Besides, you get control of the light and dimming, and you can monitor the turning of the lights from on and off with one touch.
A feature of this remote control is the walk-away time delay that enables light for around 30 seconds even when you've switched it off. It is built with high-quality speed and breeze settings that allow the fan to display a breeze-like character when moving. You also get timer settings of 2-8 hours that make it easier for you to relax without having to change the speed and time frequently.
A unique feature of the remote control is the thermostatic feature. This feature allows the user to input a favorable temperature in the current room. Such a setting will lead to simultaneous power on and off of the fan when the temperature exceeds or reduces from the given temperature.
5. LPHUMEX Universal Ceiling Fan Remote Control Kit
Highlighted Features
Monitors the speed, light and time settings of the ceiling fan
Built with resilience and strength to last a long time
Goes with almost every ceiling fan brand
Strong sense of speed control
Quick installation with minimum time and effort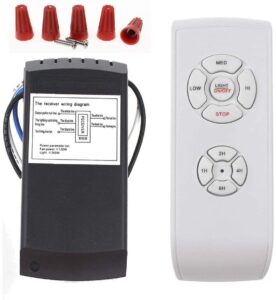 Since we're talking about good-quality and well-functioning remote controls for ceiling fans, we can't leave this one by LPHUMEX out. Built to last long, this one is a great find, especially if you want something efficient to replace your existing remote control.
With individual control buttons designed for 3 fan speeds, this one is a great option for your home. You can control the speed of your fan as well as the light settings that come with the fan. These features are truly remarkable than a traditional remote-control fan. You can operate your ceiling fan in your own desired way with this.
With 5 wire hookups, you can install and make your way with complete monitoring of the remote control in no time. It takes only a few minutes, and your time and energy are both managed well.
You can manage different kinds of ceiling fans with this remote control as it is a versatile and user-friendly product. The design is built to suit almost every kind of existing ceiling fan of numerous brands.
Overall, this is a great pick for your home, and it will make your experience with ceiling fans more enjoyable.
Also Read: 5 Best Ceiling Fans With Bright Lights
Buying Guide for Ceiling Fan Remote
Now that you know a lot about the features and functions of remote controls for ceiling fans, the next step is to decide what you want for your home. Let's look at the features you need to check out in remote control before settling for the final one:
Size
The size of a remote always matters when it comes to shopping for your ceiling fans. This is because certain remotes are designed to accommodate specific fans, while others are designed with an average size that will suit the majority of ones.
For this reason, it is better to measure the dimension of your fan and find the remote that will have an exact fit for the fan's receiver.
Compatibility
This is another important factor to look for when you're going to buy a remote control. Usually, there are universal remotes that are compatible with almost every brand of ceiling fans. However, there are some remotes that work with only specific brands of fans, i.e., the original ceiling fan of the respective transmitter. This is where things can get complicated.
So, it is better to go for the universal ones if your ceiling fan belongs to versatile brand options.
Speed
Who wants their fans to go on the same speed at a stretch for hours? No one, right? That's why you need a remote control that comes with multiple speed adjustment settings. With this setting, you can select your desired speed and even change it later when you find it too much or too less for you.
So, try to pick the remote control that has a wide option of speed controls for the ceiling fans.
Distance
This is another factor to consider when you're shopping for remote control for your fan. Most remote controls work within 30-50 feet from the fans. This distance is the ideal range for remote control. It adds utility and satisfaction to the remote's use and is user-friendly.
So, when you're off to buy a remote for your ceiling fan, make sure you look for something that falls within this distance range.
Wall mount
Last but not least, we have this amazing feature of wall mounting. Face it- without the convenience of a wall mount, a remote control is incomplete. Since you're buying the remote control for your convenience, a wall mount is something that will double your convenience.
You can get easy access to the remote control when it's mounted on the wall, and there's less chance of losing the remote! So, make sure you go for the one that bears a wall mount feature.
Frequently asked questions
Q: Where is the receiver of the ceiling fan located?
Ans: A ceiling fan bears a receiver at its ceiling housing or even in the ceiling. It is placed here in such a way that you can check on it on a time-to-time basis and be aware of its mismatch with the transmitter.
Q: What is the role of speed controls?
Ans: With different speed controls, you can decide what kind of speed you need for your convenience. Whether you want the speed to be high, medium, or low, you can achieve it using these speed controls.
Q: Which one is the best remote control for ceiling fans?
Ans: The YukiHalu Smart Remote Control is by far the best remote control that you can get for your home. The smart technology, easy accessibility through a smartphone app, operation through voice command, and the good monitoring distance- all contribute to the amazing function of the remote control.
Q: How are remote controls better than pull-chains?
Ans: Remote controls are far better than pull-chains when it comes to ceiling fans. Not only it allows you to sit comfortably and operate the fan instead of pulling and getting up now and then to change the fan settings, but it also allows advanced features. You can set the time, change the speed and do a lot more through remote controls.
Final Words
Wrapping up the article, it can be said that it is a hard task to find the right remote control for your existing ceiling fan. A lot of features need to be taken into consideration, and a wide analysis of individual products is also necessary.
Therefore, if you're unsure about buying an ideal remote for your fan, our review will guide you. With our article, we hope, you have been able to find best ceiling fan remote for your home.
I'm James. The author of Electricalaffairs.com. It's been my passion to deal with power tools and gears. This website is mainly to talk about electrical wirings, lighting, various power source tools and accessories. I want to explore tackles and help people to grow their basic knowledge about electrical things. I would also like to help people to pick the right power tool for their daily needs.