Amazing Generator, Offers Many Years Of Reliable Use For Home Or RV
Best for: Consumers wanting a dependable, portable and affordable generator for home projects and RV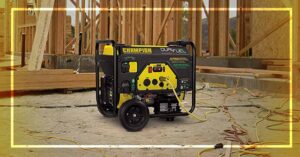 Looking for a versatile yet portable generator that's a beast?
Champion offers this dual fuel 3800-watt portable power solution to give your home projects and RV a backup power source.
This model certainly keeps up Champion's reputation for an efficient, powerful yet portable generator that is as useful to a homeowner as it's in an RV or camp.
Check out our in-depth Champion dual fuel generator review before buying this generator to ensure that you make the right choice.
About the Champion Power Equipment, Inc
Champion is America's Top Generator Brand name.
It's a market leader when it comes to design, produce and market power generation machines. The company has years of experiences providing reliable and durable power equipment.
Champion generators are well-known for their advanced technological innovations that use less fuel but produce more power as compared to their competitors.
Besides the portable generator, the company brings log splitters, engines, winches, pressure washers, transfer pumps, parts and accessories in the market.The company is based in Fe Springs, California but it has a manufacturing facility in Zhejiang, China. It was founded in 2003.
Summary of the Champion 76533 Dual Fuel RV Ready Portable Generator Review
Champion 76533 is a versatile, portable generator for homeowners and RV to keep consistent power supply. Considering how necessary the portable generators are for an RV and homeowner, we decided to pick out a top-rated model to put through our rigorous testing.
While testing, we've paid close attention to workmanship and user-friendliness with this unit. We also made sure that we use it for a longer time to see if we'd encounter any sudden shut-off.
The Generator offers the perfect combination of convenience, versatility, and portability. No matter you need power backup for your RV or home, this bad boy will make powering your life more convenient than ever.
All in all, in terms of efficiency, power, portability and price, the Champion 3800-Watt turned out to be one of the best generators in the market.
| | |
| --- | --- |
| Portability | 100% |
| Power | 95% |
| Efficiency | 90% |
| Price | 100% |
Champion 76533 Specs
---
Item model number :> 76533
Product Dimensions:> 22.8 x 22 x 30.7 inches
Power Source:> Gasoline, Propane (LPG)
Running Watts (Gasoline):> 3800W
Starting Watts (Gasoline):> 4750W
Running Watts (Propane):> 3420W
Starting Watts (Propane):> 4275W
Voltage:> 120 volts
Propane Run Time:> 10.5 at 1/2 Load (h.)
Gasoline Run Time:> 9.0 at 1/2 Load (h.)
Gasoline Capacity (gal.):> 3.4 gallon
Noise Level:> 68 dBa at 23 ft.
Parallel Capacity, RV Ready, Wheels :> YES
Engine Type:> Champion OHV
Engine Displacement:> 224cc
Features at a Glance
---
Runs on propane or gasoline
Electric or recoil start
Cold Start Technology for reliable and fast starts even in cold weather
4-stroke air-cooled, 224cc engine
Volt Guard Technology for over-voltage protection for home appliances
Low oil shut-off protection
3.4 gallon gasoline fuel tank
3.3′ LPG hose with regulator included
IntelliGauge 3-function display for displaying frequency (Hz), volts,  and operating hours
Noise level: 68 dBA from 23 feet
1″ diameter tubular steel frame for protection and durability
Fold-away handle for safety
8″ diameter never-flat tires for easy mobility
The Design
The design of the Champion 76533 Generator is adequate for power outages or other emergencies for your home as well as your RV. It comes with propane hose and you can start using straight out of the box.
It also includes a battery for quick and easy electric start (Push-button). There is an internal built-in battery charger that charges the battery when the unit runs. Additionally, the Champion Cold Start Technology makes certain a hassle-free, quick start of the engine in cold weather.
The unit includes a fuel selector switch that allows you a quick, safe and easy switching between the two fuel sources. There are also a Volt Guard and a built-in upsurge protector that helps to protect your appliances from over- voltage.
Finally, this bad boy features a robust steel frame with folding handle. The never-flat tires make the unit portable, easy to maneuver and transport.
Power and Performance
The unit has enough power to backup power during an emergency. It'll power the essentials items you require in a power outage- lights, refrigerator, fan, modem/router, TV/DVD, smartphone/ tablet charger, computer, etc.
It has a standard 30amp RV outlet with sufficient power to start. It's capable of providing sufficient power for running a RV air conditioner of 15,000 BTU.
The unit is capable of producing:
starting watts  4275 and  rated watts 3420 on propane
starting watts 4750 and  rated watts 3800 on gasoline
Runs up to 10.5 hours on a 20pound propane tank at 50% load
Runs up to 9 hours on a full tank of gasoline
You don't need to be worried about having fresh gasoline on hand during an emergency as propane has a long stable shelf life.
Versatility
Champion 76533 offers you the versatility and convenience of dual fuel use. The dual fuel option let you run it on either gasoline or propane which makes it especially appealing. So, you don't need to worry about gas getting everywhere.
In fact, the ability to use both gas and propane is the SELLING POINT! of this best dual fuel generators.
The unit comes with three outlets- 120V 30A RV (TT-30R), 120V 30A locking (L5-30R) and two 120V 20A (5-20R) that let you plug your household power cord directly without the need of an adapter.
It's a RV ready generator. That means RV owner won't have to worry about wiring and connections. The 30A 120V RV (TT-30R) outlet lets you start using it instantly without extra wiring.
Another great thing about this product is it's EPA-CARB 50-state compliant. This means you can use it anywhere. It's an awesome benefit for RV enthusiast who is looking for a portable generator to use in different states.
Warranty
The generator offers a generous 3-year limited warranty with FREE lifetime technical support
General User Experience
Users have consistently rated the Champion 76533 highly. It has achieved a rating of 4.4 out of 5 by 74% reviewers while the review was writing.
This impressive rating really shows that this generator is really popular and generally users thought it was a good value for money. Among 421, 373 positive reviews clearly show that Champion Power Equipment has done a great job with this portable generator.
Most happy users have noted that the unit is excellently designed, easy to start, perform flawlessly, and has very logical controls and buttons.
Few users mentioned some of its drawbacks, but these are just engineering design issues. One drawback is its hand-tow handle is somewhat short. The unit will catch your heels unless you take very short steps. Some users also have mentioned that battery terminal, oil dip stick and fill are a little tough to get to and makes it a pain to add/ change the oil.
Includes
---
Start-up oil
Oil funnel
Champion wheel kit
Engine oil
Battery
Propane hose with regulator
Pros
Well written instructions and Easy to assemble (wheels and handle kits)
Pretty simple to Start and operate
Dependable performance
Good Power Output
Versatile & powerful
Cost effective and convenient
Provides a great power output
Perfect for running sensitive gadgets
Very reasonable pri
Cons
Quite Noisy within about 10-15 feet from it
The 122 pounds weight is too heavy to lift for transport
Summing Up
Power, convenience and versatility are yours with this Champion 3800-watt dual fuel portable generator. Rely on the Champion 224cc engine and enjoy impressive run time with a noise level of 68 dBA.
Champion 76533 generator is a MUST have for emergencies or even everyday use. It's a must buy for RV enthusiast or camper. It's also great for general home users.
When we finished this Champion dual fuel generator review, we were impressed. You could tell this generator was a winner overall from the reviews it was getting online.
We'd recommend this Champion dual fuel generator for general home users, RV enthusiast or camper who's sitting on the fence about which to buy in 2019.
Power your life with this real CHAMP!
Thanks for reading the champion dual fuel generator review.
I'm James. The author of Electricalaffairs.com. It's been my passion to deal with power tools and gears. This website is mainly to talk about electrical wirings, lighting, various power source tools and accessories. I want to explore tackles and help people to grow their basic knowledge about electrical things. I would also like to help people to pick the right power tool for their daily needs.