Our modern TVs are among the most expensive appliances in our home. However, power surges can damage or destroy a TV instantly; even a small surge can cause screen flickering or picture distortion.
If you've ever wondered "can you plug a TV into a surge protector", you're not alone. It's a common question that people ask, especially considering the high cost of televisions.
But don't worry, you can protect your TV from damage by plugging it into a surge protector.
However, the answer is not as simple as you may expect. In this blog post, we'll explore all the facts about plugging a TV into a surge protector so that you can make the best decision for your household.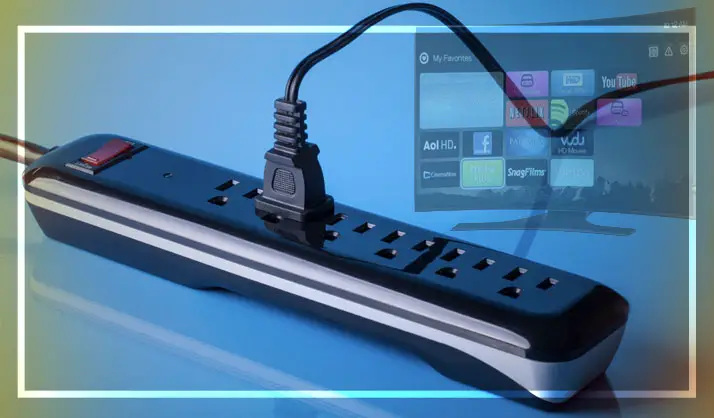 Why Should You Plug Your TV Into a Surge Protector?
According to taraenergy.com, a power surge is a sudden and unexpected increase in voltage. It occurs when considerably more electricity flows through cables into equipment. 
Usually, our home electrical devices are meant to support and run on 220 to 240 volts, but when electricity flows at more than 240 volts, it damages the device. 
Well, these surges might be little or massive, which can reduce performance or potentially destroy the plugged-in equipment. 
Likewise, a power surge can damage your TV, causing it to malfunction or even catch fire. That's why it's important to use a surge protector when you plug your TV into an outlet.
How Does a Surge Protector Protect a TV?
Basically, a conventional surge protector sends electrical energy through the outlet to the electronics plugged into the wall outlet. If the voltage exceeds an optimal value, the protector redirects the excess power through the outlet's grounding cable.
Well, the surge protection system works with a "Metal Oxide Varistor", called MOV, which safeguards your devices. 
The MOV functions similarly to a hydraulic valve. Whenever the MOV recognizes excessive voltage levels, its resistance decreases. When line voltage becomes too low, the resistance increases and this automatically activates to divert the extra electricity.
Yes, if we talk about power strip vs. surge protector, a surge protector will be better than a power strip since it will protect your devices from irrational voltage problems when a power strip is just works as an outlet with many plug capacity.
How Much Voltage a Surge Protector Can Handle & How to Get the Best Surge Protector for TV?
Not all surge protectors work equally. A surge protector's efficiency is determined by its joule rating, which shows how much electricity it can endure before failing. The joule rating is measured in a basic manner: the greater the joule grade, the better the safety against voltage spikes.
When assessing how much safety you truly require, you must evaluate the worth of the things you wish to safeguard. If you want to protect more valuable items, larger joule ratings should be considered getting better protection against strong power surges.
And if you have an old TV, you should get a surge protector that has a joule rating of a minimum 1,000 to 2,000 joules. But if your TV is an expensive one, you should consider buying a protector that has a joule rating of 3,000 joules.
Besides this, you should never purchase a surge protector that lacks UL and ISO certification. Because surge protectors that lack UL and ISO certification have not been tested and may not provide the protection you require.
Now, let's talk about some other crucial aspects of a surge protector and its usage: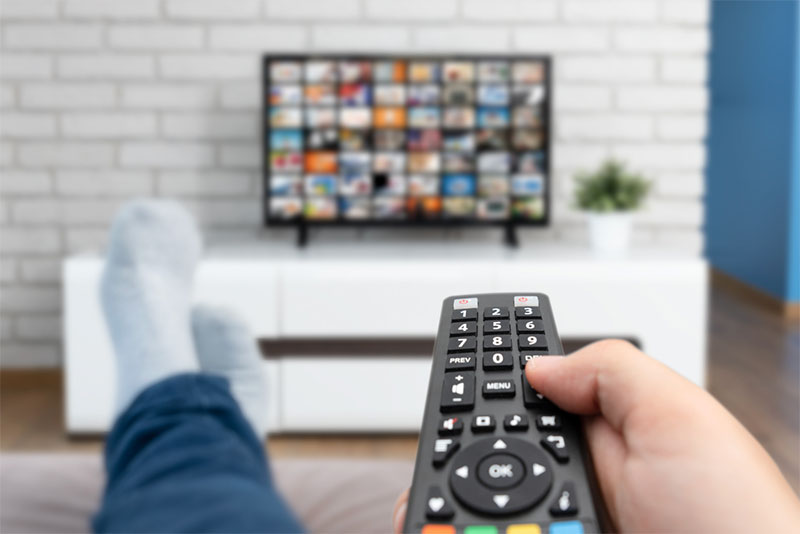 What Else Should You Know About Using a Surge Protector?
When it is thundering, a standard surge protector will not protect your TV or other devices. But if you buy a surge protector that has a dedicated fuse in its plug, then it will cut the power supply and save your device.
You must ensure your house is appropriately grounded before adding surge protector extensions. Yes, surge protectors require a robust grounding facility so that it can swiftly disperse the surge outdoors.
It is essential to select a surge protector that comes with a higher joule rating than you require since the parts within the protector generally wear down through time and use, weakening its surge protective instinct.
An average surge protector lasts between two and five years.
If you are really confused about "Plug TV into Wall Outlet or Surge Protector" and you don't know what to do, call a licensed electrician for help.
Conclusion
As a sudden power surge can cause damage, you can plug a TV into a surge protector to ensure the longevity of your expensive device. In this discussion, we tried to explain why is it safe to plug a TV into a surge protector?
We hope this discussion cleared your doubts about surge protectors and their importance, so make sure you protect your TV with a surge protector soon.
I'm James. The author of Electricalaffairs.com. It's been my passion to deal with power tools and gears. This website is mainly to talk about electrical wirings, lighting, various power source tools and accessories. I want to explore tackles and help people to grow their basic knowledge about electrical things. I would also like to help people to pick the right power tool for their daily needs.