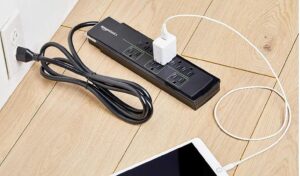 Imagine you are working on something very important on your computer. Then suddenly within a blink of eyes, you see your computer go off. And so are your other devices.
Boom!! It was a major power surge. There goes all your expensive electronics.
Now what? Ok, now you can come out of your imagination. I bet you do not want it to happen in reality. So, my suggestion would be to get a power strip surge protector today.
Check out this list of best power strip surge protectors and grab the ideal one that fulfills all your requirements.
Top 6 Best Power Strip Surge Protector Reviews
I have reviewed only a countable number of surge protectors here. Only the top power strip surge protectors have been exclusively selected for making your search much easier.
List of The Top 6 Power Strip Surge Protector
1. Belkin 12-Outlet Pivot-Plug Power Strip Surge Protector
Key Features
Contains a total of 12 outlets with 8 rotatable and 4 stationary plugs. It gives you more room for connectivity.
8 feet long cord for serving anywhere in the room.
Slim and sleek design. You can easily fit it behind/under anything.
It can take a load of maximum of 1875W ensuring 6000V surge protection.
The number of outlets is the most important thing to consider for a power strip surge protector. More number means you can plug in more devices. And with Belkin 12-outlet power strip surge protector, you get the most out of it.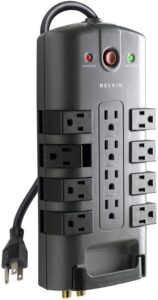 The fun part about the strip is you get 8 rotatable outlets. They can move just like a switch. So, you can plug-in from the top or sidewise. Trust me when you use it, you will know the difference it creates.
You can connect the strip anywhere in the room you want with its 8 feet long cord. Your computer might have a short cord. No problem. You can bring your strip close to it.
Hiding it behind your furniture would be the best thing to do if you don't like too many wires laying in the room. You can adjust this slim fit power strip protector behind anything.
Your devices may include your computer, router, TV, XBOX or any other heavy electronics. It has the capability of bearing a total load of 1875W. So you can connect any electrical appliance within that limit.
---
2. APC UPS BE600M1, 600VA UPS Battery Backup & Surge Protector
Key Features
600VA UPS system. It can bear a total load of 300W facilitating higher connectivity.
7 outlets with a USB port to connect multiple devices.
While connected with the computer, it can save files and shut down the computer automatically.
Small size unit. It can be placed over the desk or a rack or even mounted on the wall too.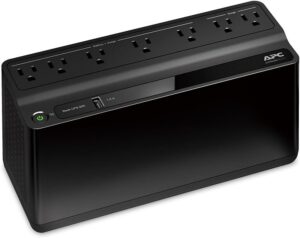 Just think about a blackout when you were writing for hours, and you did not hit save yet. I believe it is no less than a nightmare. But a UPS system can save you from such terrible situations.
APC is the best brand if you are considering buying a battery-backed surge protector UPS system. I bet that you would not find a better option other than one from the APC UPS series. It is the best UPS surge protector.
The APC UPS BE600M1 is a 600VA UPS system. You can connect a total 300W of load in this system and be totally tension free. It has the capability of giving you both battery-backed runtime during blackouts and full surge protection for your electronic devices.
The small-sized sophisticated looking device can do more than its size. Its designated 7 outlets allow you to connect multiple devices at a time. Not only that, but you can also charge phones or devices with the USB port on it.
You might think this is it. But the best part is yet to come. Connecting the UPS with your computer is the only thing you will have to do. The power shoot software will automatically save files for you during blackouts and shut down the computer too.
---
3. HOLSEM 12 Outlets Surge Protector Power Strip
Key Features
Has double break safety for safeguarding your appliances during a power overload.
Efficient surge protector with the compatibility of 125V.
Comes with a load-bearing capacity of 1875W. It allows you to connect even heavy power consuming appliances.
12 sockets and 3 USB ports. Among 3 USB ports, 2 of them include IC smart technology for automatic charging.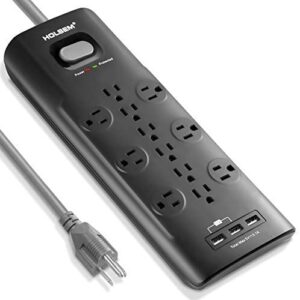 The third power strip to rank among the best is the HOLSEM surge protector power strip. This surge protector will give you more than you ask for.
The unique feature that makes this device stand out from others is its double break safety system. The designated safety switch will break itself when the power overloads. Your appliances will be safe and secured when connected to the power supply through this device.
Spiked voltages harm electronic gadgets immensely. Sometimes you might not see it, but it already ripped your thing off from inside. This power strip will protect your appliances from sudden voltage fluctuation. It has the compatibility of 125V AC and works flawlessly.
It has an in-built LED light that flashes when in use. By this, you can understand if surge protection even working or not.
The surge protector can intake about 4000J before it fails. You can easily connect your TV, computer or other heavy power taking electronics. This device can provide you with a surge protected electricity of total 1875W. It allows you to connect many appliances at once.
Along with that big load-bearing capacity, it has a fair number of outlets complementing it. You will get 12 sockets and 3 USB ports for connecting all your gadgets.
Next Read: Best Smart Plugs For Alexa and Google Home
---
4. Surge Protector Power Strip Tower
Key Features
Mini tower power strip with 12 sockets and 5 USB ports for maximum connection.
Smart USB can detect devices automatically for charging.
Highest protection from hazards.
Energy-saving and efficient. It can save both energy and money.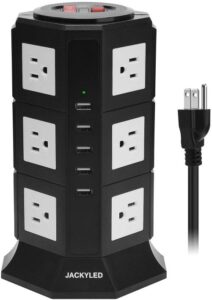 Do you often face the issue of not finding enough space for your big plugs? Those days are gone for good. Now you have this JACKYLED round shaped power strip tower to connect all your plugs without any hassle of space.
This mini-tower has 12 AC outlets. It can meet all of your demands of connecting your computer to router to other related appliances. You get to connect in total 3000W worth of appliances if your main outlet has around 200V voltage. Though the maximum wattage changes if your wall outlet has any lesser voltage.
You can charge your smartphone, tab, iPod, camera or whatever you want, by connecting directly to the power strip with its 5 smart USB ports. Each of them delivers around 2.4A current ensuring fast charging of your devices. It is the best surge protector with USB.
It connects so many of your appliances all at once and protects them from multiple hazards. You will be surprised to know how much this small tower strip can do. Once your items are connected, they are fully surge protected, safe from over current and overload issues, and can tackle short circuits.
This energy-saving power strip will help you save energy and money from your bills. The independent switches separate the connection and allow you to use one side of the tower as per your wish and save energy.
---
5. ECHOGEAR Power Strip Surge Protector
Key Features
Plugin made easy with 6 rotatable and 2 stationary outlets.
Slim and tube-like design saves space and can be fitted anywhere.
Built-in circuit breaker and fireproof MOV for tackling maximum spiked voltages.
8 feet long cord. You can easily move it anywhere in the room.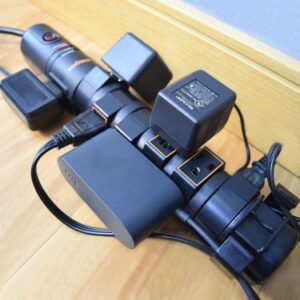 Another power strip surge protector giving you enough space to plug in all your devices is the ECHOGEAR power strip surge protector. This 2160 energy rated power strip has 8 outlets for connecting all your appliances in one unit. You can plug in your appliances at any angle with its 6 160o rotating sockets and 2 stationary sockets.
With a tube-like long structure, it looks like a lightsaber from Star Wars. Imagine yourself holding this and saving all your appliances like a lightsaber saves a Jedi. Interesting right? Ok, not a lightsaber maybe but this power strip will definitely help you secure all your appliances from major voltage surges and power overloads.
The built-in circuit breaker switch and fireproof MOVs help tackle surges and save your appliances. No matter how big the surge is, your appliances will be safe and secured.
Besides surge protection, it eliminates all the EMI and RFI from the power source for better performance.
The 8 feet long cord extends its moving capability. You can easily carry it anywhere in the room even though connected to the wall socket. However, this long cable can be a trouble too. With the help of cable hooks, you can easily manage and keep them out from creating any messy situation.
---
6. APC Surge Protector Power Strip with USB Ports
Key Features
Color-coded LED lights for alerting you during overloads and wiring problems.
11 stationary outlets with energy rating 2880J. It allows you to connect any heavy energy-consuming appliance.
2 USB with 2.4A current. It helps you charge your devices faster.
6 feet rotating cord for letting you shift the main power connection anytime.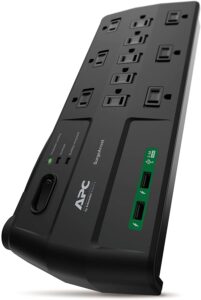 Another APC device to rank the top list is the P11U2 power strip surge protector. The best thing you get from this is it alerts you about hazards through the LED lights on the top. It could be a life-saving fact if you consider so. During overloads or even if there is a problem in your building wiring, it glows its yellow and red lights respectively.
The 11-outlet based surge protector is of 2880J energy rating. You can effortlessly connect any heavy appliances with this energy standard. The additional 2 USB ports are just the thing you needed while working on your workspace. You can connect your phone, tablet, even your smartwatch at the last minute and have a fast charging facility.
In many cases for changing the main cord direction, you have to shift the whole power strip along with all the devices connected. But not for this strip. The 90o rotatable cord can save you from such a big hassle. With this, you can alter the connection from one side of the room to the other, without having to shift the total power strip.
Also Read: Best UPS for Home Use and Small Business
Power Strip Surge Protectors Buying Guide
Buying an electrical device is not always that easy. You need to search for some important features in a power strip surge protector to buy the best one among all. They are mentioned as follows. Make sure you catch them all.
Energy Rating
You must look for some important ratings before you set to pay for your power strip surge protector. The most essential ones are energy absorption rate and clamping voltage. These ratings help to judge the capacity of a surge protector.
The energy absorption rate is generally given in joules. For example, HOLSEM 12-outlet surge protector power strip is of 4000J. It means it can absorb 4000J energy at its extreme point. The higher the absorption rate, the better it works. All the surge protectors from the recommendation list above are of a high absorption rate.
On the contrary, the clamping voltage must be as low as possible. The lower rating it has, the better its performance is. The lower rate indicates that it will let lower voltages to pass through and make it to the connected appliances. As per the UL rating, 3 points of protection are there: 330V, 400V and 500V. It is better to have a rating of less than 400V. Higher than that might cause risk for many electronic devices.
Number of Outlets
The second most important thing after energy rating is the number of outlets. The more the number of outlets, the more appliances you can connect.
A power strip with higher energy bearing capacity but a smaller number of outlets will be a waste. Again, a strip might have higher outlets but cannot bear that much load. Both of the cases are loss projects. They will not be useful at all. For better results, you must look for a power strip that delivers a proper proportion of outlets with the energy bearing capacity.
Response Time
The response time indicates the time taken by the surge protector for responding to a sudden voltage spike. Not all devices have similar response times. The more time it takes to respond the longer your electronic appliances are at risk of being exposed to spiked voltages. So, search for surge protectors that require less response time to function.
Length of the Cord
The length of the cord is a very essential thing to consider while buying a power strip. It will be a huge trouble if you cannot take your power strip close to your designated appliances. The name extension cord is given based on its purpose. If it fails to fulfill its purpose it would not have any meaning.
A good power strip must have a sufficiently long cord for moving it around the room comfortably. Normally a power strip has around 8-6 feet long cord. It is the standard length for a power strip cord. Make sure your power strip has a comparatively longer cord with a length of around 8 to 6 feet.
FAQ About Power Strip Surge Protectors
Even if I have covered almost everything in the review section above, you may still have some queries in your mind. I hope you will find yours already answered in the FAQs below. Let's check them out.
Q: Is it ok to connect two surge protectors with each other?
Ans: No, it is not ok. You should never connect one power strip with another. It will overload the surge protectors and may lead to severe damage to all the connected appliances. You should use them separately and connect the power strip directly to the main power supply.
Q: Can power strip surge protectors be hazardous for the main power supply?
Ans: No, it would not be a risk factor for your main power source. However, improper use of power strip and during hazards it might put your home connection into trouble. But it is a rare case. It would not be an issue until you overload your device and use it improperly.
Q: What can be connected to a surge protector?
Ans: Electronics that can be connected depends on the capacity of the power strip. The higher the capacity, the heavier appliances can be connected. In general, a standard power strip can take the load of computer, printer, TV, XBOX, cable connection, router, and such other appliances.
Q: Can I plugin devices in all the outlets at once?
Ans: Though you are given so many outlet options, you should not plugin to all the outlets at once. It basically depends on what you are plugging in. However, if you are connecting low key appliances, you can connect many items all at once. Again, a power strip with a greater energy rating gives you the capability of connecting more appliances at once.
Final Words
Blackouts can be a huge issue. And voltage spikes accompanied by frequent blackouts can make your electronics go crazy. It might even fry your stuff, who knows?
To avoid all these mishaps, grab your surge protector today. I will say, do it now without wasting any more time. Choose the best power strip surge protector and save your money by saving your electronic devices.
I'm James. The author of Electricalaffairs.com. It's been my passion to deal with power tools and gears. This website is mainly to talk about electrical wirings, lighting, various power source tools and accessories. I want to explore tackles and help people to grow their basic knowledge about electrical things. I would also like to help people to pick the right power tool for their daily needs.