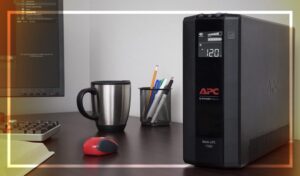 Are you connecting your electronic devices directly to the power source?
Never do that. Never rely on your power supply with your expensive devices. You might lose them all with one disaster strike. During those uncertain blackouts, you might lose all the unsaved files that you were working on for hours.
Can you imagine that tragic scenario?
Considering the gravity of the consequence, buying a UPS will be a wise investment for you. Let's check out the list of best UPS for home and small business, and grab the ideal one for yourself.
6 Best UPS for Home Use and Small Business
We have recommended only the best 6 UPS systems here for making the search easy and fast for you. You will definitely find the most compatible one among these that meets all of your requirements.
List of Top 6 UPS for Home Use Reviewed
1. CyberPower BRG1500AVRLCD Intelligent LCD UPS System
Highlighted Features
Includes 12 NEMA outlets for maximum backup.
Green power reduces power consumption and saves money.
Bonus 2 front USB port for charging.
Total 5 years warranty including battery.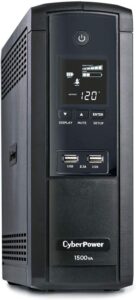 Let's begin the search with the best one. You would not find an alternative for CyberPower BRG1500AVRLCD intelligent LCD UPS system. It's at the top of its game with so many details and unique features.
When it's up to protection, you want maximum electronics of your home to be under complete protection. This UPS has a total of 12 NEMA outlets, and it ensures maximum backup as well.
It ensures automatic voltage regulation by surge protection. It does not even have to go on battery power. When your voltage is not perfect, this will automatically regulate it. It delivers pure sinewave electricity flow similar to the one of your home.
This UPS system has the energy star qualified bypass design for delivering green power. The whole process helps reduce power consumption. It ensures greener power and saves you a lot from your electricity bill.
Besides the back sockets, this particular UPS has 2 front USB panel. From smartphones to other devices– you can charge them all.
Just above the USB ports, is the control panel. The panel includes an LCD monitor displaying power status, settings, and other features. You can easily learn to use it from the simple guide it comes with.
The best part about this UPS is that it has a total of 5 years warranty, which covers a battery as well. The battery is the most crucial part, and anything happens to it within this 5 year, you get a new battery from the manufacturer.
2. APC UPSBX1500M 1500VA UPS Battery Backup & Surge Protector
Highlighted Features
Backed up by 1500V/900W replaceable battery.
10 surge-protected outlets; 5 are both battery-backed and surge protected.
Multipurpose LCD screen for monitoring.
Gives extra time during blackouts.

If you know about UPS, you will definitely know about the brand APC. They are well-known in the market for manufacturing high-quality UPS.
This heavy-duty UPS is indeed solid both in weight and performance. You will get maximum service out of this UPS backed by 1500V/900w battery power. The replaceable battery has a long life to serve you for a longer period.
Among the 10 outlets of this device, all of them are surge protected, and 5 are both battery and surge protected. No matter where you use it– it can be your home, your workspace, or your small business– it delivers the best result in every place. It comes with several outlets for giving you more out of it.
During any kind of disruptions or sudden problem regarding electricity, the UPS will alarm you showing it on the multi-purpose upgraded LCD monitor. Not only that, but the monitor also displays power status and settings. You can easily control the settings with the 3 designated buttons on the top.
As a matter of fact, this device actually gives you more time during blackouts than others. You can save your important files and safely shut down your computer and other devices in this extra time. No files will ever be lost when you have APC UPS BX1500M!
3. CyberPower OR500LCDRM1U Smart App LCD UPS System
Highlighted Features
500VA/300W battery-powered UPS system.
Best for devices like network router, USB hub, security setup, Unifi.
It can detect threats to help you take action before the damage occurs.
Delivers pure sinewave electricity flow same as regular electricity.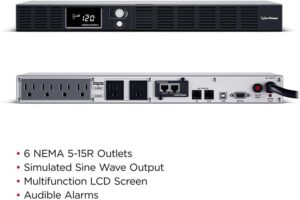 If you are looking for something low-key, there could not be a better option than this UPS from CyberPower. It can be a perfect power backup for your Network system. It is the chance you can take to solve your router problem all at once.
For your small devices like router or security setup, you would definitely not want a big sized heavy 1500VA UPS. It will eat your space and money both at a time. For smaller devices with lower power intake, the CyberPower OR500LCDRM1U UPS system is the most graceful thing to have on your rack.
Do not let the slim size lightweight body of this device deceive you doubting about its capabilities. The 500VA/300W battery-backed UPS can handle 6 devices. Out of 6 outlets, all of them are surge protected with particularly 4 are battery-backed.
You can easily monitor the battery condition, power status, and all other significant information through the LCD screen. Like other smart UPS systems, it can detect potential threats and help you take action before your electronic devices get damaged.
Not disturbing your regular electricity flow, it delivers pure sinewave just like how the regular electricity comes to your house. So, your electronic equipment would not suffer from sudden disruption of electricity.
4. Tripp Lite 1500VA 900W UPS Battery Back-Up
Highlighted Features
Automatically save open files and shutdowns the computer during a blackout.
Has an automatic voltage regulating system.
Replaceable batteries.
Has 10 outlets including a USB port.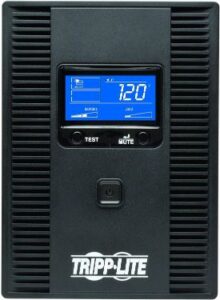 Not all devices will work smoothly under generator power. If you have a generator in your home, the Tripp Lite Smart 1300LCDT will be the best thing to get. It accepts the generator power and runs efficiently over it.
With a maximum load taking capacity of 900 watts, it can give you enough runtime. This smart device can save your life by saving your important open files during a blackout and turn off your computer too. Surprisingly these all are done by the UPS automatically.
For the areas with major electricity problems, it's too hard for electronic devices to survive. But for your home, it can work as an armor to protect all your connected appliances. With its automatic voltage regulating system, it detects the disrupting voltages and solves the issues itself. For this purpose, it does not use the power from the battery and thus also saves battery life.
The battery life lasts for a long time, even after heavy usage. However, when required, you can easily replace the battery. Its batteries are sold separately in the market. You can replace them anytime without having to change the whole equipment.
The whole system has very efficient connecting sockets. It includes surge and noise protected 10 outlets for connecting your devices. Among these, 5 have both batteries back up and surge and noise protection.
5. bXterra BM1000AVRLCD 1000VA UPS Intelligent LCD UPS Battery Backup
Highlighted Features
10 surge-protected sockets including outlets for network, telephone and cable system.
Includes free software for managing the shutting down of connected devices.
Easily accessible battery panel for easy replacement.
Energy star approved green technology.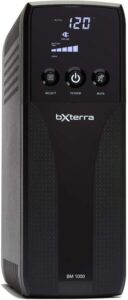 Design and structure are very important factors for any device. Comparing it with other UPS systems, this has a completely different design to make usage easy for everybody.
The most unique part of its design is the battery panel. The panel is situated right on the front of the device unlike any other. It can be accessed easily just by removing the lower part of the front cover. For this device, battery replacement is very easy for you to change it whenever necessary.
The whole design of the UPS is done in such a way that the control panel, LCD monitor, and the battery panel are all in the front part of the device. Whereas, all the outlets are placed on the back.
In total, it contains 10 sockets among them all are surge and noise protected. Among them, the special 5 are battery-backed too. You also get the outlets for network, telephone and cable connection. These outlets are surge protected for keeping your devices safe from disruptive voltages.
With the automatic voltage regulating system, it protects all your home and your workplace devices which you connect with your UPS. It ensures clean and safe power supply for your devices without causing any harm to them.
This UPS system has cool software which is completely free but can help you like magic. The PowerFrame Personal UPS software will help you shut down your connected equipment automatically during a power cut.
6. APC BR1500G and BE600M1 Battery Backup Bundle
Highlighted Features
It comes in a bundle and is meant to be used separately.
It contains a 1500VA/865W and a 600VA/330W battery-backed UPS system.
You can get two expensive UPS systems at a very reasonable price.
With two UPS systems, you can protect most of your house appliances.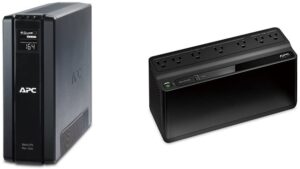 For meeting all your high and low demands, this is the perfect battery backup bundle for you. It comes as a bundle, but not meant to be plugged together. UPS systems are expensive things to buy. You can save a fortune with this bundle and get what you were waiting for all this time.
One item from the bundle is the UPS system of 1500VA/865W battery power supply. This heavy-duty device will ensure maximum service and save you from any high-end rigs. The mini-tower simple design can fit anywhere very easily.
It gives you 6 ports at the back for connecting your devices. If you need more back up, you can connect an extra battery to it, with the port given behind.
The other item from the bundle is the APC BE600M1. With a 600VA/330W battery backup, you can connect those devices which do not use much energy but need to be protected from all those troublesome voltage issues.
It can assure maximum safety for your connected appliances with 7 surge-protected ports. As the device is designed to be always on, you can use it for your network system or your smart devices at home which need to stay connected all the time.
Also Read: 10 Best Smart Plugs For Alexa and Google Home
Buying Guide for Home UPS Devices
You should check some important factors to buy a good UPS that is 100% compatible with your needs and requirements. Let's know what they are.
The Capacity of the UPS:
The capacity of the UPS is measured by Volt-Amps(VA). All the ratings of the UPS are done using it. It points to the maximum amount of electricity that can be drawn from the device.
This measurement will be written on every UPS system you find in the market. For example, the maximum UPS mentioned above are 1500VA. Some are also 600VA and 500VA. This information of the UPS is mentioned on the device and also on the instruction book or the product details.
Watt rating is another thing. It shows the maximum amount of power the device can convert and deliver. For example, the UPS systems above have 900W or 865W or 300W and so on. Here 900W means you can extract 900 watts of electricity that in total from the device with your connected appliances.
In short, the 'VA' rating measures the capacity of the UPS. Whereas the 'Watt' rating shows how much electricity you can draw from that UPS.
Hence, to buy a compatible UPS for your space, first, you need to add up the watts each of your appliances requires to work. The number you find is the guide for choosing your UPS system.
Runtime:
The battery-backed time given to you for saving your hours of hard works during a blackout is the most relieving thing to get. A little extra time will always be better to get the most out of it. A lot of factors are important for extended runtime.
The runtime is dependent on the amount of electricity that the connected appliances consume from UPS. The number of appliances is also a big factor here. The appliances can extract a certain amount of electricity from the unit. It basically relies on the unit's capacity.
If the number of appliances is more, it will extract more power from the system. Thus, it will reach the power limit fast and eventually have less runtime.
Again, if you connect limited devices, you will get extra runtime for blackouts.
However, this does not mean that you cannot connect all your required appliances with a UPS system. You must choose a UPS system with higher capacity for getting efficient use, connecting multiple equipment and extended runtime.
Therefore, it will be wise to calculate and list all your needs before buying your UPS system.
Replaceable Batteries:
A normal UPS battery can last for about 3-5 years. It loses its optimal capacity of working after that period.
The battery is the heart of a UPS system. If this does not function efficiently, the whole system will collapse. To get the best results from your UPS system, you must keep a check on its batteries.
After a certain period, you have to change the batteries of your system to ensure maximum outcomes. Many brands sell batteries compatible with the system separately. Such systems have options to open the device and change batteries.
However, some brands do not give that option. They do not sell separate batteries. Thus it is hard to find compatible ones. In such situations, you might even have to replace the whole system.
Look for UPS systems that sell replaceable batteries and have an easy maintenance policy to avoid such situations.
Cost and Value:
UPS systems can be very expensive. But not all expensive stuff is worth its price. You must ensure your device is worth the cost before paying your bucks.
You will find many fancy looking UPS systems with a high-rise price tag in the market. But do not fall for them. You must check its features and capabilities.
The high capacity bearing systems might charge you more. You must see if it is meeting all your requirements. You must make a list of the appliances you intend to connect and measure how much load all these will create. Then check if the device can handle all those loads. A good device might charge you more but will give you a lifetime using capability.
Also, you will find so many devices at a very low price. You might even get swayed by them. But in the long run, these cheap price devices will cost you more than its worth. It would not meet your demands with its cheap quality. It might even damage your appliances.
Therefore, evaluate the cost and value of the item before getting a UPS system for your home or your business.
FAQs About UPS for Home Use and Small Business
Let's get the answer to some of the most frequently asked questions about UPS for home use and small business. I will try to cover some important information you need to know to ensure the safest use of UPS.
1. Where should I put my UPS?
Ans: Well, a UPS can be put anywhere. The only thing you should be careful about is that you are not blocking the vents. The UPS cools down through convection. So if the vents are blocked, the air will get trapped inside and cause overheating. This may over times damage the whole device. That's why even if your UPS systems can be placed anywhere, you need to keep a certain space around it for proper ventilation.
2. Do UPS systems save energy?
Ans: The energy star approved green technology-based UPS, like the ones recommended above, use less electricity and save more energy. They are efficient enough to cut your electricity bill and save some bucks.
3. Are the batteries in the UPS systems replaceable?
Ans: Yes, most UPS have replaceable batteries.
Batteries have a life span of around 3-4 years. After that, the battery's capability becomes less than optimal. For such situations, many UPS systems have replaceable batteries which are sold separately in the market.
If your brand sells separate batteries, you can replace it easily. If it does not, you have to look for an alternative.
4. How do I know my UPS needs a replacement?
Ans: When you see your system is not working for your equipped devices, you must replace it immediately. Besides that, after a certain period of usage, you should check on your device, whether it is performing properly or not and try replacing your batteries if needed.
Final Words
If you made this far, maybe you have already chosen something from our list of best UPS for home and small business. Which one is it?
However, if you are still confused, our recommendation would be Tripp Lite 1500VA 900W UPS battery backup. Honestly, you cannot find an alternative to this mighty UPS. It will work effortlessly in your home or workspace or even a medium business area.
Hopefully, you made the right choice and picked the best one from our list.
I'm James. The author of Electricalaffairs.com. It's been my passion to deal with power tools and gears. This website is mainly to talk about electrical wirings, lighting, various power source tools and accessories. I want to explore tackles and help people to grow their basic knowledge about electrical things. I would also like to help people to pick the right power tool for their daily needs.