Do you get an itchy or blurry eye when you read? Does it include pain on eyes and a mild headache behind your head every time you sit to read? If the answer is YES, it's high time you change your lights. Your dull lighting is causing these problems due to eye strain.
Do you know the amount of stress your eye takes while you read books under dull light? I bet you would never repeat it if you knew how much damage it causes. It might even haunt you in the long run.
To get rid of this problem, you can get a reading lamp with adequate brightness.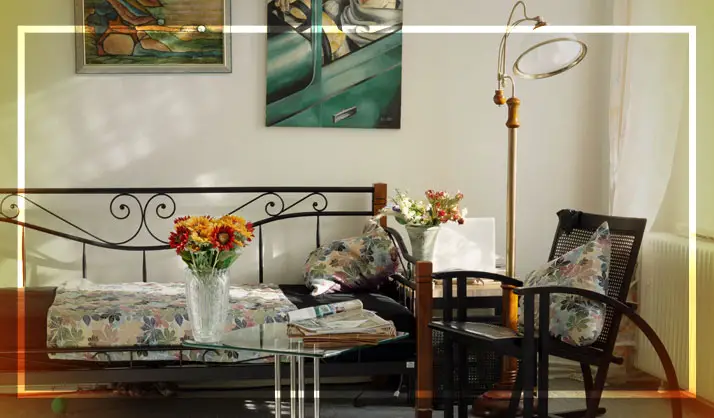 Top 8 Best Floor Lamps for Reading
Well, for your convenience, I have made a list of the best reading floor lamps.
I have only picked 8 best reading floor lamps from thousands of options in the market. I am going to review them here. I hope these filtered reviews will help you scan through the best ones in a short time and find the best one you are looking for.
List of Top 8 Reading Floor Lamp Reviewed
1. BrightechLitespan LED Bright Reading and Craft Floor Lamp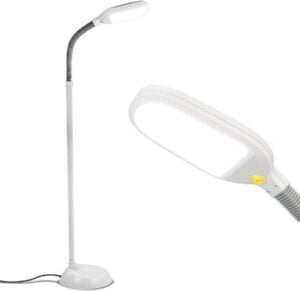 The first one to top the list is a collection from Brightech. This renowned brand has a huge collection of reading lamps to choose from. Among all, this particular collection will surely catch your eyes.
You can be a night owl or a day reader; this lamp is perfect for any lighting. It can brighten areas like natural daylight. However, if the brightness is so flashy, you can dim the light easily. The intensity gradience allows you to choose your desired brightness.
Highlighted Features
Eco-friendly and energy-saving LED floor lamp.
Brightness adjustable smart technology.
Best for reading, crafting or detailed works.
Adjustable gooseneck design, handy for focusing the light.
Adjusting the brightness every time can be a bit hassling. But not for this lamp. Once you adjust the intensity, this lamp can save it for later use. The inbuilt smart technology of the lamp helps recall the last used brightness level.
Since its hard finding your light in the dark, the switch of the lamp has a cool feature of glowing. You can easily find the lamp by the soft amber glow of the switch.
The highlighting fact about LED lamps is that they are energy saving. No over-heating issues; 100% safer for you and your family. It will give you a long-time service with low energy consumption.
Meeting the necessity of your reading habits is not enough, it must also match your home decor. This reading light comes in different colors to give you enough room to choose from.
Downside: There's no easy way to replace the bulbs or head section. If the unit malfunctions, contacting the manufacturer is the only option.
Verdict
Beautiful, efficient, and adjustable to your needs. This lamp excels in all of those areas, allowing you to enjoy a good reading during day or night. To avoid hurting your eyes, consider buying this fantastic accessory.
---
2. Verilux Original SmartLight LED Floor Lamp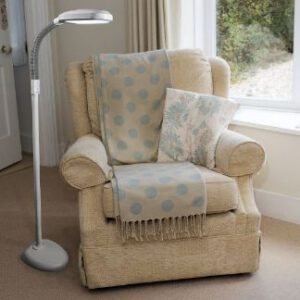 The next one in the line is Verilux Original Smart light LED Floor Lamp. This Verilux LED floor lamp is pretty similar to the previous one in respect of design. Nonetheless, they are very different from each other.
The reason it secured its position among the top floor lamps is its unique feature of strain-free radiance. It gives you the opportunity to work for a longer time under the light.
It does not create annoyance to the eyes, and thus increases productivity.
Highlighted Features
Optix glare control lens and flicker elimination technology for strain-free radiance.
Gooseneck floor reading lamp, which can be adjusted as per necessity.
Smart technology with adjustable intensity levels and color temperatures.
Modern reading lamp with a sleek and light design.
You can work on any detailed job with full efficiency without any issues of light flickering. For focused work, you can adjust the gooseneck and bring the light closer to your working station.
You can get a natural daylight experience from this lamp. However, if you do not have the mood for the flashy full bright daylight, you can change it as per your desire. To catch up with your mood, this smart technology has 5 intensity levels and 3 color temperatures to choose from.
Though the lamp is designed focusing more on its purpose of illumination, it does not lack in structural design. Its sleek and light design will go with any home settings. You can easily place it in any of your rooms, and it will blend effortlessly.
Downside: While the lamp itself is terrific, the cord not so much. It feels too fragile, meaning that it may break if someone trips it.
Verdict
This is an outstanding reading floor lamp because of how friendly it is to the eyes. There's no light flickering, and you can choose between many settings to set the light to your preferred brightness. Everyone from kids to adults will love it.
---
3. Tiffany Style Reading Floor Lamp 12-Inch Dragonfly Lampshade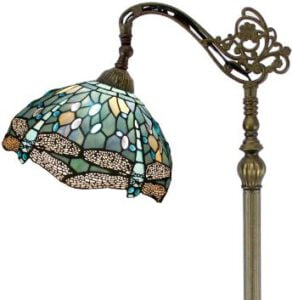 If you are looking for something more traditional or a tiffany style reading floor lamp, you can give this collection a try. You can get a very delicately designed stained glass tiffany style lamp at a very reasonable price.
The core feature of the lamp is its decorative look. The sea blue stained glass with dragonfly details on the edge finishes give the look an artistic vibe. No matter where you place the lamp, it will surely change the whole impression of the room.
Highlighted Features
Tiffany style reading lamp made of real stained glass.
The lamp is a little heavier than it looks, making it firmerin its place.
Maximum illumination for reading and other tasks.
Lights up a small area without disturbing the total ambiance.
The shade is made of real stained glass. Small pieces of cut stained glass are set in a pattern and connected together with high-quality tin. The whole process is done by hand to give the lamp authenticity. The base of the lamp is of resin with an antique bronze finish to complete the look.
Despite the fancy look, it serves its purpose effectively. You will get both a decorative item for your home and also a competent illuminating source for your regular tasks.
If you do not want the whole room to be brightened by your reading lamp, this lamp will be helpful for you. Sometimes you do not want to disturb others with your flashy light, but you need a lighted space for yourself. The lamp is perfect for illuminating a smaller area.
Downside: If you're looking for a super bright lamp, this is not the one for you.
Verdict
Sometimes, less is more. While this lamp isn't as bright as others may be, it still does a solid job of keeping the reading material illuminated. Overall, it's less tiring to the eyes, and you won't bother other people that may be resting nearby during the night.
---
4. BrightechSparq – Hanging LED Arc Floor Lamp for Reading in Sofa, Recliner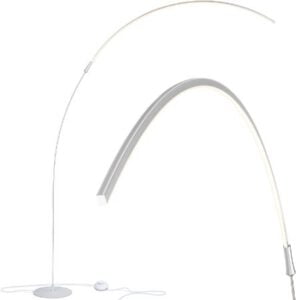 Sparq hanging LED Arc Floor Lamp is another collection from Brightech. Its unusual design is its main attraction. When you take a deeper look, you will surely admire it too.
The arc-shaped floor lamp is way longer than you can assume. This lamp can completely hood a small-sized sofa of yours.
However, its light and simple design will give you much openness. It would not put up a vibe of having something over your head.
Highlighted Features
Arc shaped floor lamp with a very simple design.
Long enough to hood over a small sofa.
It contains LED lights; no issues of space heating.
3 level brightness option; can be easily switched from bright to mid-tone to dim.
As with its futuristic design and sophisticated look, you can put the lamp in any room of your home. Its simplified appearance will be more complementary to a minimalistic home.
Since using LED lights, there are no issues with heating. These energy-efficient lights cause no space heating; thus, they would not cause you any trouble despite staying close to you.
For reading or any detailing job like sewing, writing, crafting, or architectural works or more delicate tasks, you can use its full bright light.
If you have a mood of just laying on your sofa or listening to some music under mild light, that would not be a problem too. This lamp has 3 brightness options. You can easily switch from bright to medium brightness to dim mood.
Downside: This lamp may have issues working with timers or wall switches.
Verdict
Originally bought for reading, then loved it because of everything else. This lamp is a good-looking fixture that easily makes any room look ten times better by adding a modern look. With multiple features that you can adjust quickly, you'll soon consider this floor lamp as one of the best.
---
5. LASTAR Reading Lamp Floor Standing with Adjustable Gooseneck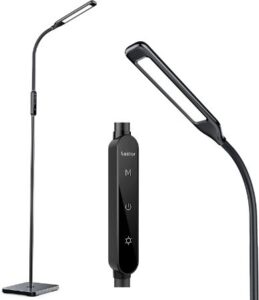 If you are looking for something smart and sleek, it will be a perfect choice for you. LASTAR came up with this elegant looking floor lamp for a sophisticated modern home.
Standing floor lamps normally have a very slim body and lightweight structure. This floor lamp is no different. Despite having such a floaty body, it would not cause you the trouble of tripping off. It has a square-shaped base ensuring maximum stability.
The LED light floor lamp is eco-friendly. You can save much energy while using it and get a major cut in your electric bills.
Highlighted Features
Lightweight and slim bodied lamp with a stable base.
Ecofriendly LED light lamp.
Touch system light settings easy to control.
Wide range of light settings with 4 brightness levels and 3 color tone options.
The lamp has a touch control system for ease of use. Sometimes, the switchboard of the lamps kills the whole design. But not for this one, its switches are engraved over the light source which is almost camouflaged with the lamp. Yet you can easily detect the buttons and control the light.
You may need different light settings at different times. This lamp has 4 intensity levels for giving you that opportunity. You can control what brightness you want among the 4 options. Not only that, but you also can shift among 3 color tones as per your necessity. It has a cold white tone on one extreme level and a warm tone on another. As a mid-tone, you have a natural white tone.
Downside: Due to a fragile build, this lamp breaks with ease. Better to find a spot for it and leave it there unmoved.
Verdict
With many options available to change brightness and color tones, this lamp fits in any scenario. The LEDs are also a treat to both your eyes and the ecosystem, allowing you to use the lamp as much as needed without concerns.
---
6. Brightech Litespan 2 in 1 Floor & Desk Lamp for Reading Crafting Etc.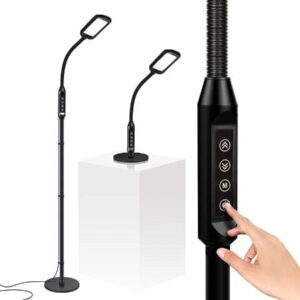 It is the third one in the row from Brightech. They truly nailed in manufacturing high quality standing lamps.
The versatile standing lamp from Brightech is the best thing you would be checking out. You might be looking for some floor lamps, but this gives you two in one feature. It can be transformed into a table lamp from a floor lamp in no time.
Whether you keep it on the floor or your desk, it looks just fine in every setting. Its sleek and simple design makes it very compatible with any room decoration. You can easily pop it in your kid's room or even keep it on your living room; it will look perfect in any corner of your home.
Highlighted Features
The floor lamp can be easily changed into a desk lamp.
Simple and sophisticated design compatible with any home settings.
Despite being simple and slender have a very stable base.
It is dimmable and has 3 brightening options.
It is slender and simple but has a very steady base. You can feel safe keeping it anywhere without having the tension of tripping off. It has a good grip to balance itself if it gets knocked. So, you can let your pets or your kids be around it being 100% tension-free.
It comes with 3 brightening options to match up with your desires. You have the complete control for choosing among the 3. The control panel is located just under the adjustable gooseneck. Via the simple controller, you can shift the tone from cool white light to warm white light.
Downside: Surprisingly enough, the lamp proved to be heavier than first expected.
Verdict
A versatile lamp like this one can adapt to any of your demands. You can adjust it to work as you need, even as a desk lamp. After a quick assembly and a few setting changes, this fixture will be ready to company you during your reading.
---
7. MediAcous Dimmable Gooseneck LED Floor Lamp with Remote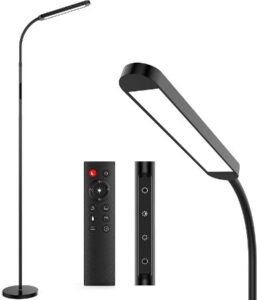 Smart homes need smart tech. MediAcous came with a remote-controlled floor lamp to meet the necessities of your smart home.
If you are the one who feels it tiring to break the inertia and get up to turn the light on, this floor lamp is perfect for you. You can regulate the light from anywhere in your room to turn it off or on or even change any other settings with the remote controller.
You can easily swing through any of its brightness levels with the remote sitting on your couch. You have the freedom to choose among 5 different brightness levels. You can choose from any color tone you wish as per your needs.
Highlighted Features
Remote-controlled floor lamp can be operated from anywhere in the room.
Gives you the freedom to choose among 5 different brightness levels.
Features flexible neck that can be adjusted as needed.
Very easy to install.
Pulling or moving the light source is pretty easy with this gooseneck lamp. Its head is easily movable and adjustable. Whether you need it closer to you or want to move it away, you can adjust the flexible head as per your need.
With a very stable base, it stays in its place efficiently. You do not have to imagine yourself trapped under your tripping lamp.
Even with so many cool features, this lamp is very easy to install. You might take more time to unbox it than to install it. Its simple design and structure make it easy to assemble.
Downside: Like the first product, it isn't possible to replace the bulbs of this lamp.
Verdict
Need a super sleek lamp? This is it. The design of this fixture is remarkable, providing a contemporary look to the room without being obtrusive. Even better, you can adjust the extra-long neck to reach over the dining room, sofa, tables, and more areas that other lamps have struggled to reach.
---
8. Joly Joy LED Modern Reading Floor Lamp with Touch & Remote Control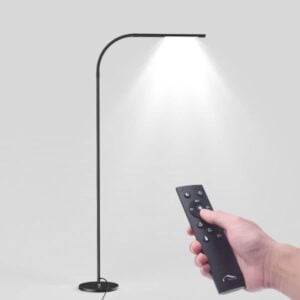 As you have scrolled down to the end, you need to get treated by the best. The lamp from Joly Joy is one of the best that you deserve.
With multiple functions, the black sophisticated looking lamp can be the one you are looking for until now. This lamp has a very sophisticated look and is perfectly compatible with modern homes.
This remote controlling floor lamp will match with your office room to your home settings seamlessly. No matter where you put it, it will serve its purpose without hampering the total vibe of the decoration.
Highlighted Features
Has twin functioning modes. Can be operated manually and by remote control.
Illumination can be customized by 5 flexible intensity levels and 4 color tones.
The gooseneck can be rotated 360o.
Simple and slender design.
As it looks like just a stick, you might wonder how to control it manually. It has a touch-sensitive control panel smartly installed right on the tip of its head. With a simple touch, you can shift among the different dimming options.
It comes with 5 intensity levels and 4 color tones options to offer you maximum flexibility. This huge range of light settings is just to ensure perfect illumination for you as you need.
It could not be the end. This simple looking lamp has amazing features. Among all the adjustable lamps, it is the most flexible. You can literally rotate it 360o without causing any damage. It can be adjusted, rotated or bent as per your desire.
Downside: Securing the base is tricky, as it often feels wobbly if you move the lamp regularly.
Verdict
This lamp has a very intuitive design to be friendly for anyone. Whether you use it for the computer, reading, or just to enjoy a cup of tea with friends, the light provided is warm and comfortable. Plus, the included remote means that you can change the settings from the comfort of your chair.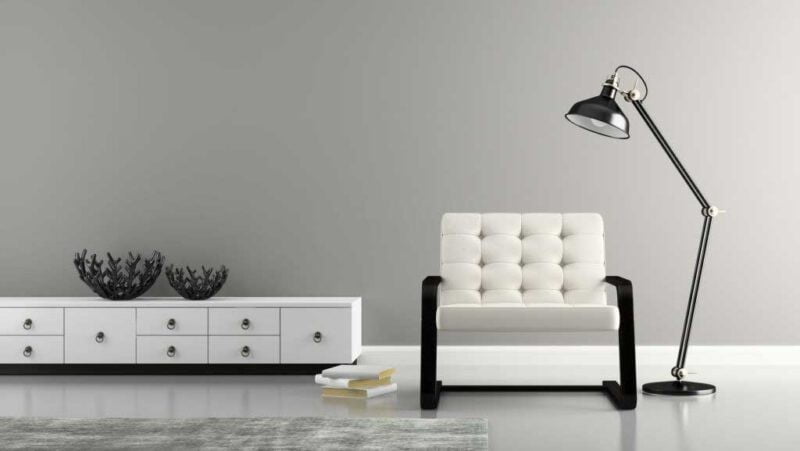 Consider the Facts when Choosing the Floor Reading Lamps
Aren't the lamps amazing? But going only for looks is not a great idea. For choosing a perfect lamp, you should search for more than the looks. Here are a few notes for finding the best floor lamp. Make sure you keep them in mind while shopping.
Intensity and Color Tones
The main purpose of the reading floor lamp is to offer bright light. The light must have the capability of brightening the area adequately. For reading or doing any detailed task, your eye requires much focus and therefore requires adequate lighting. Make sure your light provides enough light for your work.
The color setting is another important factor to consider. If the color temperature of your light is not appropriate, this might also cause you eye strain even though you are working under bright light. The color tones must be set up based on the purpose and where it is placed.
It is said the temperature must be around 3000-6000k for reading. It is best to keep the lighting as natural as possible. The warm white lights are close to natural daylights and are considered to be very good for reading.
The whole point of the light setting is to make it eye-friendly. To let your eyes work relentlessly without getting tired. However, unnecessary flickering might cause a problem too. Make sure your chosen light has a flicker-free technology with perfect color tones and maximum brightening capacity.
Operating System
Lights are easy to operate. With one switch, you turn it off and on. How hard it can be. But with the changes and advancement in modern designs, even the lights have turned smarter and contains a high-tech operating system.
Some lights have the old school system of functioning but with more features. You might get a button or even not. Some are touch-sensitive that works with just a simple touch of your finger. Again a few also have the dual operating system. You can also operate them by a remote controller.
Even some lights have a smart operating system. You can operate them with voice command, or it can also detect your presence in the room for functioning.
In the market, you will get thousands of alternatives. You might even get confused over that many options. However, you should be aware that not all of them are suitable for use. You may choose a fancy operating lamp, but in the end, you might get stuck for not being able to use it.
Thus you should look for lamps with an easy functioning system. It will give you better results and an easy handling facility.
Flexibility
When it comes to focused jobs, you will face a challenge when you would want your light to be closer to you or want to move it away from you. If your light is a rigid one, you will get in trouble. Flexibility is important for lights for focused jobs.
The adjustable lights have a flexible body. It allows you to move the neck or head of the lamp the way you want. You can pull the light by its neck or head towards your working station and again put them back on its original form. It gives you complete flexibility to help you with your work.
However, not all floor lamps are flexible. You must check before buying the light if it has an adjustable body or not.
Design and Style
You should make a plan before buying a light for which room or setting you are buying it. It makes the purchase so much easier.
If you already have a plan, you can easily decide what type of lamp you want for that setting. When you are buying the lamp for illuminating purposes, the lamp must be compatible with the room too.
For the living room, you will need something more sophisticated or decorative; whereas for your kid's room, you would not be putting the same. Each room has its own vibe and attributes. So, while buying a floor lamp, you must have the vision in mind–which lamp you would want for which room.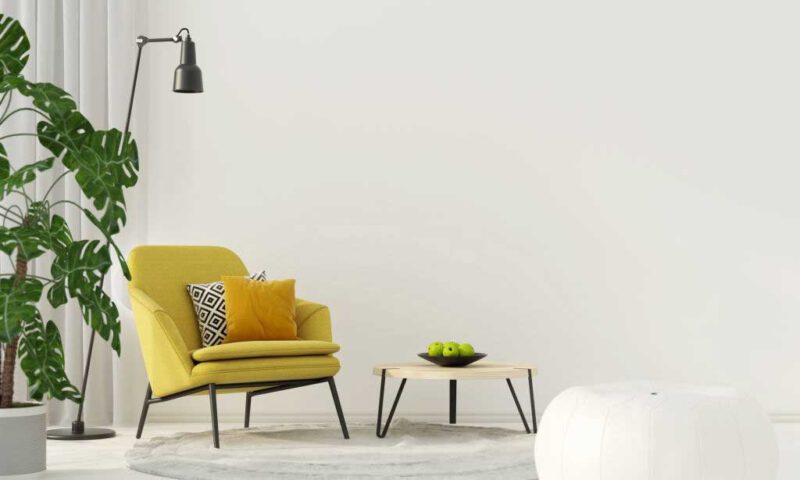 FAQs about Reading Floor Lamps
In this section, I am going to answer some of the most frequently asked questions. Most people often ask these questions and you might be one of them. Check them out; you may find your questions are already answered. If not, you can go ahead and write yours in the comment section at the end of this post. I will get back to you as soon as possible.
-How do I choose a floor lamp for reading?
Ans. The most important thing to consider for choosing a lamp for reading is its brightness. For reading, you need optimum brightness. The lamp with better illumination must be chosen for reading.
-What is the best light for studying?
Ans. While studying, you should have optimal illumination on the reading space. Otherwise, it will create serious damage to your eyesight slowly. To avoid it, you need a brighter light. It is best to have a light bulb ranging from 4000k to 6000k.
-How many lumens are required for reading?
Ans. For reading, you need the light to be focused on your reading area or your book. Mainly on your reading surface, it is best to have around 25-50 lumens for avoiding eye strains.
–Are LED lights good for reading?
Ans. LED lights are best for reading. They do not create irritation in the eyes. With bright LED lights you can have a good reading experience.
-Is white or warm light better for reading?
Ans. Though people tend to be comfortable under dimmer lights, it is better to use something brighter for reading. To read the letters it creates stress on the eyes. So it is better to have white or bright light for reading.
Final Words
You must be a reader, I guess. You should always practice reading under adequate bright light.
Reading is fun, but straining your eyes is definitely not a wise thing to do. The wiser thing you could be doing now is buying yourself the best reading floor lamp complimenting your reading habit.
So, get your floor lamp right now and have a brand new experience of reading.
I'm James. The author of Electricalaffairs.com. It's been my passion to deal with power tools and gears. This website is mainly to talk about electrical wirings, lighting, various power source tools and accessories. I want to explore tackles and help people to grow their basic knowledge about electrical things. I would also like to help people to pick the right power tool for their daily needs.