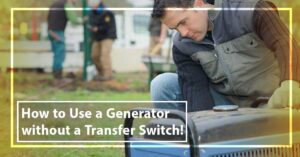 There are so many types of generator that you can get for many purposes. Maybe you own a portable one for home needs or standby type to survive in heavy storms and no electricity conditions.
No matter which type and for what reason you get these, one important segment is knowing how to use them without causing any trouble. Some people just get one but are clueless about how to use them. One very common situation is using one without having any transfer switch.
Don't worry, I'm here to make thing easier. Today we'll discuss how to connect generator to house without transfer switch. I'll try to keep everything included that you will need to know. Let's go!
Before We Start
I know we are dealing with a situation where you don't have any transfer switch. But things won't have turned this way if you have gotten a quality generator. I'm not saying the one you have will not work at all. We'll fix that and I'll tell you how to hook up generator to house without transfer switch.
But before going into the section of fixing I want to include two generators that are my favorite. Why you may ask. Some of you would want to get a new one or simply wish not to take the risk of using a generator without a transfer switch. This is for them. No need to thanks me!
One dedicated model with nice features is Ai Power SUA12000EC Gas Powered Generator. I love its functionality. You can also try SIMPSON SPG7593E Portable Gas Generator. These are really reasonable and most certainly provide you a good experience.
One more thing is still left to say. Transfer switches are important to avoid any damage to electronic devices. I hope you know that. It prevents any disaster for workers who deal with the power line.
Both the automatic transfer switch and manual version costs a lot. So maybe you won't be able to buy them. However, I'll still give you one safe method to connect your generator without a transfer switch. But I would suggest you buy a new one or get a replacement whenever it is possible. At least, keep it in your checklist for later.
How to Use a Generator without a Transfer Switch!
Step 1: Get The Following Materials & Tools To Start The Connection!
When you are dealing with electricity, always be prepared with the right tools. Once you know everything is within reach and safety measurements are right, half of the job is already sorted.
Of course, you'll need patience and the right guidelines later. But having all proper gears will always be a sweet start for such chores. If you want to know how to connect generator to house safely, be sure to give this step enough importance.
Interlock Kit: You need to get an interlock kit. This would help you to connect the generator without a transfer switch. But be sure to get one that matches the model of your generator. It needs to be exactly made for your version. Good news is these kits are very budget-friendly and you can get them anywhere easily.
Breaker: You need to focus on what type of generator you have. Get yourself a breaker that will suit your home specifications as well. A two-pole double breaker with 30 amp power should meet most generator specification.
Wires: This depends on the area of property you have. Get at least three sets of electric wires. These should be 10 feet of 10 gauge wires. Dealing with electric wires is no joke and can be intimidating for the novice. But if you promise to have a little patience I'm sure you'll make it. Be sure to get different colors. This way you'll be able to identify quickly while working.
Safety Measurements: You need to care about safety also. Since you'll be dealing with electrical elements, don't mess with this instruction. Wear a good pair of work gloves. Get protective eyewear to avoid any damage to your precious eyes. Also, wear work boots that will keep you safe from getting electrocuted.
Other: Now rest of the tools are really common ones. Keep some screwdrivers, pliers, wrenches, electrical tape, a huge-bit-drill or chisels, and such usual electrical gears.
Step 2: Figure out Plug Type & Amperage
You need to have a generator with a huge round plug to work with such setup. It should fit the plug both sides of breaker. You can find the amperage close to plug. You are going to find some codes as well. Read them well and adjust the materials depending on these codes.
Step 3: Hole Drilling!
You need to drill a hole that would serve as an accessible one. This hole would aid you to pass electrical wires inside the house. You should drill a big hole to make sure the wires pass and fit properly. Try to find a spot far from your generator. You need to keep it as distant as possible. For too thick walls, one should use a hammer drill. They really help!
Step 4: Amassing Different Elements
This is the most important step where we do real work. Try to mount the power inlet box far away from your home. You should keep it at least a few feet away on the exterior wall. Check and ensure the hole is watertight. Get the conduit and assemble it. Using some glue you can ensure attaching them properly. This is important to keep things safe.
Next, you deal with generator inlet plug by wiring them. Pull the wires one at a time from the conduit body. Simply fix them to the plug. One easy way is to eliminate .75 inches of insulation wire. Use a screwdriver to tighten the end swell.
One thing to keep in mind is that black means X or Y, white is common and green is for ground. You should next prepare the breaker box. Simply push all the wires inside. You should turn off the main breakers and branch properly. Place the wires on upper right spot by making enough room. Now you can easily install the wires and breaker retainer. Finish it off by covering it again.