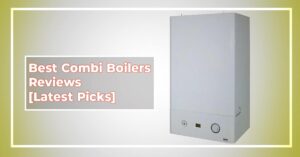 Combination boilers are one of the most convenient methods of heating. Another name for them is combi boilers. Not only are they convenient in terms of pricing but they can be used throughout many of the appliances in and around the house.
As a result, you don't need to think twice about heating up your shower separately or boiling some water for cooking.
For such an important product, it is only sensible to invest in a good combi boiler.
Worry not, because, after extensive research, I have compiled a list of the best combi boilers in the market in this article for you.
Our 7 Top Combi Boilers and Water Heaters Review
The industry is competitive as it comes as a necessity for most homeowners. I've rounded up the best combi boiler reviews to make it easier for you.
1. Noritz CB199-DV-NG Combi Boiler
The Noritz combi boiler uses hi-tech hydronic heating to make sure you are insuring yourself with hot water in an efficient manner. This particular device is part of the "CB†series of the brand and is best suited for countries that go through the harshest of winters. It is also the most suitable for big houses with large families.
With the modern water heating technology, you can have hot water and home space heating in a single compact system under your roof. The hot water provided by this device is at a higher flow rate than most combi boilers mentioned in this list with 95% efficiency.
Heat exchangers are also used in this combi boiler. The heat exchangers are of high quality and are made from superior stainless steel which qualifies them for energy star's most efficient rating.
The least amount of gas input it can handle is 18000 BTU and the most it can handle is 199000 BTU. The range of the device is 11:1. With a self-regulating flow, the Noritz combi boiler controls the water with a high capacity internal pump.
It can deliver up to 9.2 gallons per minute of water. This device measures 17.6†x 14.1†x 28.1†in dimensions so you can already tell that it doesn't get any more compact than this.
The product is considered as the best storage combi boiler and can be easily fitted into cabinets as it takes 80% less space than a traditional electric heater would take up.
Another thing that catches the eye of the consumer about this thing is that it can even be used in the in-floor radiant hydronic heating as well as HVAC systems. It even has the power and ability to melt the snow that gets stuck on the pavement, so it saves you time for shoveling.
Pros
Fast and simple installation procedure
Saves a lot of money
Takes up the least amount of space
High water temperature capacity
Lasts for a very long time, up to 10 years
Cons
Heavy weighet
Low water pressure and flow
2. Heatline By Vaillant Capriz Combi Boiler
The first of this list is the 24 kilowatts with a 24c combi boiler, better known as the Heatline. This guy runs on natural gas and is manufactured by one of the most prominent brands Vaillant.
Vaillant is one of the leading brands for combi boilers. They come out with a better product every time they bring out a new one. What makes it an amazing brand is because of its user-friendly interface. This makes the boiler an extremely attractive product.
If we're talking specifics, this thing is 740mm x 418mm x 300mm in dimension and weighs only 33.3kg. Its heating is achieved by an aluminum burner. In terms of efficiency, it is apparently 89.3% efficient.
This lightweight device may not seem like it, but it packs a punch. It is compact and heavily loaded with a number of features. The features include a timer that is set up in analog which is easy to understand and operate and also comes with a flue kit. You can choose between a vertical standard flue kit and a horizontal standard flue kit, all depending on the state of your property.
If by any chance, you need to switch between running the combi boiler on LPG and the main gas line, it is definitely possible to do so with an LPG conversion kit.
Another cool feature of the device is the temperature control system that comes with it. You can place the control system in another room, separate from the boiler and you'll still be able to use that as a timer for the main device. Even with its wide range of functions, it is extremely easy to install.
You can also get a 28kw version that does just the same but with a little more power. This boiler can supply more than enough hot water for a house that has four bedrooms and two bathrooms. With this thing, there will be one less thing to worry about when taking care of a big family during the winter.
Pros
Relatively small in size
Affordable
Lightweight
Very efficient in energy consumption
Easy to set up
Smart controls and features
Cons
It's not enough to supply power outage for a very big house.
3. Goodman GMSS961205DN – Home Air Heater
This thing is a fine gas furnace for home heating according to many customer reviews. The dimensions of this guy are 29.5†x 25.5†x 44†and it weighs about 70 kg.
This single speed motored furnace also runs on 2000 CFM and 120k Btu/H. The device can be easily set up and it comes with an instruction manual. It also comes complete with a variety of accessories including power tools and welding.
What makes this particular machine versatile is that even though it runs on natural gas, it can also run on oils such as liquid propane. This can be done easily with a conversion kit or a propane adapter kit that is readily available in hardware stores.
This furnace that runs on gas is horizontal and is made out of galvanized steel. Besides its robust appearance, this thing has 96% AFU efficiency. AFUE is the acronym for Annual Fuel Utilization Efficiency which is the measuring tool for any sort of devices that heat up an area or space.
According to the reviews from known consumers, this thing is one of the most comfortable furnaces in the market. The heat exchanger in this thing has exceptional performance in it that is a dual-diameter tubular heat exchanger.
You can even set up a UV filter with this guy to kill off any insects, termites, and bacteria, which is a great way to use the device in order to maintain safety and hygiene.
Some interesting features of this machine include the wrinkle bend technology and the muffler joints. The wrinkle bend technology allows the device to maintain its composure regardless of the high amounts of stress it goes through when it is able to swiftly and soundly heat up water.
However, the Muffler joints minimize the sounds that are made when the machine is at work.
Pros
Extremely durable
Quick transfer of heat
Runs smoothly
Efficient
Affordable
Can work well regardless of the outdoor climate or home design
Cons
Cannot be in contact with the outdoors
4. FORAVER 18L Combi Boiler – Central Heating Boiler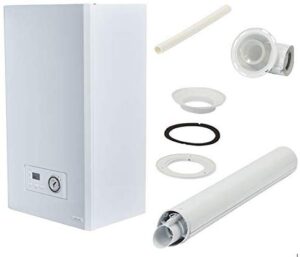 The main reason that I like this device is that it is a sight for sore eyes. This is because the shape, color and overall design of the model are very sleek in appearance. Nevertheless, its aesthetics is not the only good thing about this model. Its features are quite attractive as well.
But if we get down to the details, the output power of heat for this heater is 36 kilowatts and 18 L/min with a gas pressure of 2800 pascal. The gas that this heater uses is LPG, or in other words, Liquefied Petroleum Gas and it uses a hose made out of rubber to bring out the gas.
The hose has a comfortable diameter of 20mm. The heater is also extremely lightweight as it only weighs 10 kg and is also very easy to set up as it comes with an instruction manual.
Also, the device is extremely efficient when it comes to heating water and it saves a lot of energy by starting off with low water pressure.
Another way it is efficient is that it helps prevent wastage of water pressure with a special kind of function set up into the machine. And it is also built in such a way that it can prevent it from catching fires or overheating. This guarantees the safety of use.
You get hot water instantly and there is also a screen on the machine for you to view different technicalities regarding the heating. The start-up power of this water heater is also automatic, so you don't need to worry about whether it is turned on or not when you need it.
A shower kit is also included with the water heater. This machine is a great value for your money and is definitely the perfect machine to improve your quality of life.
The technology of this heating system has been designed with the thought of tackling harsh winter weather so it has enough protection installed in it to protect the machine from freezing if it is kept outside.
Pros
Energy saving
The pressure of water when turned on is low
Very safe to use
Can withstand high temperatures
You don't need a separate water pump
Cost-effective
Good control of gas and water inlets
Digital display
Cons
Only works on Liquid Petroleum Gas or Propane
Not suitable for indoors
A separate gas regulator needs to be purchased
5. Rheem RTGH-95DVLN – Natural Gas Water Heater
Rheem is one of the oldest brands out there, as early as the 1900s. They are well established, time tested and known to produce quality indoor water heaters.
Their products are known for reliability. The high-quality process of creating these water heaters are known worldwide. Many government-run laboratories and renowned research institutions have proven their quality.
The technology used in this heater also allows it to stand freezing temperatures and prevent it from getting frozen up to a temperature of -30 degrees Fahrenheit.
This tried and the true water heater is low maintenance and easy to work with. It allows you to put in two anode rods so you can basically double the life of the water heater which makes it amazing. This guy does not require a tank, uses natural gas and can deliver up to 9.5 gallons per minute.
When things go wrong, it is extremely easy to repair and also very inexpensive to repair as the controller for this water heater is easily replaceable. The controller, also known as the thermostat, is the brain of the water heater.
Rheem has been using the same controller for a couple of decades and it's made of steel so you know that it will rarely fail.
Its efficiency is 94% in terms of energy and this is achieved because of its smart technological controls. Just like the previous option on this list, this device also has a heat exchanger made out of quality material such as stainless steel.
It also has a vent structure with double pipes and is designed to tackle overheating. With this guy, you have a choice between condensing and non-condensing boilers as well as two different tank sizes.
This water heater can tell you the solutions to its problems with a push of a button on its display. The digital display that this device carries is useful in many ways.
One example is that it can give you information on the temperature of the water that is being heated. It also comes with an easy to follow instruction manual, so you'll know the nooks and crannies of it from the get-go.
Pros
Useful digital display
Affordable
Low repair cost
Interior tank is heavy duty
Less frequent leakages
Long lasting
Can withstand great heights of up to almost 10000 feet
Comes with a remote control
Cons
Heavy in terms of weight
Indoor Direct Vent
The low flow of hot water
6. EZ Supreme Tankless Water Heater – Indoor Whole Home
The EZ Supreme water heater is the smallest option on the market. It measures 7.5†x 14.5†x 26.5†and is also pretty lightweight, 49 pounds to be exact. So, you will not have any issues with installation, and you won't have to worry about finding space in your home to fit it in.
It is known as the ideal machine for home use according to user feedback and reviews. The water delivery goes up to 6.4 gallons per minute, which may not sound like much but when you think about its small stature, it is quite a lot and has the ability to heat up an entire home of 4 people. It also runs on a voltage of 110.
This particular water heater does not require any tank and runs on natural gas with 165000 BTU. It comes with an exhaust and works directly through an indoor vent with a dual chamber which allows it to be small in size. The device can run a lot of things at once. At 165000 BTU, it will definitely have no problem running multiple appliances at once and still have plenty of hot water.
As for the cool features, it has a control panel that is actually a liquid crystal display where you can access the settings for temperature and keep track of numbers. The installation is pretty simple and straightforward. It is very efficient in terms of how much gas it uses to run.
It is claimed that EZ Supreme is the strongest model of the EZ franchise. It is designed to look modern and fit into your home effortlessly without it looking bulky and out of place.
What makes this model so efficient is that it uses a special process to turn ambient heat, which comes from running the machine into useful heat for the home. Not only does this save you money but it saves energy and is great for the environment!
Pros
Compact size
Efficient use of energy
Consistent
Sleek design
Simple control panel
Cons
7.
Takagi T-H3-DV-N Natural Gas Indoor Tankless Water Heater
The product is a bit on the heavier side weighing 85 pounds but is great in terms of its size because of it being so small and compact. This will ensure you save a lot of space for additional storage and utility. You can place them inside closets, or even under the stairs. The dimension of this heater is 11.2†x 17.8†x 24.9â€.
Takagi offers some of the most durable indoor water heaters with the highest efficiency in the market. This thing can go up to a whopping 199000 BTU, which is more than enough to supply hot water for a huge house with 4 to 5 people living in it.
The exhaust vent is made out of PVC material, which makes it even longer lasting than the common stainless-steel ones as they do not build up any sort of substance with time. This PVC enables the device to capture almost all the hot air that has the potential to escape and use it to heat the water.
It also includes a built-in temperature controller and advanced diagnostics. The water can be heated up to 185 degrees Celsius with 120 volts. It runs on gas and the water flow is 10 gallons per minute. It's a very powerful water heating device yet with a lot of energy conserving capabilities, a proof of it owning the energy star certification.
This is a condensing unit, which means it puts out water that must be drained appropriately. The device goes through condensation to improve efficiency. It does this with a secondary heat exchanger, which extracts the heat that would have otherwise been wasted.
Instead of letting the heat escape, it is used as an additional component in raising the temperature of the water. The rest of the gas, that is cool in temperature, condensates to produce usable water and then exits through a vent to the outside.
One thing that's interesting about this product is that is has digitized features for safety regulations. So, you'll be notified of any sort of malfunction that may occur.
It works very well even when it is under a lot of pressure because of harsh weather conditions. And what's better, even with all its running features, it still manages to run without any noise.
Pros
Saves a lot of space
Extremely efficient
No hot gas leakages
Silent when it runs
Can withstand great heights of up to almost 10000 feet
Long lasting and durable
Has a modern look to it
Heats up water very fast
Cons
Needs gas pipes with large diameters
Sensitive to scale buildup
Generates slightly acidic condensate water
---
Benefits of Using a Combi Boiler
Here are some benefits of using the product.
1. Saves Space:
The biggest benefit of using a combi boiler is the space that it saves. It is known as a combi boiler (or combination boiler) because it has all the functionalities of a central heating unit so it's like a combination of everything, therefore, its name.
You don't need to find extra space for keeping a separate tank or cylinder to support it because combi boilers don't need those! Since everything you need is combined into a single small-sized device, you can just fit it into a cabinet and you're ready to go.
2. Instant Hot Water:
Most electric heating systems take a certain amount of time to heat up the water before you can actually use it. However, with combi boilers, you don't need to worry about waiting for the water to heat up as the process is instant.
The best combi boilers have great pressure, so they are able to pull water directly from the main lines and heat it up as soon as you turn it on. Because of this, there will be no extra costs of setting up spare pumps or motors for it.
3. Simple Set-up:
Setting up a combi boiler is very easy. As mentioned before, the beauty of them is that all of its uses are compacted into a single unit, which makes for a simple installation procedure.
Because of its simple set up, it will definitely help save you some big bucks with your boiler installer.
4. Energy Efficient:
The amount of energy that combi boilers use is very little compared to how swiftly they are able to heat up water. The best thing about this is that this feature makes them great for the environment.
According to statistics, combi boilers are 92% energy efficient, so it makes it a great contender for lowering carbon footprints.
5. Cost Effective:
Because of combi boilers being energy efficient, that means they consume less energy and in turn, produces lower bills than what you would get with regular boilers.
So, you don't have to worry about spending a lot of money throughout its lifetime.
Things to Consider before Buying a Combi Boiler
Combi boiler is a huge investment for your home as heating is a basic necessity when living in a cold climate. Here are four things to consider before investing your money.
The Type of Combi Boiler
It is important to note that even if a certain combi boiler might be the best electric boiler according to its reviews, they might not be the right fit for your home.
Some devices may be powerful enough for a large family, but that same thing would be a waste if used for a smaller family. So, it's best to sort out your needs first before you step out to hunt for your perfect option.
The Combi Boiler Size 
Combi boiler sizes vary widely in range. If you have a fairly large house with a lot of spare space, a bulky and large-sized device would be a perfect addition to your home. Larger combi boilers are usually more powerful than smaller ones.
So, it is really up to your preferences and of course, the size of your property which will determine the suitable combi boiler size for you.
Heat Flow Rate 
Combi boilers, as mentioned before, come in a large variety of shapes, technicalities, and specifications. Each one available in the market offers a different range of strength to be able to heat up your home.
In order to figure out the strength, you need to know the kilowattage of a combi boiler. So before buying, combine the heat produced with all the radiators you already have in order to determine the required kilowatt of a combi boiler required for your home.
Efficiency
A combi boiler could help save you a lot of money and help you conserve energy so you need to look into the sort which will do multiple jobs for you at the same time without wasting much energy.
Top Rated Brands on the Market
There are tons of boiler brands in the market, but in the following list, I've jotted down some of the best brands that are known to produce top quality products.
Vaillant
Vaillant is one of the leading brands of combi boilers in the market. This German brand is on the top of the game, which is why I kept it at the first of this list. They are on the higher end, but their combi boilers are extremely popular among people because of their easy to use interface.
The brand makes sure to meet the needs of the customer while at the same time, staying high above in the industry.
Worcester Bosch
This brand, Worcester Bosch, comes in par with its competitor, Vaillant. Worcester Bosch is also a German based brand, which explains why the engineering behind its technology is on top of the line.
They mainly focus on the water pressure of your home when fixing a device into your home, as well as the size of your property.
Viessmann
The third German brand on this list is the mighty Viessmann. Not only has this brand taken over Europe but it has also been recognized worldwide for their incredible high-quality combi boilers.
There always seems to be competition between Viessmann and Bosch as they both are leaders in terms of engineering. Viessmann is also very well known for its staggering efficiency percentages and how it has a positive influence on the environment by preventing carbon footprints.
Baxi
The one name that comes to mind of consumers when thinking of the largest boiler manufacturer in the market is Baxi. It has a wide range of combi boilers to choose from. They have different shapes and sizes to match with any household.
Potterton
Potterton is one of the most favorable brands for engineers. This is because of their easy installation process and ease of maneuver. Their products are usually very lightweight, and the set-up is extremely straight forward. Potterton boilers are made in the UK and the brand is as old as 150 years.
Alpha
Alpha boilers have been in the game for more than five decades, not as long as the rest of the brands on this list but they were able to make their mark, regardless. They are known to make products that meet the common needs of the consumers.
The brand always delivers what is to be expected. The range of price of all their available boilers is much wider than any other brands on this list as they have something for everyone.
Glow-Worm
Another affordable brand that's in the top of the market is Glow-Worm. They are just as efficient as they are affordable and their energy saving capabilities are of great quality. 
Intergas
Intergas is a Dutch company known for its reliable combi boilers. The products that they manufacture are very simple in terms of the structure and they also require very little extra parts. These altogether make it a very affordable brand.
Frequently Asked Questions
1. What are combi boilers?
Combi boilers, or combination boilers, are basically a water heating machine that can be hooked up in your home for hot water and home heating.
2. How does a combi boiler work?
A combi boiler works by directing hot water through tubes that produce radiation to heat up the rest of the house. This radiation can even be used for floor heating. Air handlers, radiators and other appliances can also be regulated with combi boilers.
3. How are traditional boilers any different from combi boilers?
Traditional boilers are extremely bulky which takes up a lot of space and they are also tough to install so installation costs could end up being pretty high. They also consume a lot of energy for heating and can sometimes affect your health by messing with your allergies or respiratory issues.
4. What is the limit for combi boilers in general?
If a house has more than 4 bedrooms, a combi boiler will not be enough as you would need an extra compartment to keep water.
5. Do I need any extra supplies to purchase along with my combi boiler?
No, because combi boilers have everything you need in a single unit.
Final Words
Hot water is already used for heating when you're cooking or taking a shower. So, it makes sense for you to use the best combi boiler to be comfortable in your own home.
I hope this article has helped you realize which product is best suited for your needs.
I'm James. The author of Electricalaffairs.com. It's been my passion to deal with power tools and gears. This website is mainly to talk about electrical wirings, lighting, various power source tools and accessories. I want to explore tackles and help people to grow their basic knowledge about electrical things. I would also like to help people to pick the right power tool for their daily needs.