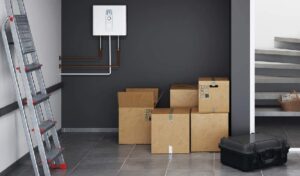 We bet you most of you love hot showers. We do too! Nothing feels better than turning on a faucet and feeling the hot water pour out on you.
That's all thanks to water heaters. And since you're here, we're going to assume that you're either searching for a replacement or are looking for heaters with larger tanks.
If you have a large family, then it's a good idea to look into the best 50 gallon electric water heaters.
Whether it's for bathroom, kitchen, or laundry purposes, such a heater allows you to quickly access multiple hot water sources with ease.
But which one is most worth your money? Leave that to us. Find our reviews and buying guide below!
Best 50 Gallon Electric Water Heater Reviews
Now without further ado, let's dive right into our reviews of the top electric water heaters. We've spent considerable time analyzing these choices, so don't worry—you're in good hands!
1. Rheem MR50245 Marathon Tall Electric Water Heater
Highlighted Features
Hardy fiberglass construction with resistant filament layers
Offers an EF rating of 0.9-0.94 with a recovery rate of 21 GPH
Heavy polyurethane insulation keeps water hot for longer
Long-wearing molded polyethylene exterior guards against dents and scratches

Our first pick is from Rheem, a brand that has been perfecting their water heaters for nearly a century. The Marathon 50-gallon water heater is particularly special, having a unique construction and lucrative features.
Built from tough fiberglass, this water heater gives many popular stainless steel heaters a run for their money. Not only is the material extremely strong and durable thanks to filament layers, but it's also resistant to rust and corrosion in the long run—a valuable feature for any water heater to have. Furthermore, the tank's outer shell is constructed from hardy molded polyethylene, which guards against denting and scratching.
But it's not just the tank that's impressive about this water heater. Its drain valve is recessed, which lowers the risk of accidents—particularly important if your household has kids. The heater's upper element has been thermally fused, which precludes dry-firing. This is a heater that can take care of itself.
One of the main reasons behind the Marathoner's popularity is undoubtedly its efficient energy consumption. Thanks to its heavy polyurethane insulation, it's able to retain unused hot water for a longer period of time. This means the machine will have to expend less energy heating up your water the next time.
Now let's look at some specs. As you already know, this is a water heater with a 50-gallon capacity tank. It further offers you a recovery rate of 21 gallons per hour and an impressive EF rating of 0.9-0.94. Impressed? You should be! And given its features, the 6-year warranty is quite decent, as well.
2. Bradford White BWC RE350T6-1NCWW
Highlighted Features
Equipped with a low restrictive brass drain valve for longevity
Completely automatic controls make for an easy user experience
Integrated with patented sediment-clearing Hydrojet technology
Furnished with protective inner Vitraglas lining for durability

Our next pick is from Bradford White, and this is one of the most highly rated electric water heaters to be found at a relatively affordable price. Let's find out what makes it so popular.
Heaters from Bradford White stand out primarily for all the great features they're packed with. Constructed from stainless steel, this water heater is meant to stand up admirably to external elements. Inside, heavy non-CFC foam insulation keeps your water hot for longer, while the protective Vitraglas lining helps to lower maintenance time and costs for you. On that note, the magnesium anode rod further guards against corrosion in the long term.
Now let's have a look at some specs. Both of these water heater's elements run at 4500 watts, and it's a non-simultaneous heater, meaning only one element can run at any given time.
Furthermore, this water heater is also furnished with the brand's patented Hydrojet technology, which combats sediment accumulation inside the heater's tank. Once again, this greatly reduces the amount of maintenance you'll have to carry out. Overall, this is a durably built and high-performing electric water heater that will serve you for many years to come.
3. A.O. Smith ENS-50 ProMax Short Electric Water Heater
Highlighted Features
Furnished with protective anti-corrosion Permaglas coating
CoreGard anode aluminum rod further guards against corrosion
Tamper-resistant, robust drain valve made of brass
Dynaclean diffuser dip tube combats lime and sediment accumulation
One of the more affordable models on the market

From A.O. Smith comes our next pick in the best electric water heaters. Offering easy maintenance, dependable performance, and longevity, it's easy to see why this is one of the most popular electric water heaters currently to be found on the market.
First off, let's discuss this heater's performance. As it's equipped with two heating elements, this heater is able to offer a high recovery rate. Multiple simultaneous uses of hot water from this machine should pose no problems at all.
More important, however, is the integration of the Dynaclean diffuser dip tube. This dip tube is specifically designed to fight against sediment and lime build-up within the tank, which is of utmost importance in keeping the tank clean and, consequently, your water.
What's more, the tank's stainless steel body is well-protected jointly by a Permaglas coating and a CoreGard aluminum anode rod. These guard against corrosion and ensures the longevity of the tank. The drain valve fitted with this heater is made from hardy tamper-resistant brass, as well.
And if you're concerned with energy efficiency, the ProMax is definitely not going to let you down. Not only does it have an impressive EF rating of 0.92, but it's furnished with non-CFC insulation. Energy consumption: dealt with!
4. Westinghouse WER052C2X055N06 Electric Water Heater
Highlighted Features
Offers impressive first-hour rating of 71 gallons
Laser-welded 316L stainless steel construction for ultimate durability
Super low energy consumption at 0.94 energy factor rating
52-gallon tank is suitable for large households of up to 5 people

The last electric water heater we have selected for your consideration today is from one of the most renowned American manufacturers of electronic machinery: Westinghouse. With well over a century of experience, these guys know what they're doing.
This water heater differs from our other picks in that its tank capacity is 52 gallons instead of 50. Performance-wise, you can expect a decent output: this heater runs at 5500 watts, which is higher than most others. However, the 0.94 EF rating definitely makes up for it, we would say!
On that note, the first-hour rating of this water heater is definitely also worth applauding: within the first hour of operating at a full tank, you can expect to use 71 gallons of hot water.
One of the things we like best about this machine is its sturdy construction: built from laser-welded 316L stainless steel, this thing does a pretty good job of handling corrosion threats.
Also Read: Best Boiler For Radiant Floor Heat | Top 5 Picks
Things To Consid er Before Buying 50 Gallon Electric Water Heaters
Let's face it: electric water heaters are expensive! So in order to ensure that you find the best possible heater for yourself, remember to keep the following factors in mind before making your purchase.
First-Hour Rating
Although the tank capacity of your water heater is an important consideration, and even more pertinent factor is its first-hour rating (FHR). This rating will determine the efficiency of your water heater.
The FHR, as the name implies, indicates the number of gallons your water heater is capable of producing in one hour on a full tank. The FHR can usually be found on the heater's EnergyGuide label.
To figure out the right FHR for the needs of you and your family, you can refer to this guide. Otherwise, you can also consult with a professional. Generally, however, you must consider at which time of day hot water is being used the most. You must also take into account the number of people in your household.
Energy Factor
The energy factor (EF) rating of your water heater measures its energy efficiency. The EF rating tells you how much hot water your heater can produce per unit of consumed fuel.
A 50-gallon water heater must have an energy factor of at least between 0.5 and 0.7, although it's, of course, permissible for this number to be higher.
Recovery Rate
Another figure to look out for is the recovery rate of your water heater, also called its recovery time. This indicates the number of hot water gallons that the heater can produce in one hour. This is expressed in gallons per hour (GPH).
You might be wondering what the difference is between the recovery rate and the first-hour rating. If you remember, the FHR measures the hot water output when the tank is full. The recovery rate, on the contrary, tells you how much hot water to expect from the heater within an hour after full drainage. So basically, it's an expression of the refilling speed of your heater when it's empty.
Durability
Your electric water heater must, of course, be made to weather years of use. Look for the strong construction of durable materials. If you can, look for a heater with a glass-lined tank. The glass layer guards against corrosion and subsequent damage.
More importantly, consider the warranty. Most electric water heaters will last up to 12 years. The longer the warranty, though, the higher the price usually is.
Additional Features
Here are some additional features you need to look into.
Anti-Scaling Device
Some water heaters might come with cleaning features that lower or eliminate the accumulation of mineral scale that is sometimes found at the bottom of the tank. This is important to many as scale can cause your heater's lifespan to reduce.
Digital Display
The benefits of a digital display don't really need to be expounded upon, but you can imagine that it would make monitoring the health of your water heater more closely. The heater might display information such as pressure readings and temperature.
FAQs About 50 Gallon Electric Water Heaters
Q: How do I know when it's time to replace my water heater?
Ans: The first sign is usually discolored, dirty water with an unusual smell. You might also notice a lower hot water yield or unusual sounds coming from the heater. In these cases, turn the heater off immediately.
Q: How does an electric water heater work?
Ans: First, cold water enters through the dip tube. Then, the water is automatically heated using the heating apparatus within. The hot water is then delivered through the heat-out pipe.
Q: What is the energy factor (EF), and why is it important?
Ans: The EF rating of a water heater is an indication of its energy efficiency. An EF rating between 0.5 and 0.7 is preferred, although it can be higher.
Q: What is the difference between a gas water heater and an electric one?
Ans: Gas water heaters tend to be cheaper to operate than electric ones; however, they are less efficient and not as durable as electric ones.
Q: How can I replace a faulty water heater valve by myself?
Turn the heater off along with the water supply. Release remaining pressure from the valve (usually done using a lever). Now unscrew the valve using a wrench, and replace it with a new one.
Conclusion
Although we don't like playing favorites, we'd say that Rheem MR50245 Marathon is the clear winner. It's expensive, though, so if you're on a budget, then we would definitely recommend the A.O. Smith ProMax, Electric Water Heater.
If you're still unsure, though, don't hesitate to check our buying guide before you make your purchase. You deserve only the best 50 gallon electric water heater. Good luck!
I'm James. The author of Electricalaffairs.com. It's been my passion to deal with power tools and gears. This website is mainly to talk about electrical wirings, lighting, various power source tools and accessories. I want to explore tackles and help people to grow their basic knowledge about electrical things. I would also like to help people to pick the right power tool for their daily needs.