How do you feel when your extension cord gets tangled and you waste a lot of time detangling it before an important job! That's why you need to understand how to store extension cords in garage for keeping it tangle-free and ready to use!
Here are some easy methods of extension cable storage. All of them are easy for your convenience. Check them out and thank us later!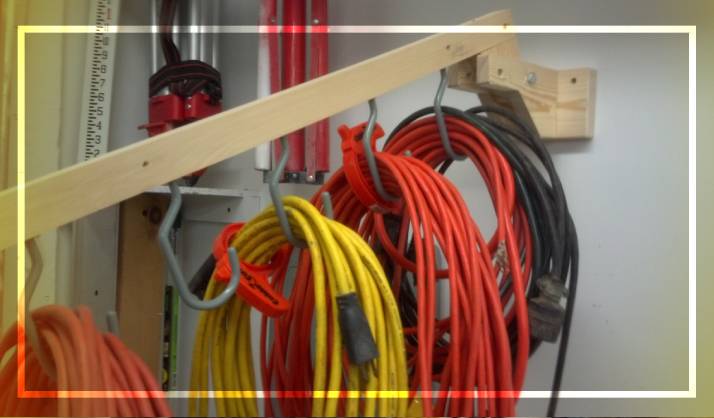 Extension Cord Storage Methods
Method 1: Velcro Cord Wraps
One of the best ways to store all the extension cords you have is using Velcro cord wraps. No matter what you use to store it, wrapping it with it will help you keep it tangle-free. It just takes a few seconds for you to add the Velcro cord wrap to your extension cords so that they are stores properly and you do not face issues while opening them.
These are highly inexpensive but very helpful. On the other hand, the best part is, these are reusable too! You can use these for years if you take care of them properly. Go to the hardware shop near you and you can easily find them.
Online shops can help you out too! While buying the Velcro cord wraps, certify that the cord includes a clip or a hole. This small hole will help you attach the parts of the cord to make it clamped. The clip will do the same work here.
Method 2: Paper Towel Rolls
For the thin extension cords, a paper towel roll can be a very effortless and inexpensive solution. All you need is some paper towel rolls for the process and that's all! First of all, you have to bunch up the extension cord first. Then, get the paper towel rolls and slide them down!
This process is easy but you have to be a little tricky. In this manner, you will be capable of storing the extension cord inside the rolls and keep them anywhere you like in your garage. Moving them is easy if you use paper towel rolls. Also, if you follow this manner, your extension cords will never get tangled!
Method 3: The Coil
The next thing you can try when it comes to learning how to store extension cords in garage is the coil. Yes, we are talking about the over-under coil. There are times when people tried to use a standard coil for storing the cords. But the worst part of these coils is they create a lot of loops.
And these loops can easily bend the extension cord. If the cord is bent in an unnatural curve, there are chances that the wires inside it will get stressed. And eventually, the extension cord might get damaged. In this case, the ideal substitute is the over-under coil. These are designed to keep away the unnatural curves from the extension cords giving the wires stress-free comfort.
It will keep the extension cord ready for using it for the next time! However, you have to practice using the coil we mentioned here. It will take a little bit of time for you to learn it.
Method 4: Retractable Cable Reel
Another amazing thing that we can suggest for storing the generator extension cords in the garage is the retractable cable reel or the mounted cord reels. Yes, these are specially designed for taking care of your extension cord. It takes very small space but keeps your cord safe! In the garage, we often have a small space and a lot of gears to keep.
For such small spaces, this can be an amazing option to settle for. All you need to do is mount your extension cord on the retractable cable reel.  The best part of this product is, you can use it and the next time when you plan to get your extension cord at work, you do not need to put in so much effort. The cord will be ready for you to use! Though this product is very easy to use and amazing addition to your garage, keep in mind that not all the cord reels will work great.
So, you must settle for a brand that is highly reviewed and loved by the users. Also, always remember that such specified devices are quite expensive. Replacing the cord of the cord reel can be difficult too!
Method 5: The Spools
You might have an automatic generator transfer switch and you don't know how to store its cords! Here is another easy way for it! Another addition to your garage for storing the extension cords is the spool. Yes, we are talking about the same spools my friend. This method is super inexpensive but it works like magic! All you need is to go to the store near you and get a small spool. And seeing the spool, you will already know how to do the work with the extension cords!
Here, you have to hold the cord and start wrapping the cable around the spool. Keep winding the cord until you get to the end of the cable. Once you are there, you have to attach it there and it will stay there till you do not open it! The best part is it can easily keep the cord tangle-free. And when you work the next time, you can find the extension cord ready for your use!
But if you settle for a spool to store the extension cord, keep in mind that it won't keep the cord damage-free forever. Over time, the cable will get damaged. As it is a spool, it will have some pressure on the extension cord. And eventually, the cord will start to wear even before the actual wear period. While using the spool, you have to be very attentive too.
As you need to wind and unwind the whole cord, the process takes time in both cases. But it keeps the garage neat keeping the extension cord properly wrapped!
Method 6: Wrap-Around-the-Arm
Yes, yes, we have again come to the same old method of storing extension cords! All you need is your arm here! Your arm here will work like the spool! For this, first, you have to adjust the posture of your hand. Take one hand and bend the elbow.
Make sure that the arm is exactly at a 90-degree angle. Once your elbow is ready, you have to hold the extension cord with your fingers or the palm. Now, start working with your other hand. With your opposite hand, you have to start wind it just like you did in the spool method. In this case, the palm of the first hand will be the upper portion of the spool and your triceps or the elbow will be the lower portion of the spool.
Go round and round from the palm to the elbow and keep going on until you see that you have reached the end of the cable. And then you can clamp it with a clip and keep it there at a corner of your garage. However, ensure that you have covered it and kept it in free space in the garage. Otherwise, it will create unnatural curves. Keep in mind that this process takes time while wrapping.
Method 7: DIY Reel
You can always create your reel if you are a DIY-lover! All you need is a pipe, preferably a PVC pipe. Take the cord and start winding it around the pipe. After a while, you will reach the end and that's where you need to clamp it! You can also use a cylindrical bucket for this process!
Wrap Up
Keeping extension cords safe is your duty but we all agree that it can be tough to store them inside a small garage. But you don't need a lot of space if you use tricks! All you need is to go through the steps and you can find your way to store the cable!
Also, don't forget to check out our site for all your garage needs! We have all the solutions your need for your everyday life!
I'm James. The author of Electricalaffairs.com. It's been my passion to deal with power tools and gears. This website is mainly to talk about electrical wirings, lighting, various power source tools and accessories. I want to explore tackles and help people to grow their basic knowledge about electrical things. I would also like to help people to pick the right power tool for their daily needs.