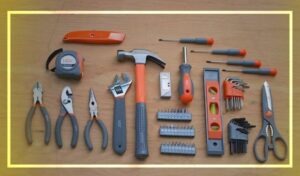 Homeowners have to handle a lot of chores themselves to maintain their property or regular embarkment on improvement projects. No matter what the back story is, finding right tool for the job is first priority.
With passing time, you are surely getting more ambitious and wilder with your projects. And so, accumulating more than a few tools is nothing unusual. However, we are not bothering about your tool collection. We are here to tell you about some essential tools that are absolutely necessary if home improvement projects getting a successful ending is what you're rooting for.
So today, let's know about some essential tools for homeowners that make general upkeep and sometimes specialized chores sorted.
11 Essential Tools for Homeowners That Are Non-Skippable for The Long Run.
So to get you select the right tools for your household tool set, we have a few suggestions. on that. These tools are something you must have no matter what home project you're working on. Let's Get on It!
A Measure Tool.
There are countless reasons for you to reach out for the tape measure from time to time. And you will be surprised by the frequency. For most DIY and home improvement projects, the tape measure with a 25-foot length will be more than enough.
The ones that are made with an acrylic coated blade or nylon will work best in sturdiness section. These are heavy-duty and won't cause split or crack.
For projects that require accurate measurements, a tape measure will be the unsung hero of it. Also, it will be helpful for remodeling projects where you want to have precise measurements of new furniture or appliances.
A Basic Utility Knife.
One of the basic but extremely handy tools that you should consider for your projects is a utility knife. Don't be quick to get any random knife that is cheap in construction.
Because these are extremely prone to problems such as blade not snaping or not locking in place. So, always try to spend for a mid-range knife at the very least. Something that comes with rubber made grip. That way it will be able to prevent slipping fairly good.
This tool will come useful when you have to open a package for DIY projects. For example, removing the carpet or taking vanity out of bathroom. It can also help with breaking down an old mattress and so many other things.
Commonly Used Claw Hammer.
Hammers are of different types to perform various needs for your convenience. However, the most common type is surely a claw hammer. To extract nails from wood or simply pound, this hammer works best out of all.
The ones that come with a vinyl or rubber made handle will provide better functions. Because these are good at absorbing shock. Also, the grip feels more comfortable and easier.
From hanging pictures on your wall to any in-depth DIY project, you will find the claw hammer useful for so many different tasks. Basic chores such as tearing the wooden deck down or removing tile flooring will be simpler with a claw hammer.
Set of Screwdrivers.
It's basically the age of Do-It-Yourself that we are living in. And today, a set of different sorts of screwdrivers is one vital thing to have. Beginners have a hard time when starting with only a screwdriver.
They soon realize the importance of expanding their screwdriver collection. You want a set that involves both Philips head and flat head screwdrivers. Also, there should be a variation of sizes.
So that you can cover your maximum projects using it no matter if that's big or small. Starting from putting new batteries to gutter repair of your home, you'll need these for a wide range of tasks.
Some Common Hardware.
There's a collection of hardware that will come handy pretty often with home DIY projects. Such as nails, screws, and such tools with different types and sizes. To keep these things organized well, you may want a separate box or compartment as well. Through labeling, you can easily keep them sorted and quick to access when there's a need.
For tasks such as molding, trimming and hardwood floor projects, finishing nails can be pretty useful hardware to get. Also, in carpentry projects or construction-related work, vinyl sinkers are very useful. If you spend more time on outdoor projects, then galvanized nails will be your ideal bet. Especially for roofing related projects. As these come with a zinc coating that avoids corrosion or rust risk.
To secure metal stud with drywall, you'll need special screws. These are known as drywall screws typically. It can also work well for patching ceilings once you knock down a wall in your home. Also, outdoor screws are pretty handy stainless steel made hardware to consider. Especially if you want to involve projects for building a new deck or anything similar.
Adhesive Tape.
All-purpose masking or scotch tape is not always suitable for certain projects. Sometimes you need something with a unique quality that will fit your project purpose. And so, finding the right type from the wide range of tape is your job.
Fabric, polyethylene, and adhesive made tapes are usually for different uses. Here are some suggestions to understand what tape you should get for your starting days.
If you want something with strong adhesion to support your art projects or even basement finishing chores, then duct tape will be the ideal choice.
For tasks that involve insulating wires or other electricity conducting elements, you should consider electrical tape. These are also popular as insulating tape and come with a pressure-sensitive feature.
If you involve in painting projects then painter's tape can be useful. These are great at protecting your floorboards, door frames and trim while you paint. Also, this comes off very easily. And there's no residue left behind or existing paint damage.
Finally, if you want a tape for plumbing related jobs, then go for PFTE. This is basically plumber's tape and also known as Teflon tape or thread seal.
Pliers.
Pliers with adjustability will be one of the most used tools of your collection. You can turn nuts and bolts with the angled jaw easily. This also serves as wire cutter and clamps occasionally. Some also call it pliers wrench for that reason.
To grip large things such as a rod or pipe, you can use a pair of pliers. It also works with small things such as nails in the wood trim. This also helps with replacing or removing baseboards.
Conclusion
Getting some essential tools for homeowners basically start with a small investment. That's how a new and unexperienced homeowner likes to approach his or her tool chest. With passing time, newer projects will add up to that experience. And at the same time, newer tools will also get included. Both your skills and tool collection will flourish on its own. You just have to enjoy the process and ensure that basic tools are in your collection.
I'm James. The author of Electricalaffairs.com. It's been my passion to deal with power tools and gears. This website is mainly to talk about electrical wirings, lighting, various power source tools and accessories. I want to explore tackles and help people to grow their basic knowledge about electrical things. I would also like to help people to pick the right power tool for their daily needs.