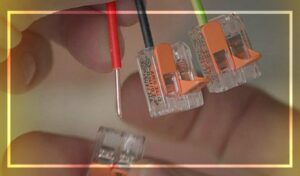 From their size, it would be almost impossible to guess the essential role that wire connectors play in the electrician or mechanic's tool box.
"What's so special about it?" you're wondering. "It just connects two wires together?"
Yes, that is, indeed, its essential function. However, there's much more to it than that—the reason why it's so important to use only the best wire connectors.
Beyond bridging the gap between two wires, the connector actually forms an electrical circuit. Accordingly, the stability and functionality of your connection are largely dependent on the connector's type and quality.
To help you find the right one, below, we have gathered up 6 of the best specimens, along with a comprehensive buying guide.
Let's go!
Best Wire Connectors Reviews
We now present our top 6 picks in wire connectors, selected carefully for you. If you're interested in our selection criteria, scroll down to our buying guide; otherwise, let's start.
1. Wago 221-412 2-Conductor Compact Splicing Connectors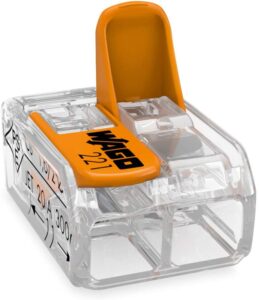 Our first pick is, without a doubt, one of the absolute best electrical wire connectors to be found on the market today, and they come to you courtesy of Wago. With a distinct design, these clear splice-style connectors are innovatively designed to offer you the ultimate performance.
Manufactured in Germany, this Wago wire connector is one of the most versatile we've found during our search. Due to its design, you will be able to work with both solid and stranded wires. And, its electric current handling capacity goes up to 20 amperes and 300vacs.
This connector is available in three different sizes to suit your needs, with the ability to support 2, 3, or 5 connections. What's even better is that this connector can support wire gauges of a wide range, from 10 to 24.
If it wasn't enough that such a small object can handle such an impressive range of functions, these guys are also meant to replace wire nuts entirely. Imagine the time-saving convenience of that, especially in a large project!
Highlighted Features
Boasts a connection range of wire gauges from 10 to 24
Comes in 3 different size specifications: 2, 3, and 5 connections
Available in a wide range of pack sizes from 10 pieces to 1000
Highly versatile performance thanks to innovative design
Transparent covering makes for easier connections
---
2. Kuject 120PCS Solder Seal Wire Connectors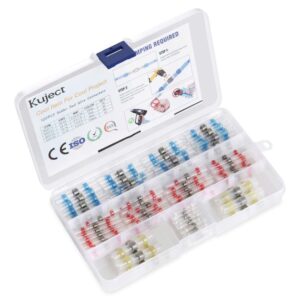 Next up, we have a set of highly durable and sturdily constructed butt splice connectors from Kuject. Equipped with a waterproof body and powerful insulated cover, this is one of the top picks if you're looking for the best automotive wire connectors. Why do we say that? Let's find out.
First off, we love the construction of the connectors in this set. The shrink wrap tube on each of these connectors is made from highly heat-resistant material that resists melting. Durability is everything when it comes to successful electrical connections!
Each set comes with an equal number of connectors in each size specification, and they are color-coded in white, blue, red, and yellow. You'll no doubt appreciate the ease of organization that this will afford you.
And because there is no soldering or crimping required in using these wire connectors, you'll be saving a bunch of time and energy on the job, as well. The benefits of that to a busy automotive mechanic cannot be overstated.
Highlighted Features
Time-saving design that does not require crimping or soldering
Shrink wrap tube is constructed from highly heat-resistant materials to ensure a secure connection
Each type of connector is color-coded for your convenience
Available in 4 size packages from 120 pieces to 270 pieces
---
3. WGGE WG-009 Banana Plugs Audio Jack Connector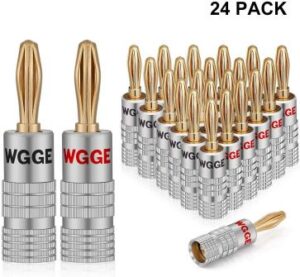 Did you click on this article looking for the best wire connectors for car stereo? You're in luck because this set from WGGE was selected just for you. These are some of the most capable and resilient audio jack connectors you'll find anywhere.
Our reasons behind saying that aren't based only on the high rating of the connectors, although that helps. Integrated with a dual screw lock system made from 24k gold, each of these connectors is built to see your speakers through a long time.
If you're worried about compatibility, don't be. These connectors can accommodate a large variety of wire sizes of up to 4mm. And because of the dual screw design, no soldering is required either.
What we really love about these things, though, is their construction. Made with pure copper and plated in gold, these non-magnetic connectors promise ultimate longevity in whatever set of speakers you put them in.
That's because the gold plating is not only there for that luxe look; they also guard against corrosion and rust. What's more, each connector's collar is signified by a different color to help you identify polarity. Offering ease of use, performance, and durability, these are the audio wire connectors to go for.
Highlighted Features
Highly durable pure copper construction with corrosion-resistant gold plating
Color-coded for convenience in identifying polarity
Accepts multiple wire sizes of up to 4mm for your convenience
No soldering is required thanks to an innovative dual screw design
---
4. Ginsco 250pcs Heat Shrink Wire Connector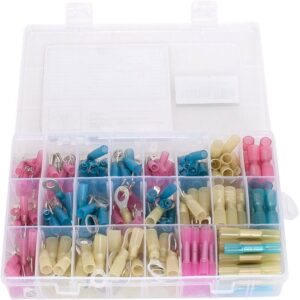 This set of 250 wire connectors from Ginsco is one we came across while searching for the best waterproof wire connectors. The amazing online reviews of it instantly attracted us, but we stayed for its specifications. Especially if you're looking to spruce up the sprinkler system in your home, you'll love this set.
The durable construction of the connectors, in particular, is what makes this set stand out. The high-quality plastic body of each connector is designed to be completely waterproof, which makes this set ideal for marine applications in particular.
The crimp terminals of these connectors are also insulated for maximum electricity conveyance. The best part? No soldering is required. So if you're looking for great automobile wire connectors, this set is suited for that purpose as well.
Ease of use is another reason why this set comes so highly rated. The connectors are all color-coded depending on their size and capacity specification, and it's all stored and organized neatly in a durable plastic case. As far as waterproof wire connectors go, this set is definitely a winner.
Highlighted Features
No soldering action required; save time and energy
Perfect design for automobile and marine applications
Durably constructed body with a protective insulation layer
Color-coded according to size and stored in a convenient plastic case
---
5. Wirefy 270 PCS Heat Shrink Wire Connector Kit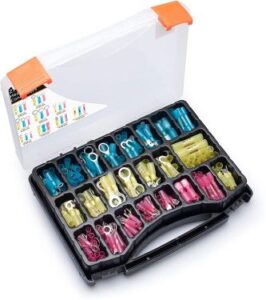 From Wirefy comes this set of 250 pieces of heat-shrink wire connectors. Organized and stored neatly in a convenient plastic case, these connectors are suited to a variety of applications. So what can you do with them? Let's find out.
Built from premium quality plastic, these wire connectors come with thick, robust barrels that facilitate a strong crimped connection. And due to the connectors' high tensile strength, they are highly resistant to all types of mechanical damage.
The copper barrel of each of these connectors offers a smoother, higher flow of current, which in turn promises a low voltage drop. Not only will you benefit from diminished downtime, but wire failures will be a thing of the past.
So what's in the box? A combination of rings, forks, hooks, butt connectors, and disconnects make up this 250-piece set, so no matter what the wiring needs of your project are, you can depend on this set.
We know what you're thinking. Are these the best wire connectors for automotive? Well, they're certainly a contender for that title! And given that they're credited with some of the most important safety standards in the industry, it seems you can't go wrong with these connectors.
Highlighted Features
Durably constructed with a robust copper barrel
Construction design enables increased current flow and lower voltage drop
Achieve a strong and secure crimp with reinforced copper barrels
Compliant with a number of relevant security standards
The large variety of connectors makes this set ideal for numerous applications
---
6. Findfly Quick Connector Spring Wire Connector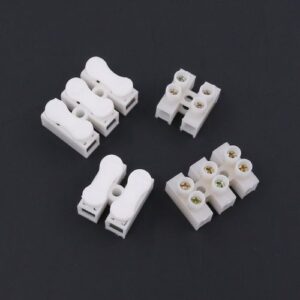 Our final pick for you today is from Findfly. This highly-rated set of 100 spring wire connectors is built for ultimate performance and stability and is well-suited for use with a number of different applications.
The connectors in this set are constructed from premium quality PVC, which has been equipped with robust insulation and fireproofing capacities. And to enhance the longevity of these guys, the material is also resistant to corrosion and toxification.
In fact, these little guys promise to stay put for up to 50 years. How? Well, not only do they have a high melting point, but their temperature resistance is also very impressive, allowing them to be functional in a wide temperature range between -40ºC and 150ºC.
The spring style design of these connectors also means that you will enjoy a time-saving, effortless connecting experience. The process of employing one of these connectors can be achieved in 3 simple steps, which is no doubt hugely convenient to the busy mechanic.
All in all, this is without question a set of some of the highest-quality wire connectors out there. But what really makes these connectors special is their multipurpose functionality: be it for domestic use or medium-duty electrical connections, you can depend on this set.
Highlighted Features
High-quality PVC construction with corrosion and flame resistance
Clearly marked ports for live and neutral connection lines
Offers high pressure and temperature resistance and a high melting point
Well suited to all sorts of domestic electronic wiring applications
Also Read: Best Extension Cords for Generator | Top 5 Picks
Buying Guide About Wire Connectors
With such a wide variety of wire connectors out there, it can be a little confusing to figure out which one suits your needs. So before you make your purchase, consider the following factors.
Type
Wire connectors come in a wide range of shapes and sizes. There are as many as 150 different types of wire connectors, but for this article, we will be focusing on the most popular models. Each type has been outlined below to help you figure out which one is right for your project.
Lever
Possibly the most widely used wire connector in all sorts of applications, the lever connector is simple and easy to use. Its name comes from a lever that must be pulled down before wire insertion. Once it has been inserted, the lever must be pulled down, and it's ready to accept a connection from its other end.
Butt Splice
Characterized by its cylindrical shape, the butt splice connector is one of the most commonly seen wire connectors. Its crimp shape has two ends that together create a straight splice. As the name suggests, the splicing function is achieved through making the connection through the connector's rear end.
Twist-On
Wire connectors of the twist-on variety come with grooves on their body to facilitate installation. They have to be installed manually, i.e., by hand. Some higher-end connectors of this type come with extensions resembling wings to allow for an easier attachment, typically using a tool like a nut driver.
Winged twist-on connectors are particularly useful in large projects due to the faster attachment. The electrical connections achieved with these connectors can usually also be removed or reused easily. If your project requires multiple connections, go for winged twist-on connectors.
Underground/Waterproof
As the name may suggest, these are wire connectors built for underground or underwater use. As such, they are endowed with anti-corrosion and anti-moisture properties. They are characterized by a filling of 100% silicone sealant, which helps with the waterproofing.
In the case of underground wire connectors, the best use for them is in buried electrical wiring. This means they have to be built more durably. This also typically means that they cannot be reused.
Waterproof and underground wire connectors are commonly found in domestic applications such as outdoor lighting and sprinkler systems, although they are also suited to medium- and heavy-duty use, depending on their build quality and construction.
Crimp-On
One of the most popular wire connector types, crimp-on connectors are usually made from copper or steel. As the name suggests, attaching them properly requires a crimping tool. Cap insulators made of plastic are typically attached to them after the connection has been achieved.
These connectors are meant to be used in making highly secure permanent connections, meaning they are not reusable. So if you're making heavy-duty pressure-type connections, go for a crimp-on wire connector.
Push-In
The push-in variety of wire connectors is very distinct in its appearance: equipped with a clear shell, this connector allows you to see exactly when the connection is being made. It's also easy to remove and reuse these connectors as all you have to do is twist or pull the connectors away.
This connector type is widely preferred by those who don't want to go to the trouble of twisting wires together for attachment to crimp-on connectors. Because there is no twisting required, this is an ideal choice for large projects where multiple connections are to be made.
Spade
Spade wire connectors allow the user to connect/disconnect instantly in screw-type connections and electric boards, which makes them very popular in plug-and-play applications. So if you're working with DVDs and/or stereos, a spade connector will be suitable for you.
Durability
Wire connectors have two material components: that of the conductor and the insulator. For the conductor material to work properly, it must have a high level of contact resistance, mechanical strength, and conductivity. On the other hand, insulators should be able to tolerate high temperatures and have high electrical resistance capabilities, besides being able to provide a close and secure fit.
Keeping all this in mind, it's important to consider the construction materials used in making your wire connectors. Look for connectors with electrodes made from copper alloy, phosphor bronze, brass, and beryllium copper. A durable connector is always preferred to one with a short life; you never want to take chances when it comes to something as sensitive as an electric connection!
Price
Because they perform such an important function, wire connectors come in a wide range of prices. It all depends on the type and construction, e.g., if the connector comes with powerful insulation or highly resistant shielding, it will probably cost a little more.
When it comes down to it, we recommend not going for the cheaply priced connectors. When it comes to electrical stability, it's always good to invest in high-quality components. That being said, be wary of not being fooled by high prices. Always look into the construction quality!
FAQs About Wire Connectors
Q: What is a wire connector, and what is its function?
Ans: In basic terms, a wire connector is a fastener which creates a low-impedance connection between multiple electrical wires. They allow you to create safe circuits as they come with flame-resistant exteriors that resist electrical failure.
Q: How are wire connectors constructed, and how do they work?
Ans: Inside a wire, the connector is either a collection of grooves or a coiled and tapered metal spring which thread together for a secure hold. The metal spring draws the wires in and squeezes them tightly together to create electrical continuity.
Q: Do all wire connectors come with insulation?
Ans: No, instead of insulation, some wire connectors come with different types of shielding. However, it's always best to go for insulated wire connectors for safety.
Q: Is every connector compatible with every wire type?
Ans: Contrary to popular belief, no. While some connectors will only accept stranded wires, others will accept only a solid core. The construction material of the wire also matters.
Q: What is crimping?
Ans: Crimping is the process of manipulating (usually deforming) a wire's internal conductive materials to enable it to join with other crimped wires. This process is required with every wire connector to create a successful connection.
Conclusion
We hope that our guide to the best wire connectors has helped you to determine the right tools for your project. Not sure exactly what kind of connector you need? We recommend going back to our buying guide.
We hope your electrical connections are always stable, secure, and safe. Good luck with your project!
I'm James. The author of Electricalaffairs.com. It's been my passion to deal with power tools and gears. This website is mainly to talk about electrical wirings, lighting, various power source tools and accessories. I want to explore tackles and help people to grow their basic knowledge about electrical things. I would also like to help people to pick the right power tool for their daily needs.